10 Most Calming Casino Games to Play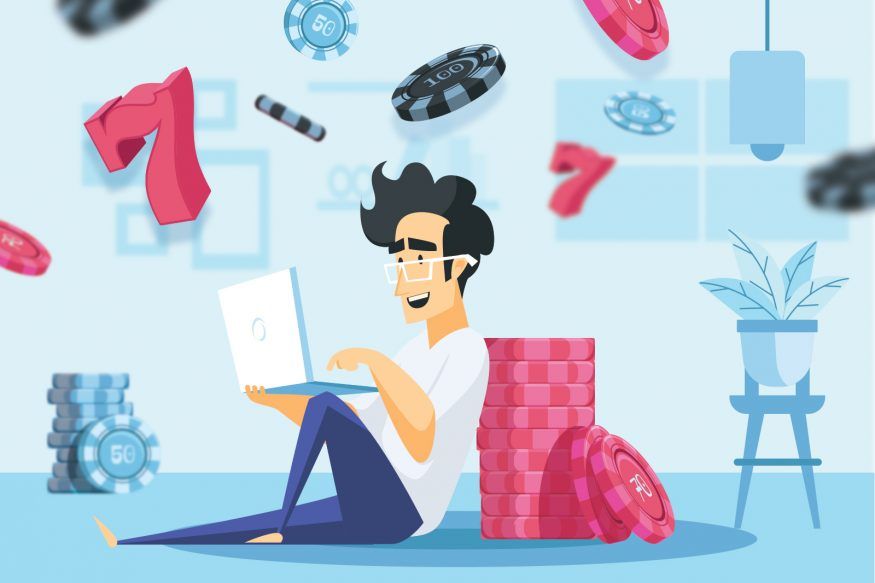 When you're trying to chill out, you probably don't want any intense high-stakes action. So we've compiled a list of the most relaxing casino games — picked with pure entertainment in mind, to keep you busy without the risk of losing any money.
So dig out your comfiest threads, break out the game day snacks, pour the beverage of your choice, put your feet up, and play.
Here are our 10 most calming casino games to play:
1. Lucky Blue
What game called 'Lucky Blue' could fail to be relaxing?
Be soothed by the sounds of waves swirling and lapping at the shore as you play this SoftSwiss slot, which has a 5,000-coin jackpot and offers you the option to play 'just for fun'.
We won't judge you if you pretend to be playing this on your own private tropical island, cocktail in hand — or if you're tempted to sing 'Under the Sea' as you spin five underwater reels starring bubbles that contain some of the cutest sea creatures around.
2. Online Poker With Your Friends
You'll be spoilt for choice when it comes to virtual poker, and platforms like Pokerstars (one of our recommended poker sites) allow for friends, family, or even acquaintances to 'play at the same table' and customize their own 'poker club lobby'.
It's really easy to set up a virtual game but if you've never done it, first check out our guide on how to play online poker with your friends.
Make sure whichever casino website you choose is reputable, trustworthy, and has the function available for you to invite others to take part in the fun and games.
But your biggest concern? Whether to order pizza, or burgers and fries, while you play.
3. Big Fish Casino
The Big Fish Casino can provide hours of no-fuss fun with your Facebook friends, on a variety of devices, from Android and iOS to Windows.
Strictly speaking, it's technically more than just one game, meaning you can all unwind together while playing whatever takes your fancy.
The app also allows gamers to create a 'members' club' for privacy and that VIP feeling — it's almost as though you have your own personal section of a real-life casino. All you'll need is a martini and a little imagination.
And if you're the only one among your friendship group that likes a flutter (for fun only, no real-money is at stake here), you can make new pals while playing tournaments, live-chatting, or joining dedicated Facebook groups. Yup, gaming has gone social.
4. Heart of Vegas Casino
Missing the buzz of a real-life casino? This online option might be your best bet for satisfying those casino cravings, owing to its roster of slot machines that you'll usually find on the Strip, or wherever you roll the dice.
The Heart of Vegas Casino app-portal developer is Great Aristocrat Games, manufacturer of many a 'real' slot machine, so get ready to play a whole host of your favorites in virtual form.
But be sure to note that, although you'll begin with thousands of bonus coins and can purchase more, you can't win any real cash here.
5. Fruit Zen
Love a fruit machine? Spin reels until your heart's content with Fruit Zen free-play version. This 3D game by Betsoft is available on a mobile platform, meaning you don't even have to boot up your laptop.
Yes, the fruit symbols are a classic, but what makes this game super chill is a peaceful 'zen-style' music soundtrack, and a calming water-in-motion background — instead of the usual chaotic mix of lights and sounds.
Still got a fruit machine craving?
Take a bite out of RTG's Fruit Frenzy and enjoy the fun starburst background, circus theme, fruity characters and, best of all, up to 25 free spins.
6. Glow
You may not be able to visit the Northern Lights right now, but you can bring a little of the magical aurora borealis atmosphere into your home with Glow.
This aesthetically pleasing game by NetEnt includes a background featuring a star-lit night sky, mystical forest, symbols that spin and glow, and a soundtrack inspired by nocturnal animals.
7. Lights
The atmospheric Lights slots game is inspired by the beauty of Chinese paper lanterns — and pairs mountain and waterfall background graphics with flickering fireflies, relaxing music, and Chinese symbols.
It doesn't get much more chilled than this.
8. Beach Slot
Beach Slot is what it says on the tin — a beach-themed virtual slot machine.
What stands out about this slot is its creativity. Watch as the wave comes in and your symbols — including a message in a bottle, treasure chest, shell, starfish, washed-up wood, and an octopus — are swept up and spin on the sandy shore.
No day at the beach would be complete without cool music and a seaside soundtrack, either.
9. NRVNA: The Next Xperience
Almost hypnotic, NRVNA is another standout NetEnt game that demands its players chill out.
With five reels featuring three rows, and up to 30 bet lines, you'll be immersed in fun, with adjustable bet levels allowing players to keep things as low-risk as they wish.
If the ambient music, and the gorgeous glowing graphics aren't to your taste, this game even allows you to tinker with the images.
10. Free Games
If it's low-risk you're looking for, why not throw yourself into the world of free games?
It doesn't get any more low-stress than opting not to risk your cash. And there are endless options with no sign-ups and no deposits.
Keep it casual by playing one of thousands of the best freebie games, from blackjack to roulette — ideal for those just starting out, too.
Hours of relaxing fun ahead!