MGM Removes Large Hotel from Springfield Casino Plan
Posted on: September 22, 2015, 02:25h.
Last updated on: September 22, 2015, 02:25h.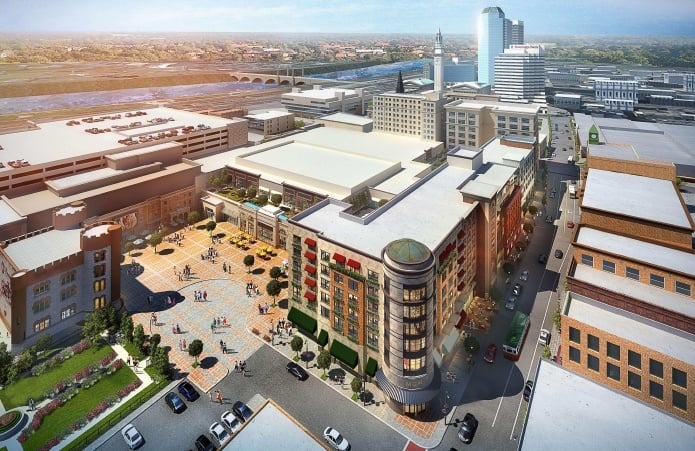 MGM Resorts has repeatedly said that they have no plans to reduce the scope of their resort casino in Springfield, Massachusetts, even in the face of a potential competitor just over the Connecticut border.
But while the company may be committed to spending the money they promised to pour into the project, they are scaling back at least part of their initial design.
On Tuesday, MGM revealed a revised plan for their casino complex, one that removes a 25-story glass hotel tower from the resort.
In its place will be a smaller six-story hotel that will be moved to a different location.
No Change in Scope of Resort
According to MGM Springfield CEO Michael Mathis, the changes (which he referred to as "improvements") won't actually reduce the $800 million that the company plans to spend on the resort.
In fact, he wrote in a letter to Mayor Domenic Sarno, they might actually result in an increase to MGM's expenses.
The new hotel will be placed in a location that was originally designated for apartment buildings. MGM says that this housing will now be moved away from the casino entirely, and that they are in talks with nearby property owners to find a suitable new location.
While this may been seen as a move designed to protect against the casino potentially receiving fewer visitors than initially anticipated, that doesn't seem to be the case.
While the new hotel is smaller in size, it still features the same number of rooms, 250, as the taller design.
The new changes will require approval from the Massachusetts Gaming Commission. MGM plans to present the panel with their ideas on Thursday.
The new plans feature other changes as well, though none as dramatic as the hotel.
The parking garage for the casino has been reduced by one floor, while an outdoor plaza has been increased in size.
Changes Will Better Fit Neighborhood
According to Mathis, the new plans are designed to help the casino fit in better with Springfield's existing aesthetics.
"We have never lost sight of how important it is to integrate our development and its unique design needs with this historic New England downtown," Mathis said in a press release. "We think the changes along Main Street and this new layout is more in line with a true downtown mixed-use development that will make MGM Springfield the premier urban resort in the industry."
Mayor Sarno also praised the new design in a statement, saying that it would provide "increased walkability" as well as blend in better architecturally with the downtown neighborhood it will occupy. Sarno told 22News that he believes the new design will still allow the MGM Springfield to compete with a proposed third casino in Connecticut, as well as the two existing casinos in that state (Foxwoods and Mohegan Sun).
These changes are likely the result of negotiations between MGM and the Springfield and Massachusetts Historical Commissions. 
According to city officials, MGM informed them of the changes about 10 days ago, with renderings of the new design being revealed to them on Monday.
The MGM Springfield project was originally expected to open in 2017.
However, the opening date has been changed to September 2018 due to delays related to a nearby highway construction project.