Genius Sports Incorporates Betting Into NFL Live Stream
Posted on: September 26, 2023, 11:23h.
Last updated on: September 26, 2023, 02:38h.
Genius Sports possesses exclusive rights to the NFL Official League Data for the sports betting industry through the pro football league's proprietary Next Gen Stats distribution network.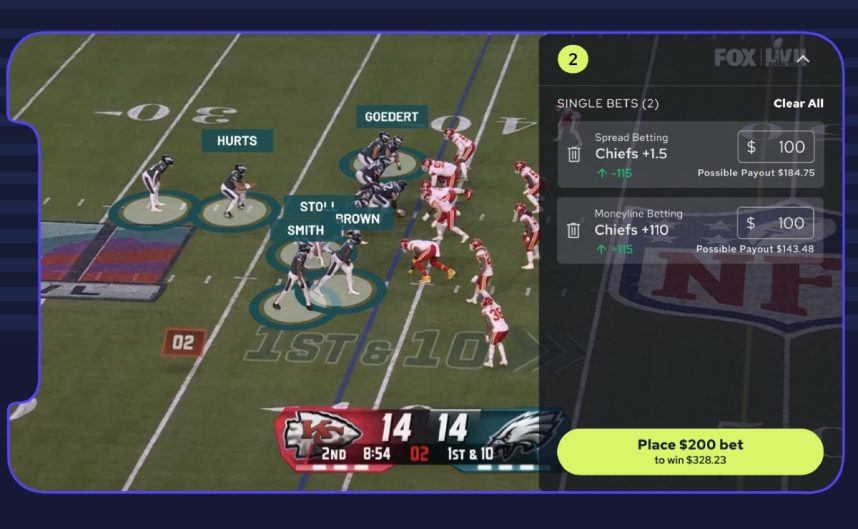 Genius Sports is a sportsbook partner that provides live, real-time statistics that oddsmakers use to set lines. The third-party entity also distributes live NFL video streams to sportsbooks.
Genius Sports expanded on its NFL offering this week by announcing that bettors can now wager while watching the live video streams. The product, called BetVision, enables sportsbook customers on certain apps to place bets within the live video player for the first time.
Genius reps tell Casino.org that the BetVision implementation "redefines the way fans engage with their favorite sporting events, like the NFL, with integrated odds, promotions, real-time statistics, break-in-action offers, graphic overlays, and more."
BetVision is being first deployed across the Caesars Sportsbook, Fanatics, and BetRivers mobile sportsbooks.
In-Game, In-Video Betting
BetVision, a Genius Sports release explains, allows bettors to watch and bet on NFL games simultaneously.
These low-latency live game video streams feature integrated betting odds and bet slips and will be enhanced by in-game betting alerts and on-screen offers during breaks in the action to increase relevance, drive engagement, and retain customers," the Genius Sports statement read.
Kenneth Fuchs, chief operating officer and head of sports at Caesars Digital, the parent company of Caesars Sportsbook, said the immersive, real-time betting experience will improve the platform's betting and viewing experience. "BetVision will be an innovation that delivers a cutting-edge watch and bet product," said Fuchs.
The BetVision product will continue to evolve throughout the NFL regular season and into the playoffs with additional features and functionality. Bettors who don't wish to wager while watching a stream can disable the graphic overlays.
NFL Broadcast Streams Limited
NFL fans thinking they can simply create a Caesars Sportsbook account or register with another Genius Sports sportsbook partner and watch all of the weekly NFL games will be disappointed. That's because the NFL restricts which games a sportsbook user can stream live on their sports betting app.
Each Genius Sports sportsbook partner only streams nationally distributed and local, regionalized live NFL games each week. The content depends on the sports bettor's physical location, which is determined using geolocation technology.
Genius' No-Brainer
Genius Sports in July extended its data deal with the NFL through the 2027-28 season.
The NFL is the most bet-on sport in the U.S., so the contract extension is likely a worthy endeavor. Though Genius didn't specify what it paid for the exclusive data deal, Casino.org's financial reporter Todd Shriber reported that the sports betting entity paid around  $1 billion for the initial four-year agreement reached in 2021.
The NFL aligning with Genius Sports naturally makes sense, as the pro football league holds an 8% ownership position in the company. The third-party sportsbook firm is majority-owned by Apax Partners, a London-based private equity firm.