Top 10 Celeb Hotspots in Las Vegas
Las Vegas is a renowned destination for A-list celebrities that want to get away from the stresses of their high-profile lives and enjoy some down time. So, if you're visiting Sin City why not check out our list of the top 10 places where the rich and famous are most likely to hang out?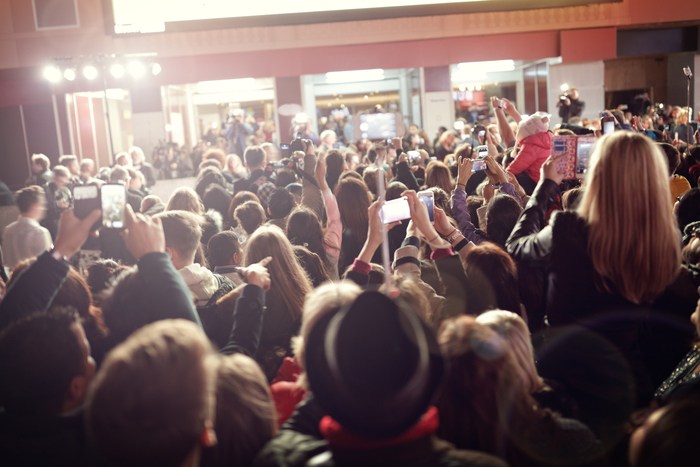 If it's good enough for them, it's good enough for you…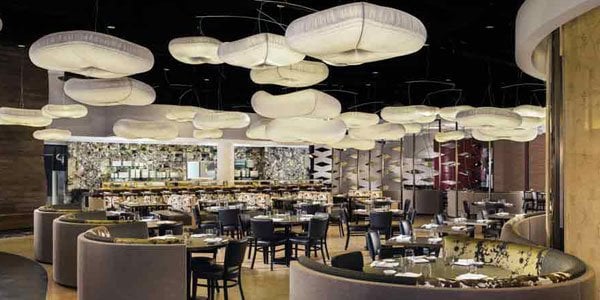 The first venue on this list is one of the most highly reputed hot spots in Las Vegas. Nobu is a restaurant that exudes class and sophistication. So, it's no surprise that celebrities often bee-line towards it when they are looking to eat and drink the night away.
Celebrities including Bradley Cooper, Jonah Hill, and Miles Teller have all been sighted dining at the Japanese-themed venue. So why not experience the lavish tastes on offer and fit in some A-list Hollywood actor-spotting at the same time?
The Yellowtail Sashimi with Jalapeno and Rock shrimp tempura with creamy spicy sauce are highly recommended.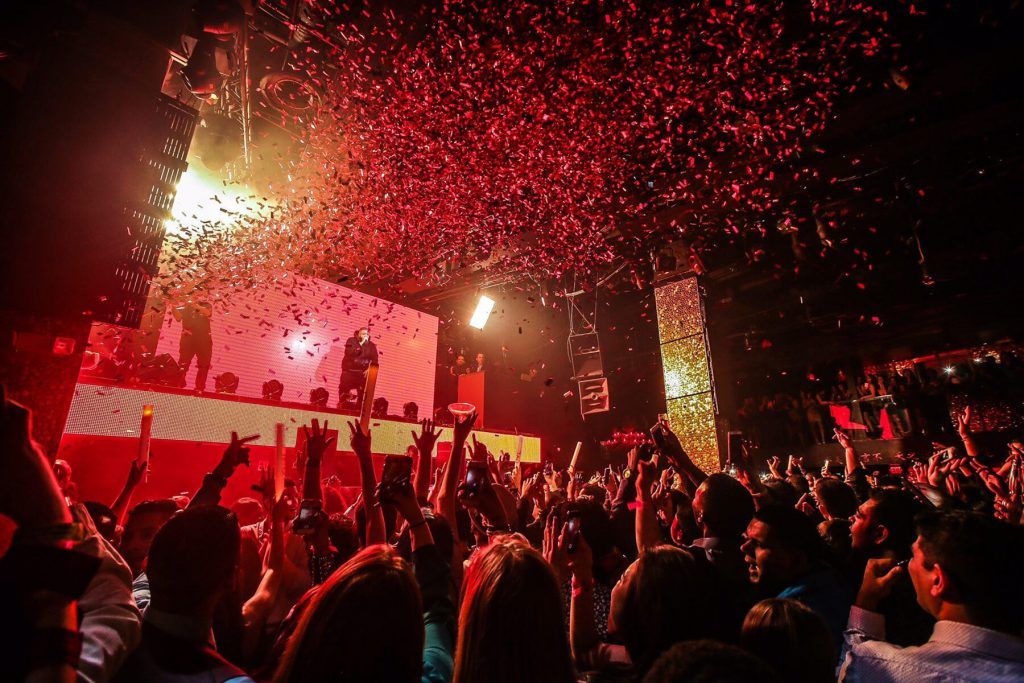 When celebrities are looking for a Vegas venue to host their extravagant celebratory party then more often than not they look to TAO Nightclub.
Not only do celebrities tend to have their parties here but they also invite a lot of their fellow celebrity friends. The club has a particularly close relationship with The Kardashians too.
So, if you love your reality television celebrities then this is the place for you to go straight to – you could even land up as an extra in the background.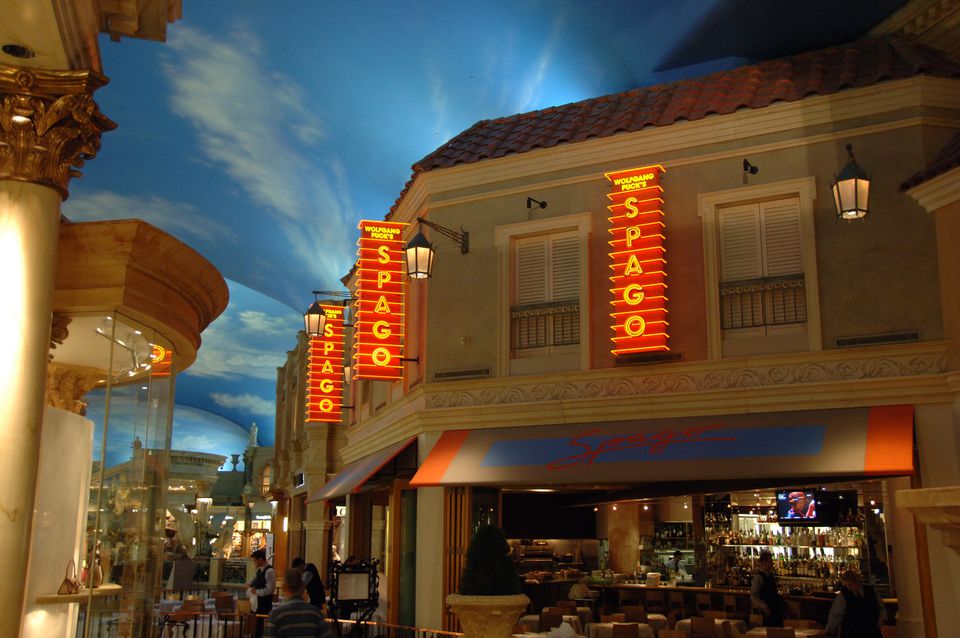 Spago is a relatively quirky inclusion on this list. It is described as 'New American fare' from Austrian-born celebrity chef Wolfgang Puck.
If a celebrity chef is behind the food, it tends to attract a certain classification of clientèle. Oysters on the half shell, mezze plate, and Artisanal cheese and salami board are just a few of the menu selections that entice celebrities.
Not only can you rub shoulders with actors and sports stars at the tables but the patio allows for some first-class people-watching to try and spot those celebrities walking on by.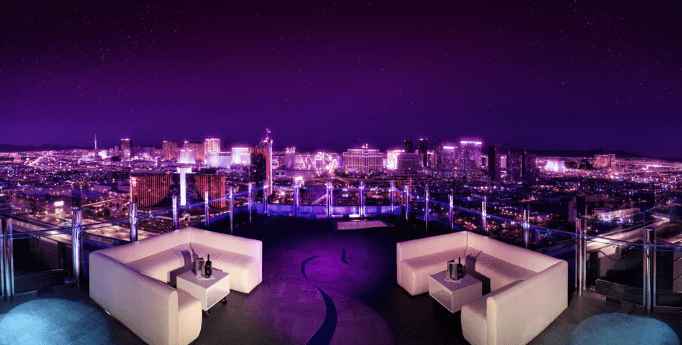 The Palms is the only big-name resort to make it onto this list in its own right. Celebrities immediately single out The Palms as the place to stay. It offers all the services and 5 star service Hollywood elite could wish for.
The Hugh Hefner Suite and the Real World Suite are just two of the finest rooms to hire. The massive VIP section in the Rain nightclub is proof of just how many celebrities the resort hosts week in, week out.
The casino, Pearl Theater, and other night-time venues including Rojo Lounge, Tonic, and Moon provide enough space for celebrities to hang out. So, get stalking… in a non-creepy and responsible way, of course!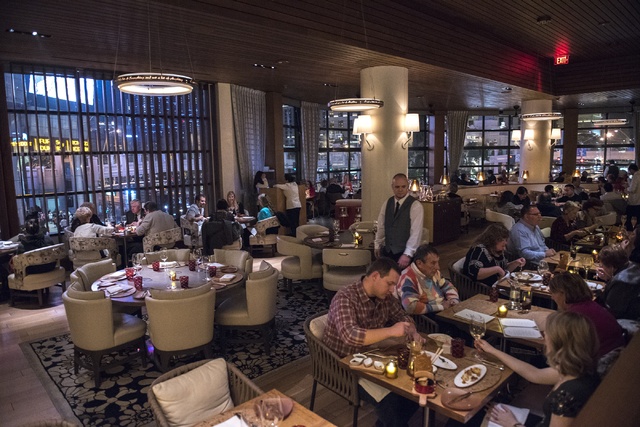 An Italian restaurant is always a popular choice with celebrities. Giada is the restaurant from Italian-born American chef Giada De Laurentiis.
You might have seen her Food Network show Giada at Home. If not, well, just get down here and put your lips around some of the food. It will blow your mind.
Giada won the Diners' Choice Award for 2017. There is a reason the likes of Nicolas Cage, Nicole Scherzinger, and Shania Twain regularly visit this restaurant. Join them when you're in town and experience it for yourself.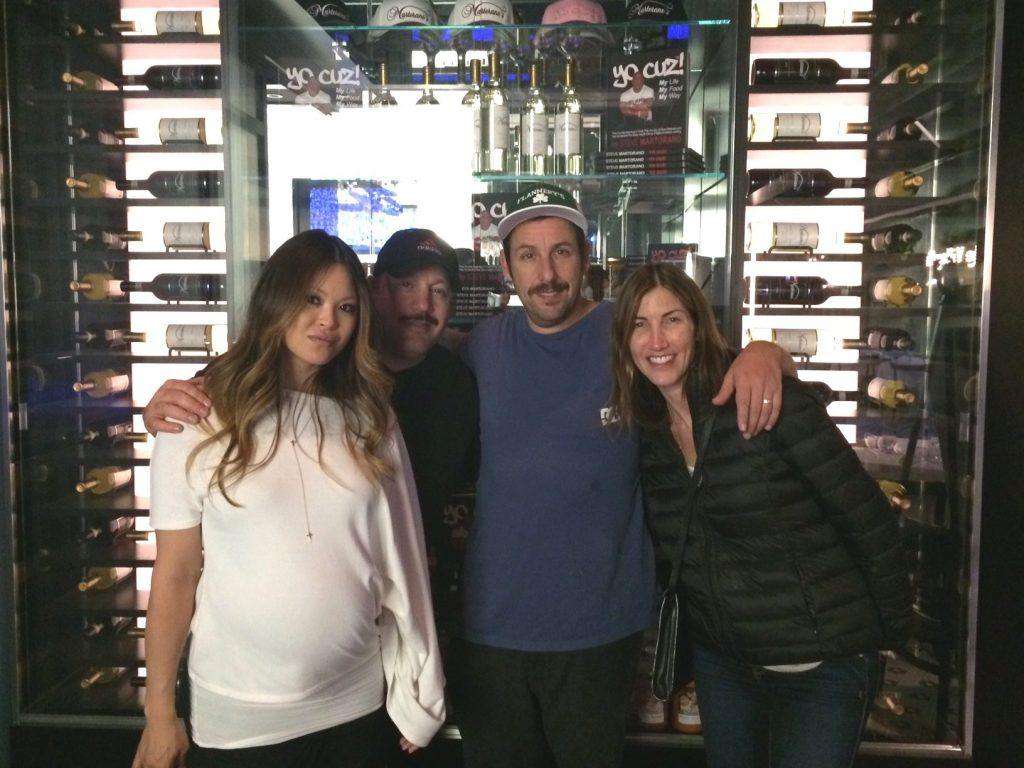 Once again, Italian food is the order of the day with Martorano's at the Paris Las Vegas.
The restaurant is the brain child of celebrity chef Steve Martorano. Recommended dishes include eggplant stack, homemade mozzarella, and bucatini carbonara.
Celebrities such as Adam Sandler, Kevin James, and Joe Don Rooney have all been spotted here.
Definitely one for the fans of Hollywood comedy movies.
Elton John's The Million Dollar Piano @ The Colosseum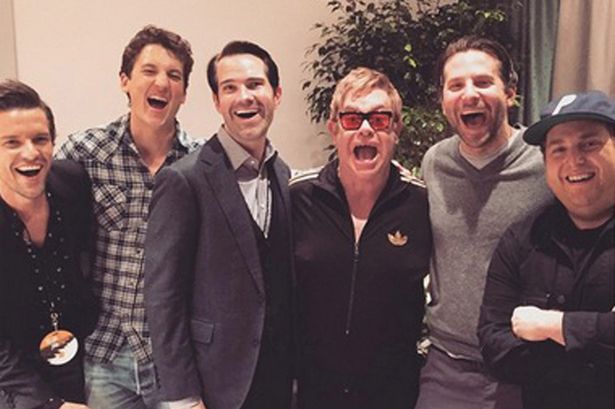 A one-off for this list is Elton John's The Million Dollar Piano. Not so much a venue as a show that is a residency at The Colosseum.
Legendary singer Elton John has wowed audiences for years with his timeless songs including Your Song, Tiny Dancer, and Rocket Man. However, it's not only us ordinary members of the public that John has seduced with his music.
Celebrities are also swept away by his tunes. That's why you will find a wealth of celebrities attending his gigs. Individuals such as Brandon Flowers, Lady Gaga, and David Hasselhoff have been sighted at this show already.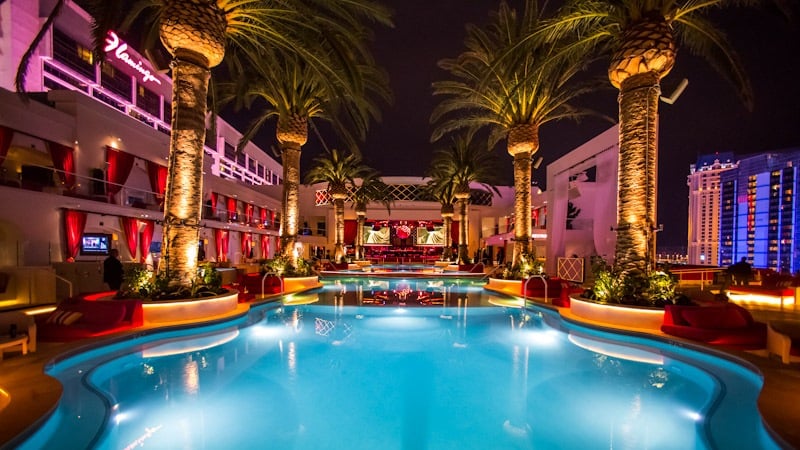 A common fact with A-list celebrities is that they tend to want to keep under the radar. Unless they are attention-seeking hussies, they will do their best to avoid the lurking eye of psychotic obsessives and the paparazzi. Drai's Beach Club becomes the ideal hideout for those celebrities wishing to have a night out with a drink and a dance whilst dodging the public gaze.
The dimly lit ambiance means you'll have to keep a keen eye to spot the celebs but they're certainly there.
Any venue that offers the unique experience of a ceiling that draws inspiration from the Aurora Borealis, also known as the northern lights, is certain to appeal to A-listers.
The décor of this venue is stunning. The cocktails served at the bar have a city-wide reputation as being some of the best in the world.
This isn't your average poser hangout spot though. An array of bar top games available to play also give it a degree of quirkiness that is absent from many contemporary venues.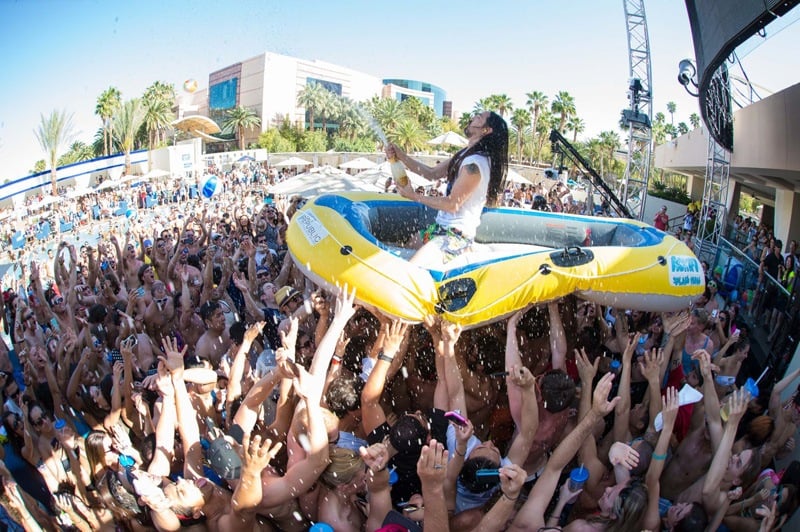 How could we leave out the MGM Grand when talking about the best celebrity hang outs in Las Vegas? Enter the Wet Republic Ultra Pool.
A pool party is always going to attract some big names and pool parties in Vegas do not come much bigger than those held at Wet Republic.
These water-soaked mayhem sessions are the stuff of legend. The venue regularly gets celebrities to host their parties too.
Steve Aoki, Tiesto, and Afrojack have all DJ'd here. So, don your fashionable swimwear and get involved.