Thanksgiving's Stingiest and Most Generous US States
'Tis the season to give thanks, run some turkey trots, eat our weight in green bean casserole, and celebrate the bounty. Thanksgiving is that time of the year when we can reap the fruits of our metaphorical harvest. Although the settlers probably didn't foresee a Butterball being bought at Walmart as a "harvest" they did share the idea of generosity being the theme of the season.
That's all well and good, but some places in the US are more generous than others (looking at you, Mid-South and East South Central.) We wanted to know which states planned to share the yield and which were a bit more stingy. By running a national survey of 2,000 participants who cited they'd be hosting this year, we were able to find the average spend for Thanksgiving dinner around the country.
Key findings:
The average American household will spend $107.01 on Thanksgiving dinner this year
Alabama was the most generous state with an average of $176.56
Miami was the highest-spending city at $205.40 per household
Big ballers, drumstick callers: top spending states
Get the good plates out, it's feasting time. Across the country, Americans are gearing up to gobble down on the fall classics. These states are ensuring that all the faves, (yes, even the controversial cranberry sauce) will be found at the dinner table.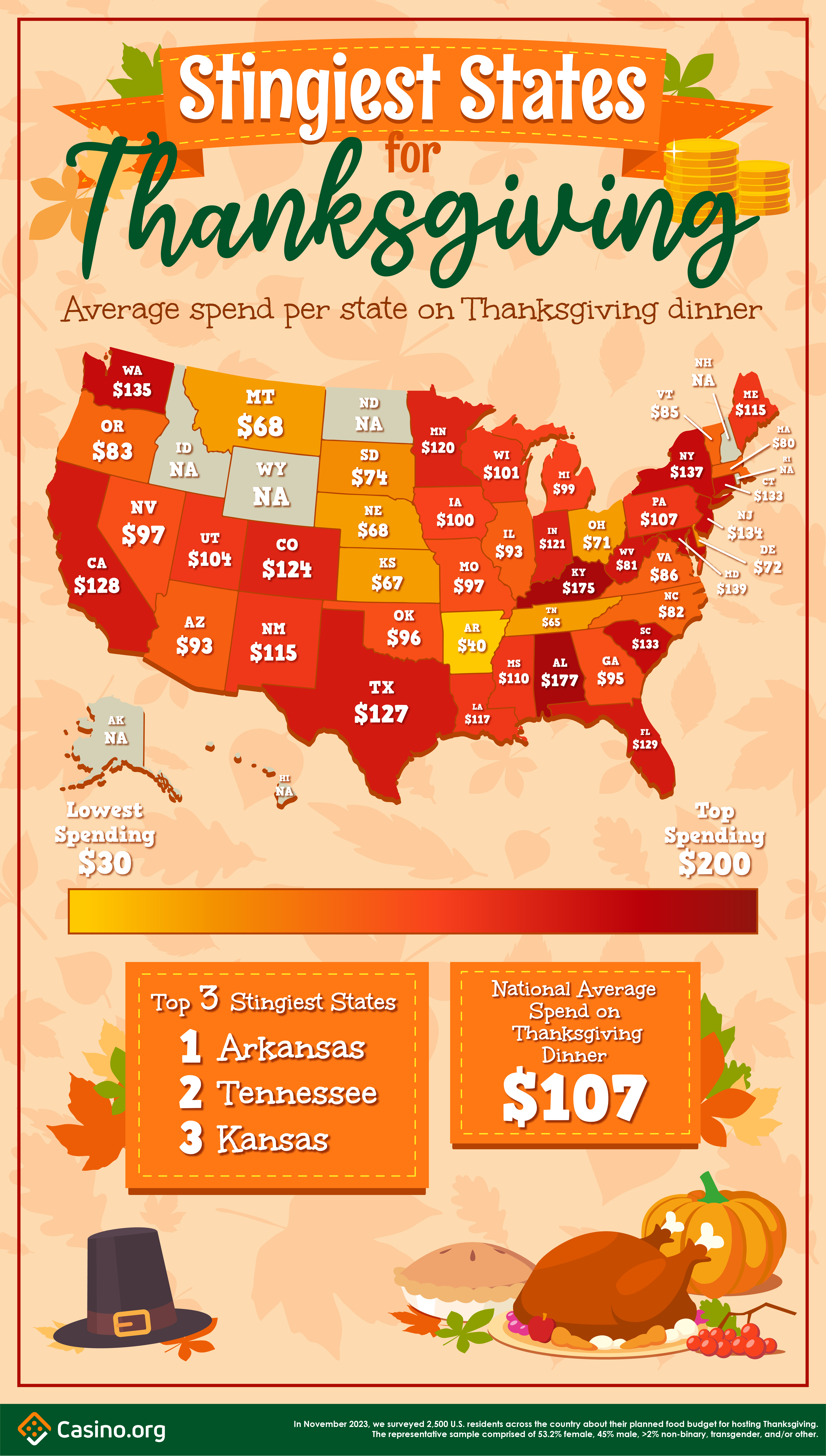 First in our hearts and at our table sits the state of Alabama. Showing us the true meaning of Southern hospitality, this generous state boasts an average spend of $176.56 per household. Alabamans are happy to pass the peas with the majority of respondents indicating that they'd be spending up to $200 on Thanksgiving dinner this year. That's a whole lot of turkey!
Coming into second place we look to Kentucky. Staying true to the claim of Southern generosity, Kentucky is no exception. The Bluegrass State is all about neighborliness and full bellies with the average household planning to spend $175 on Thanksgiving dinner this year.
The third most generous state to celebrate the holiday was Maryland and a merry land indeed with its predicted, bountiful Thanksgiving spread. Could we expect to be chowing down on crab legs at a Maryland Thanksgiving? Well, with $139.13 as the average budget, it's certainly possible! A small portion of Maryland hosts (5%) will even be spending over $500+ on their big day this year. Crab legs, turkey, and butter rolls, oh my!
Stingiest states for Thanksgiving
Some states are more focused on Black Friday shop-til-you-drop than on the reason for the season. So who is hogging the gravy at the end of the table and who is happily dishing out seconds?
Arkansas may be coined the "Land of Opportunity" but it's certainly not the "land of spending a bunch of money on Thanksgiving." Yep, that's right. The state of Arkansas is known for some pretty delectable dishes like Southern hush puppies, Arkansas possum pie, and Southern biscuits with chocolate gravy, but that doesn't mean they're planning to share any of the goods! Arkansas ranked the lowest out of all states with a spend of $39.58 per household. With a 16-pound turkey averaging about $28.96 that doesn't leave much room for sides. Make sure you have a snack before you head to any Arkansas Thanksgiving!
Uh-oh! The Volunteer State is getting a bad rap with its Thanksgiving meal spend. Tennessee might be a 10 in some things, but Turkey Day isn't one! Coming in second to last place, "Sting-ee-see" has an average spend of $65.22 per household. At least, in comparison to Arkansas, you can expect to see a bit more on your plate, but don't get your hopes up for pumpkin and apple pie.
Coming in at a thrifty bottom three, Kansas makes the list for stingy Thanksgiving spend. Only $1.45 ahead of Tennessee, the average Kansas household will spend $66.67 this year on their Thanksgiving meals. Let's hope they don't nickel and dime us over their Kansas dirt cake!
The highest-spending cities across the US
We wanted to take a granular approach to see which cities were spending mere crumbs and which ones were taking home the golden goose, err turkey. Although some states made ranks on the thrifty side, we found that, when we looked at the city level, some metropolitans were more giving than their state counterparts. Here's the list of the highest-spending cities across the US:
Miami, FL $205.40
Birmingham, AL $165.00
Buffalo, NY $160.00
Dayton, OH $130.00
Kissimmee, FL $120.00
Looking at the city scope, Florida's urban areas don't sound like bad options to spend the November holiday. Miami offers a generous budget for buying all the stuffing your heart desires. Kissimmee also makes sure that plates are stacked high with a generous budget of $120.00 per household.
Some shocking and not-so-shocking cities made the list too. Birmingham, Alabama makes perfect sense considering that it was the highest-spending state. On the other hand, Dayton caught us by surprise. Surrounded by stinginess (Ohio ranked #35 on average spend), this city easily outranks its state counterpart. In comparison, Dayton residents are planning to spend $130.00 while those residing in the rest of Ohio average around $70.50 in Thanksgiving meal budgets.
Millennials are the tightest on the turkey
Ugh, not another "I hate millennials" stat! Unfortunately, this generation is going to have to endure another scolding, as they ranked as the top generation to underspend for Thanksgiving. Famously told to cut down costs by skipping the Starbucks run, Millennials decided to take it a step further by skimping out on Thanksgiving dinner too. On average, Millennial-aged Americans will be spending 17% less than all the other generations combined.
Of those who stated that they'd be hosting this year, almost 50% of Millennials said they'd be keeping the budget under $50. Let's hope it's a limited guest list!
A banquet-themed brief
Before you set your tables and roast your turkeys, make sure you check your state's average spend! Knowing just how much your neighbors are dropping could help to make sure you're known as charitable rather than cheap this Thanksgiving.
Methodology
In November 2023, we surveyed 2,500 U.S. residents across the country about their planned food budget for hosting Thanksgiving. The representative sample comprised of 53.2% female, 45% male, >2% non-binary, transgender, and/or other.
Fair Use
Feel free to use the data or visuals on this page for non-commercial purposes. Please be sure to include proper attribution linking back to this page to give credit to the authors.
For any press questions, please contact riley.clark[at]casino.org