States with the Most Instagram #Influencers
Remember dreaming of becoming a doctor, a teacher, a movie star, or even a firefighter when you were little? Well, it's time to add 'influencer' to the list according to today's younger generation. With over 50 million self-proclaimed influencers worldwide, it's clear that the dream job landscape has evolved because back in our day, this now-renowned career didn't even exist!
In a nation where 103.7 million Americans use Instagram (IG), it'd be silly to defy the power of influencers. So, we set out to uncover which states have the highest density of Instagram influencers per capita (per 1,000,000 population).
Key Findings:
Washington D.C. is the IG influencer hotspot – with 129.9 influencers per capita
Representing the West Coast, California ranks 2nd with 90 influencers per capita
New York wins the bronze medal with a total of 76.7 IG influencers per capita
The state with the least IG influencers per capita is Wyoming – 1.7 per capita
Double-tap this! Washington D.C. is also the influencer capital!
We've all fallen under the power of influence to buy that irresistible product, visit that must-see location, or join the latest trend while scrolling through our newsfeed. But hey, have you ever wondered where all these creative geniuses come from?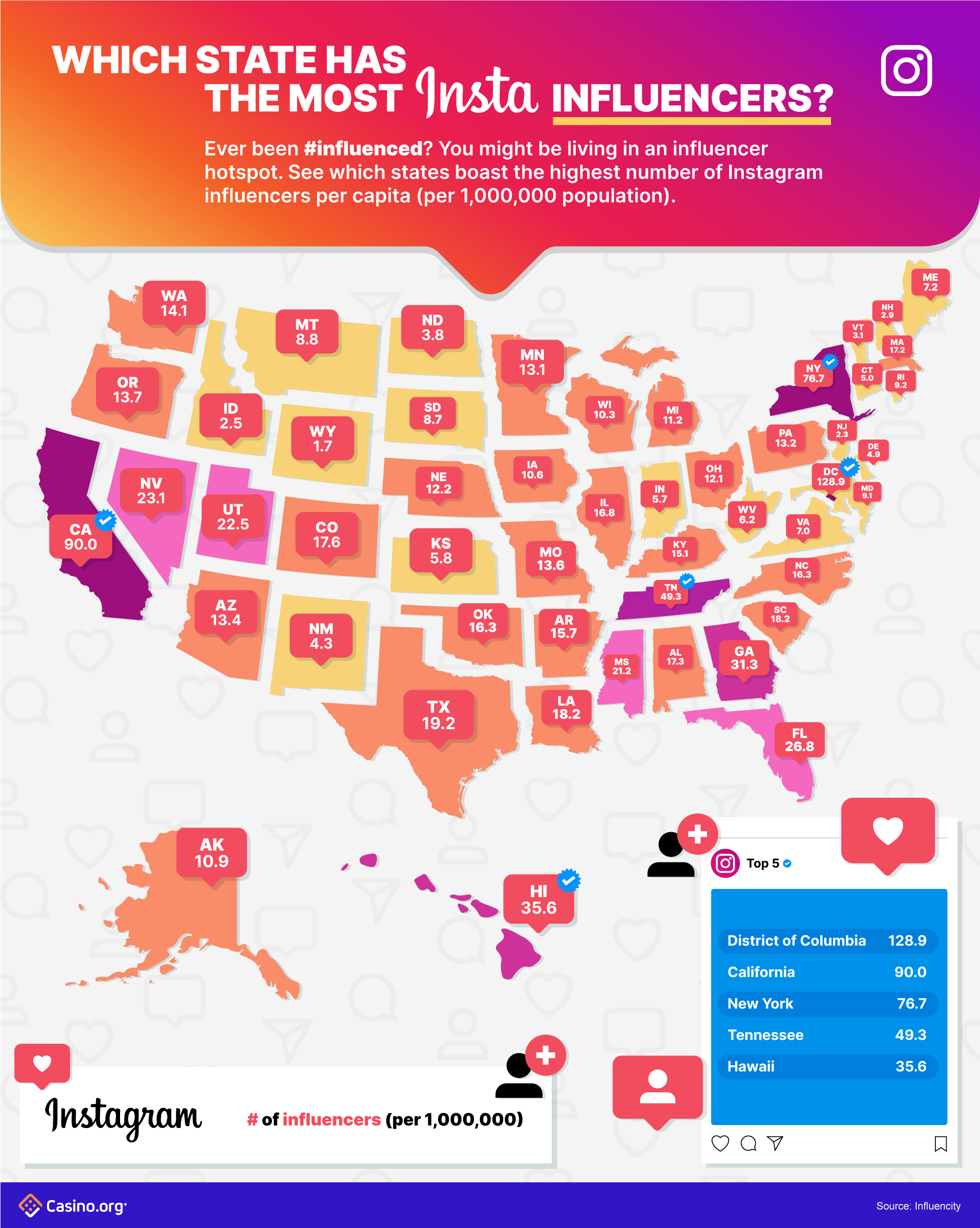 Watch out, President Biden, because there's a new contender in town – the thriving influencer population of Washington D.C.! D.C. ranks #1 with an impressive 129.9 influencers per capita. This comes as no surprise as the nation's capital is teeming with picturesque opportunities, and perfect for flaunting brunch and mimosas, OOTD's, and travel adventures.
All the way to the opposite coast, California ranks 2nd with an average of 90.0 influencers per capita. But don't let the silver medal fool you because the Golden State, alone, houses 3,501 IG influencers (that meets our criteria), making it the state with the highest number of influencers on the picture-perfect social media app. This doesn't come as a shock, as Los Angeles is swarmed with a multitude of influencers across all social media platforms – YouTube, Tikok, OnlyFans…you name it!
"New York! Concrete jungle, where dreams are made of" indeed! New York claims 3rd in our nationwide ranking, with an average of 76.7 influencers per capita. The Empire State houses 1,496 IG influencers making their mark, as it offers an abundant number of opportunities for individuals looking to grow their IG presence. From high-profile events like New York Fashion Week to thrilling sports games, the city (and influencers) truly never sleeps with the array of opportunities to share such digital content. 
Time to dust off those cowboy boots because Tennessee ranks 4th in our influencer per capita ranking, with an impressive 49.3 Southern IG trendsetters per 1 million population. A large number of influencers (352) reside in Tennessee as it's one of the eight states where influencers can avoid state tax income. But the tax benefits aren't the only benefit that draws influencers; who wouldn't want to flaunt their stylish cowboy boots in some of Tennessee's most iconic bars on the 'gram? Country roads, take me home to Tennessee! 
All the way out in the Pacific Ocean, Hawaii (5th) finishes out the top five list, with an average of 35.6 influencers per capita. The island's breathtaking scenery serves as the perfect canvas for travel influencers and cultural advocates to showcase Hawaii's cultural heritage.
On the opposite spectrum, Wyoming wins the title for the state with the lowest number of influencers per capita, clocking in at a modest 1.71 per capita. Why? Well, according to our filtered search, there's only…one Instagram influencer in the entire population. But hey, better one than none!
Whether you're an aspiring IG influencer or simply curious about America's influencer landscape, our influencer per capita data offers a state-by-state breakdown. It's your guide to pinpointing states with the highest networking opportunities and the untapped markets where IG influencers are in high demand.
Methodology
In September 2023, we conducted our research using Influencity, an influencer marketing platform. Our search focused on identifying Instagram influencers in each state who met the following criteria:
A minimum of 10k followers
A minimum of 2.0% engagement rate (the industry average)
Individuals aged 18 years or older
'Creator' account type
Verified accounts
Credible accounts
We then calculated our findings with the respective state's population to find the number of influencers per capita (per 1,000,000 million population).
Fair use
Feel free to use the data or visuals on this page for non-commercial purposes. Please be sure to include proper attribution linking back to this page to give credit to the authors.
For any questions, please contact rhiannon.odonohoe[at]casino.org