10 Best Nightclubs in Las Vegas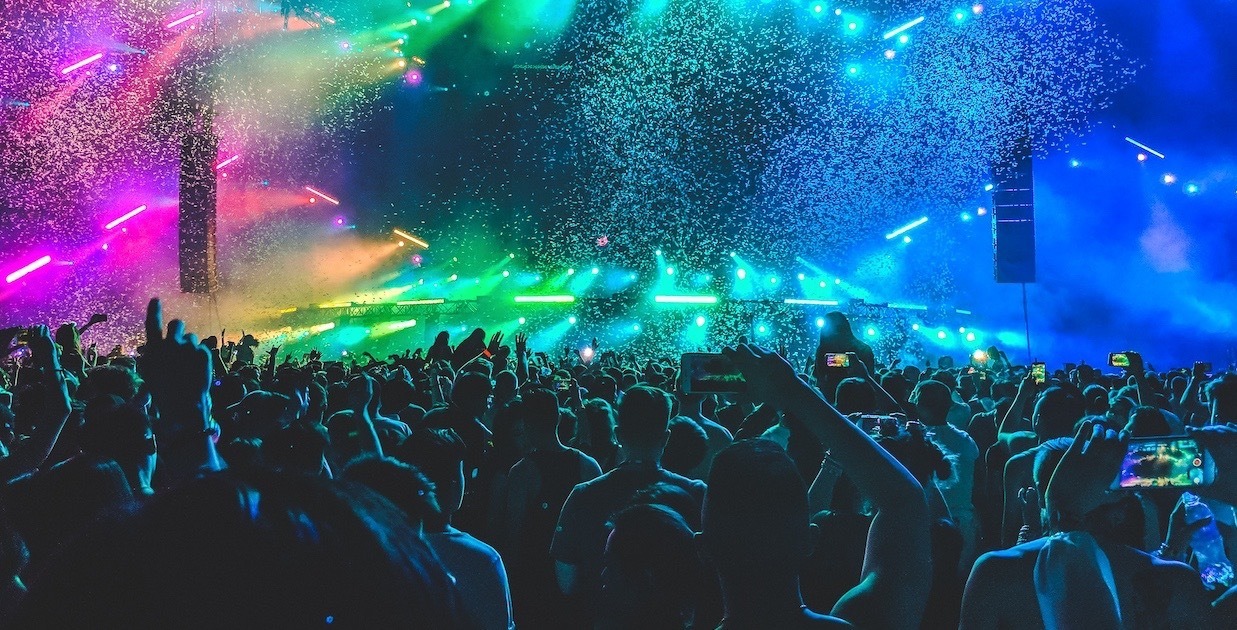 Las Vegas is known the world over for its gambling and epic casinos, and that, of course, goes hand in hand with great parties. Won big at the casino? You wana celebrate with your friends on the dance floor. Lost all your money at the casino? You need to commiserate with your friends on the dance floor.
So whatever happens, you'll be tearing up the Las Vegas clubs. And with some of the world's best DJs, state of the art sound systems, and luscious décor, this is one party destination you don't want to miss.
We've taken on the task of checking out the best of what Las Vegas has to offer and are here, as your trusted guide, to show you what's hot. Read on to discover the best clubs in Vegas:
1. Hakkasan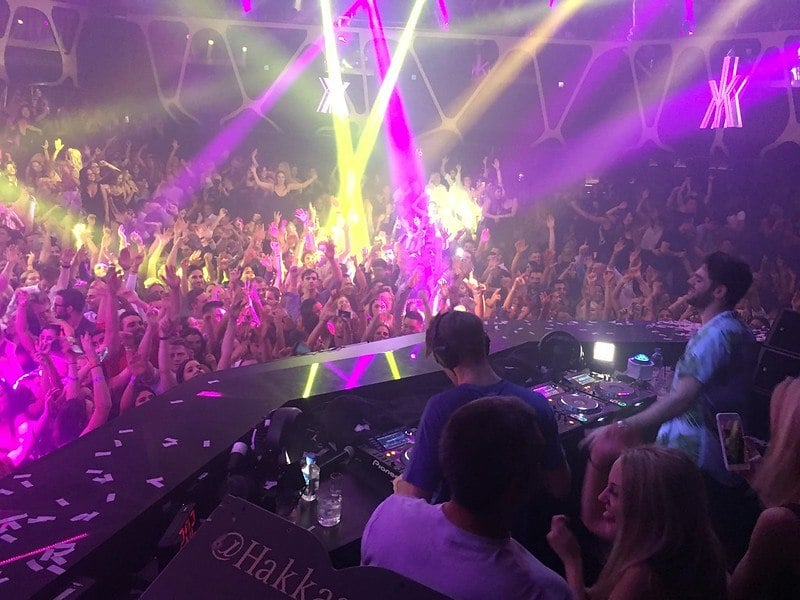 This place is like the Holy Grail of clubs in Vegas.
It literally sets the pace and all others just try and imitate. Its size alone will blow your mind and the technology it uses to bring you a top night out will make you delirious.
With the likes of Steve Aoki, Calvin Harris, Tiesto and Lady Gaga bringing you the party, you know you're in safe hands.
2. XS Nightclub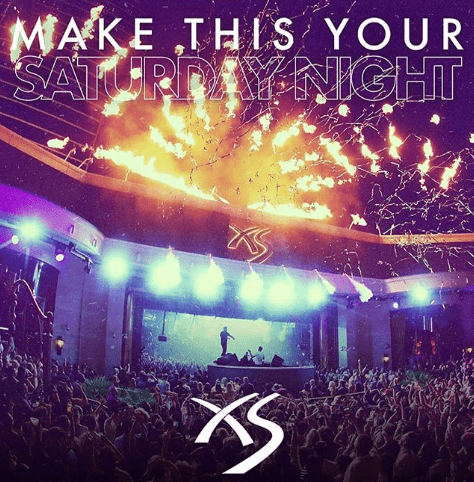 Whilst you could be mistaken for thinking this refers to a dress size, you're wrong. Think more along the lines of 'excess'.
This club is frequently at the top of the list when it comes to the best clubs in Vegas. Opulence is the theme here which you'll notice as you walk in and clock the golden staircase.
It's the most expensive club in Las Vegas, so don't expect any change out of $10,000 if you party here.
Don't forget to check out their famous XS NightSwim, which brings the best of daytime pool parties to late night clubbing.
With the likes of Drake and Kygo playing here, you're up there with the partying elite.
3. OMNIA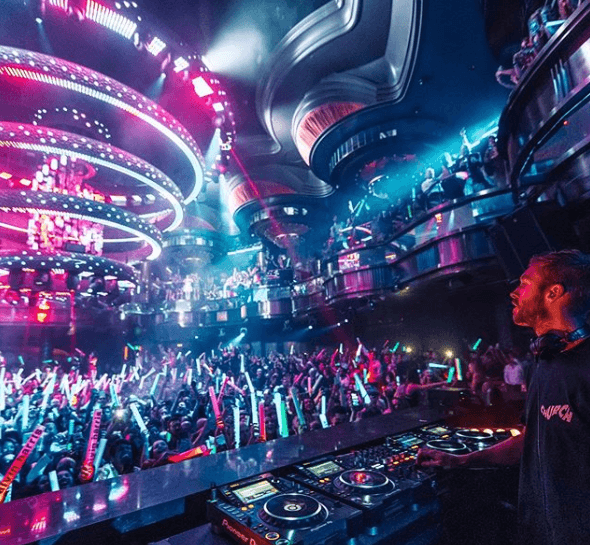 OMNIA is the biggest club in Las Vegas, and you'll find this gem inside Caesar's Palace. It's brought to you by the same people behind Hakkasan, so yeah, it's pretty epic.
The big landmark of this place is the giant LED spaceship hanging above the dance floor. Looking at it from below you can believe it'll take you to another planet!
If it all gets a bit much though, head out to the patio for some space on the balcony and take in the fabulous view.
4. Drai's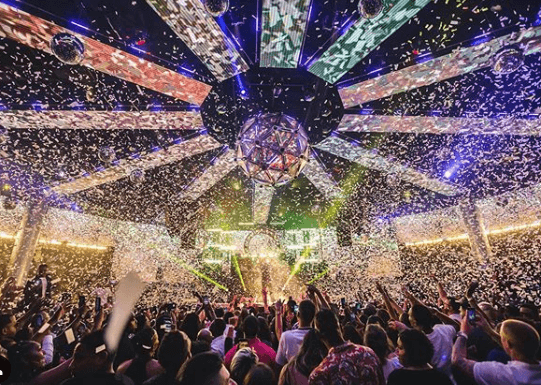 Drai's at The Cromwell seriously knows how to get you PUMPED.
You'll be jamming to the likes of T.I. and Travi$ Scott and then you can head to Drai's After Hours for some winding down at the end of the night to deep house.
This 25,000 sq. ft spot will light up your night on the Strip with the best live entertainment.
If you're looking for the best hip-hop club in Vegas, then this is where you want to get down! Some of the biggest RnB artists have graced their stage.
5. 1OAK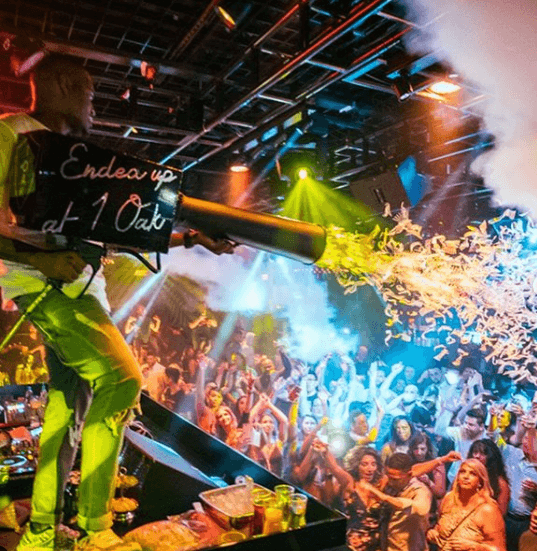 Bringing a slice of NYC to Vegas is what this dancers' paradise does for you.
Not exactly as 'one-of-a-kind' as its name would have you believe as there is one in a couple other cities, it still promises a good time.
Set across two rooms and bringing avant-garde style to the gambling destination, the whole place is built around the dance floor so if you came here to boogy, this is where you'll want to head!
For the best hip-hop Vegas vibes mixed in with Top 40 you can enjoy nights with Snoop Dogg, J. Cole and Flo Rida.
6. Tao
If you want to celebrity-spot then get yourself over to Tao in the Venetian.
Head to the dance floor where you'll be looked after by top DJs, or alternatively get set up in one of the eight private skyboxes overlooking the madness below.
Whether you're after EDM or hip-hop, the various rooms here will make sure your needs are met.
There's also a fabulous 40 sq. ft terrace which gives you the best view over the Strip.
7. Encore Beach Club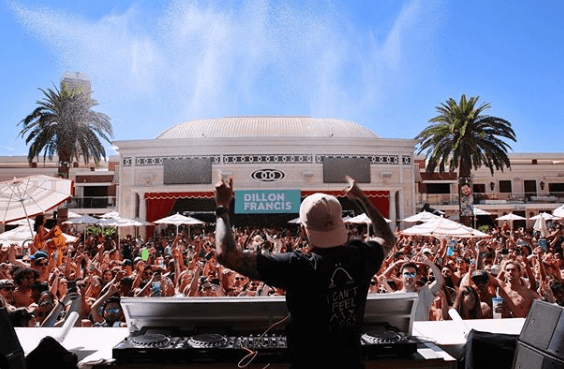 This is one swanky poolside spot, day or night, you'll be shining!
With the likes of David Guetta, Kygo and The Chainsmokers a regular hit, the party never stops.
Bag yourself a cabana or private bungalow so you have your own infinity pool and hot tub or simply park up on a daybed round the gorgeous pool for great table service.
8. Marquee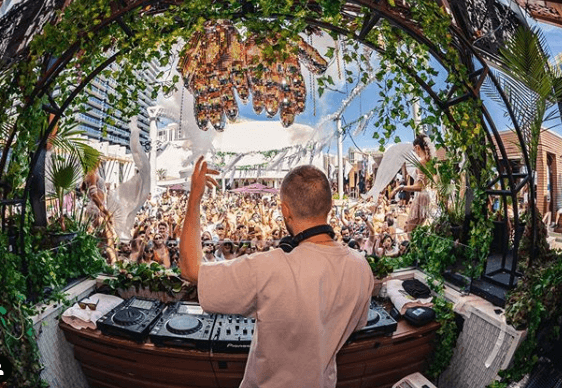 You'll find this inside The Cosmopolitan, which is one giant club in itself!
However, within this mega complex are other spots – Marquee (the 'main' one), Boombox, and Library. You'll find everything you need here for a grand night out from amazing music to tasty tipples.
9. LIGHT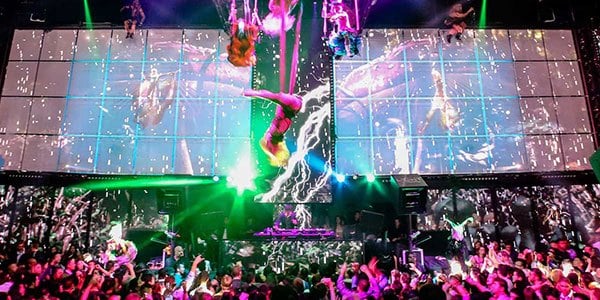 If you want a show and a party you have got to head to Light at Mandalay Bay.
They bring you a Cirque du Soleil style performance and thrust you into it, so you're immersed in the acrobatic magic.
You won't be flying from the ceiling though, don't worry, but you're so close and involved, it might feel like you're riding the ropes with them.
With fantastic lights and colours, LIGHT will make you rethink your approach to nightlife.
10. Jewel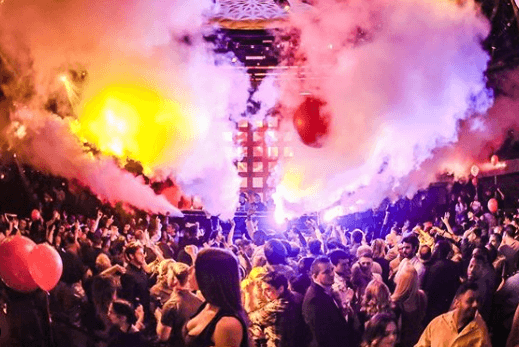 This is the jewel in the crown, as it were, for the group behind Hakkasan and OMNIA. Hat-trick!
They nailed it on their third venture, this place is awesome.
With the magnificence taken up a notch, you'll find VIP banquettes made from granite, double-sided LED screens that follow the music, and leather upholstery.
It's smaller than the other two clubs so, if you're after a more intimate night out, you should head here.
Everything You Need To Know About Clubbing in Vegas
1. Cost of club entry
Going out in Las Vegas can be costly.
Entry to most places will cost men somewhere between $20 and $60, and for women $10-$30. That said, you can get on guestlists which will greatly reduce the price, and sometimes make it free.
If you're planning a night out Sin City and you want an idea of how much it might cost you, try out this handy Vegas night-out calculator. No more nasty surprises!
2. Cost of drinks
Depending on where you go, the drinks can bleed you dry.
In places like XS you can pay $10,000 for a bottle. There are other drinks, usually a cocktail will start around $15 and beers around $10. And if you're getting great table service, don't forget to tip.
Of course, Las Vegas is not renowned for being a cheap night out (unless you meet a generous high roller). Those fancy bars come with a price tag.
And recently, there are reports that guests at Strip resort properties are getting stung by services fees on drinks too.
3. Dress code
You're not in Kansas anymore, so please, make an effort. Most clubs ask that you come dressed smart casual, or upscale chic.
That means NO JEANS or rips, leave your sandals and flip flops at home and don't wear hats or excessive jewellery. Goes without saying, but wife-beater shirts on men will not be welcomed.
Last but not least, don't forget the drinking age in the US is 21 and you'll likely have to show some photographic ID to prove you're old enough.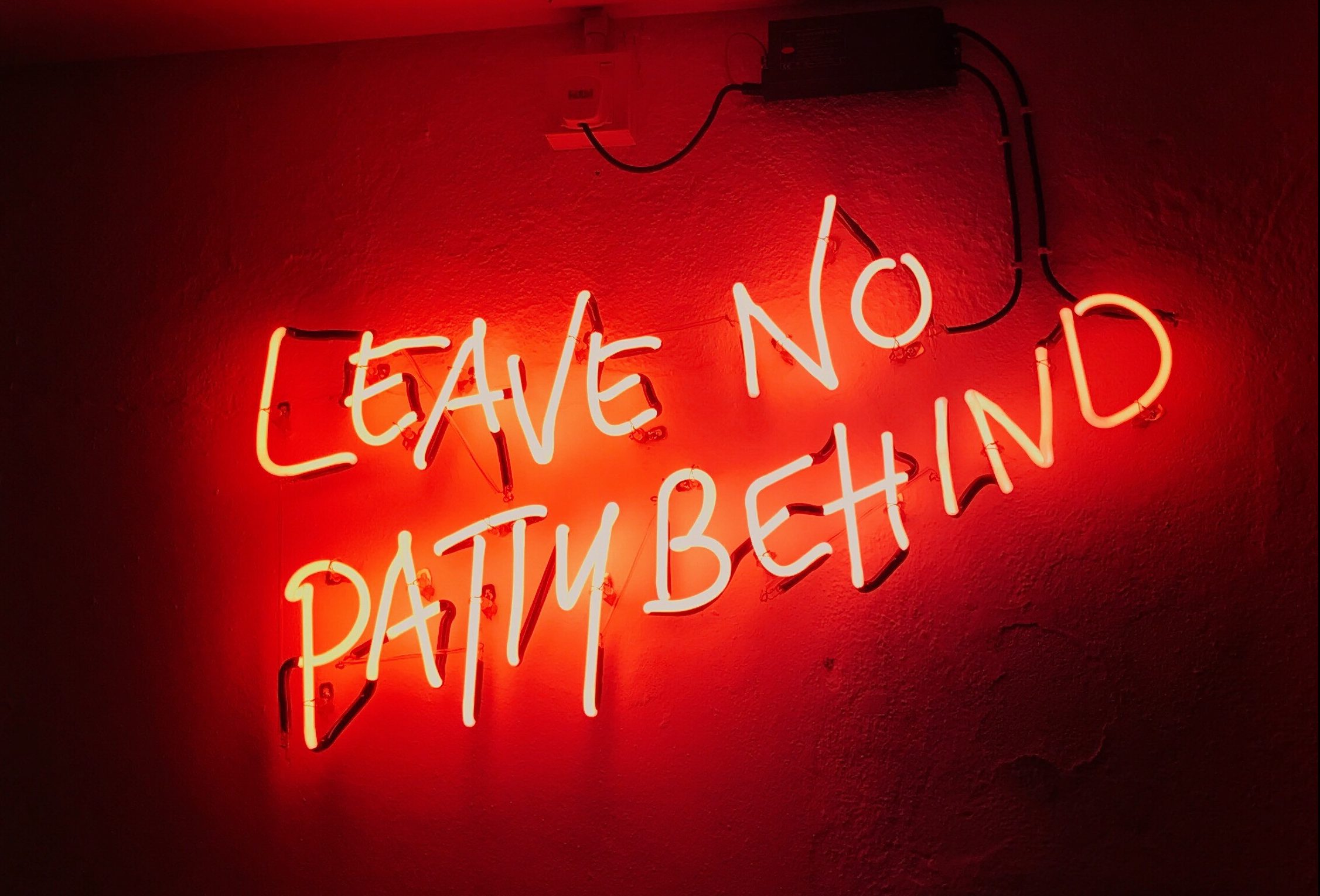 Enjoy Yourself!
Let's not pretend we're still the same spritely spring chickens we were in our youth.
Most of us, if we do it right (!) will feel it the next day. So, what to do when you risk writing a whole day of your trip off? Fear not, our top hangover cures in Las Vegas will see to it that you still have an amazing day.
Now that you're armed with all you need to know for an epic party at one of the best clubs in Las Vegas, go have fun!