Poker Pro Phil Ivey Misses World Series of Poker to Have His Day in UK Court
Posted on: July 17, 2017, 12:01h.
Last updated on: July 17, 2017, 12:16h.
Poker legend Phil Ivey would normally have been ensconced in Las Vegas this week, battling it out at the World Series of Poker Main Event (WSOP). Instead, Ivey is in London, fighting his legal battle to claim £7.7 million ($10 million) in punto banco winnings from London's tony Crockfords Casino, which he contests has been illegally withheld. The case reached London's Supreme Court late last week.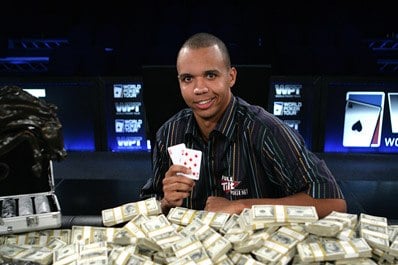 The top-ranked player's absence from the WSOP, while notable, is no longer the huge news it once would have been. In fact, since he won his last World Series bracelet in 2014, he's only registered for three WSOP events.
But until now, he's never missed the Main Event.
Ivey has been fighting the Crockford's battle for five years, along with a similar case from Atlantic City's Borgata.
Edge-Sorting 101
Ivey and his accomplice Kelly Sun "won" the contested sum in 2012 using a practice known as edge-sorting. This is a technique in which a skilled player is able to spot tiny discrepancies in the patterns on the backs of playing cards. Ivey and Sun requested a specific type of Gemaco cards to aid them in this, knowing historically that there were hard-to-spot manufacturing defects on them.
While at no point did they tamper with the cards, they did ask the dealer to turn certain cards 180 degrees during play, which they explained away at the time as a superstitious quirk.
In reality, they were instructing an unwitting dealer to sort the deck into two groups of favorable and unfavorable cards, which could then be identified by the backs, moving the odds into the players' favor. Crockfords later studied surveillance video, decided they were cheating, and withheld the money, which they had promised to wire to Ivey.
Ivey and Sun subsequently sued.
Battle of Two Dictionaries
The judge in a lower appellate court, in ruling against Ivey in November last year, described the poker player as an "honest" witness, in the sense that Ivey truly believed he was not breaking the rules. This prompted Ivey to question how there can be such a thing as an "honest cheat."
Ivey's lawyer, Richard Spearman QC, dubbed the case "the Battle of the Dictionaries" on Thursday.
That's because the Ivey camp uses the Oxford English Dictionary (1989) definition of "to cheat" ("'to deal fraudulently, practice deceit"), while Crockfords' relies on the newer Concise Oxford English Dictionary definition ("to act dishonestly or unfairly in order to gain an advantage").
"We say we have won that because we have the better dictionary," quipped Spearman at the hearing. "There is no finding at all that Mr. Ivey was dishonest in any sense," he added. "He was found to be an honest witness who didn't believe what he was doing was dishonest. He contends he is entitled to be paid his winnings because edge-sorting is a legitimate advantage play technique."
The case continues.
Ivey's Poker Acumen
Rated as the fourth-highest live tournament moneymaker of all time by record-tracker Hendon Mob, Ivey's winnings in that arena total just upwards of $23,800,000 in lifetime cashes.  But in recent years, he's largely abandoned tournament play in favor of super high-roller cash games, mostly in Macau and at the nosebleed private Bobby's Room in the Bellagio poker room in Las Vegas.
His biggest recent tournament gold was at the 2015 Aussie Millions in Melbourne, Australia, where he took down a prize of US$1,710, 854 in the APPT US$191K + $3,900K LK Boutique Challenge against just 24 other elite players.