NFL Revises Betting Policy, Gets Tough on Players Wagering on Own Teams
Posted on: October 1, 2023, 08:05h.
Last updated on: October 2, 2023, 01:28h.
Following a spate of sports betting controversies and suspensions of involved players, the NFL revised its sports wagering rules, including harsher punishments for players who bet on their own teams.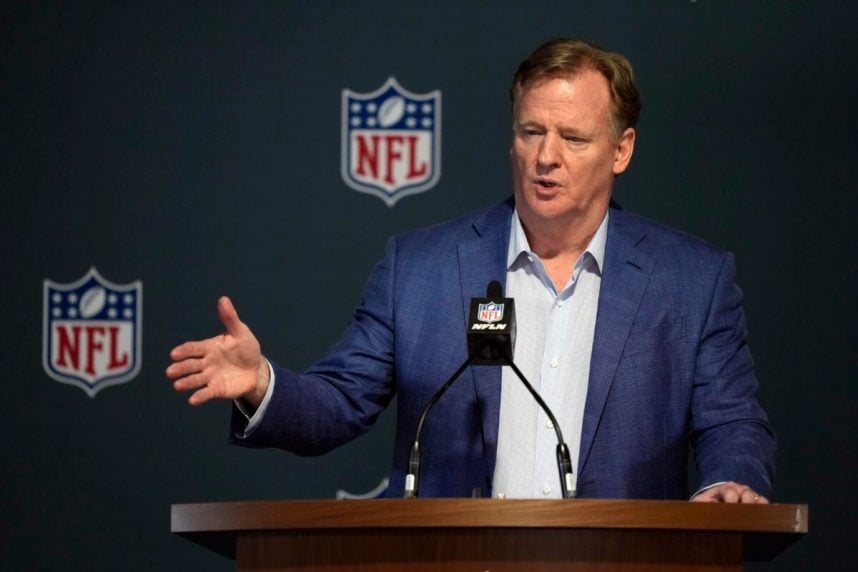 In a recently distributed memo, Commissioner Roger Goodell noted that a player who wagers on his own team will face suspension of at least two years, while a player who bets on any NFL game will be out of action for a minimum of a year.
We periodically review the NFL Gambling Policy to ensure that it is responsive to changing circumstances and fully addresses our commitment to protect the integrity of the game," Goodell wrote in the memo. "The revised gambling policy that we are issuing today provides that clarity and focus, and gives clear guidance to players about the consequences of violating the policy."
Since the now-famous 2018 Supreme Court ruling on the Professional and Amateur Sports Protection Act (PASPA), a dozen players, at least one assistant coach, and various league personnel have incurred suspensions for violating the NFL's betting guidelines.
Revised Policy Good for Some Players
Various players have already been ensnared in betting violations, with some, including Jacksonville Jaguars wide receiver Calvin Ridley, dealing with lengthy betting-related penalties. Ridley was hit with a one-year suspension for betting on NFL games when he was a member of the Atlanta Falcons.
In 2021, Ridley, a Florida native, placed the aforementioned bets in his home state in the brief window in which tribal gaming giant Hard Rock International offered mobile sports wagering in the third-largest state.
The gaming arm of the Seminole Tribe launched its mobile betting app. But three weeks later, a judge vacated the pact between the state and Hard Rock. The tribe continued taking mobile bets while appealing that ruling, but it ultimately pulled the sportsbook app on Dec. 4, 2021.
There is good news for other players in the NFL's revised betting protocols. The league announced relatively light suspensions for infractions of betting policy involving other sports while a player is at an NFL facility or traveling for games. Those penalties are a two-game suspension for the first offense, six games for the second, and a year for the third.
That could pave the way for free agent Stanley Berryhill and Detroit Lions wide receiver Jameson Williams, among others, to return to action sooner than anticipated.
Politician Applauds NFL
Rep. Dina Titus (D-NV), whose congressional district includes the Las Vegas Strip, applauded the NFL's revised betting guidelines. Earlier this year, she penned a letter to the major U.S. sports leagues, pushing them for more transparency on betting rules.
"I'm glad that the NFL created a distinction between behavior that threatens the integrity of the game and legal wagering on other sports," Titus said in a statement. "Penalties for game fixing and betting on one's own league should be more serious than betting on other sports. Every sports league should remain focused on protecting the product on the field. Leagues should periodically review their policies, in consultation with players, to ensure that rules are understood and updated when necessary."