Poker Players' Houses – How they Live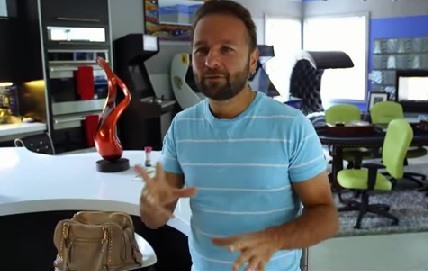 Do want to live with the largesse of a king? Then play poker like a pro, my friend.
Given that many of the top players of the game have had a seriously lucrative career, with earnings from poker tournaments running in the six figures, it is no surprise that they can afford to live in mansions and splurge on the finest things in life. Or the most trivial!
In this article we take a look at some of the most lavish poker players' houses and give you a taste of living life in the lap of luxury.
Daniel Negreanu
Daniel Negreanu is a household name, and the poker ace has notched numerous impressive wins during his career. When he's not working the tables underneath the glare of spotlights and stares of cameras beaming his victories to every corner of the world, Negreanu is relaxing at his lavish Summerlin mansion in Nevada.
The palatial complex has been customised so that it accommodates every aspect of its owner's lifestyle and his leisurely pursuits. Besides a nine-foot pool table, video game arcade machines, iconic poker photographs and inspirational posters strewn throughout his home, he has built a six-hole golf course along the side of his house where he can perfect the swing. And if it's raining outside, Negreanu can still get some golfing practice done thanks to his indoors course simulator.
Haralabos Voulgaris
Voulgaris is a formidable high stakes poker player who lives in a modern home in Hollywood Hills that boasts cutting-edge design and oozes an effortless elegance from every direction. Sitting atop a hill with incredible views of downtown Los Angeles, Voulgaris and his partner have everything they want in this house, which is full of gadgets to make their lives as easy and comfortable as possible.
One of the highlights of this poker house is a dedicated media room which is equipped with five high-end TVs and a 120-inch high-def projector screen in front of which Voulgaris can kick back and enjoy a movie or relive some of the greatest moments in his careers. A little vulgar, maybe? No, we didn't just make that joke.
David Oppenheim
David Oppenheim is the owner of a beautiful and modern home in Calabasas (CA) that sprawls across several acres and has everything a guy as successful and loaded as he is would want. The high stakes poker pro certainly has style and has decked out his pad with a minimalist style that only serves to highlight the exquisite collection of paintings and photographs hanging on the walls.
Oppenheim's attention to detail extends beyond the poker table as he decorated his family home with plenty of bespoke features including tasteful fountain features that give loungers a chance to unwind to the softly tricking noise of water as they feast their eyes on the amazing pool-side views of the surroundings.
Eli Elezra
Eli Elezra is a real family man who has built an enormous residence which sprawls across a massive area of 10,000 square feet where he can live with his wife and children. When not competing for some of the richest pots in the poker world, he is playing away online in his jaw-dropping office, relaxing in the media room or tending to the tropical fish in his 800-gallon aquarium during his downtime.
A thoughtful man, Elezra has built a private suite for each one of his children with the complex and has a guest house to host visitors right next to the main living quarters. Not to mention the cavernous closet for all of his wife's clothes and accessories!
Barry Greenstein
Barry Greenstein boasts one of the biggest poker houses in the business. Visitors to his Rancho Palos Verdes (CA) home are greeted by an entranceway and a magnificent staircase that seem as if they belong to a movie set. Red carpeted corridors criss-cross Greenstein's home and luxurious velvet curtains frame the windows which lead to breathtaking views of the surrounding area.
Greenstein decorated most of the walls with reproductions of some of the world's most iconic painting and has taken great care to make sure every space in his house is functional, including installing an indoor gym and an indoor pool complete with a waterfall.
Conclusion
Probably, the most surprising thing about this list is that practically anybody with a decent internet connection and a passion to learn the game of poker could star in it.
Owning flashy, expensive property is definitely one of the perks of being a high-roller poker player, but it's the sheer adrenaline-pumping action you take part in whenever playing the game that will have you return to the poker tables again and again till you rise to the very top.
Play long enough, hard enough and well enough, and you too could be lounging poolside in your brand new poker house. It all begins with the first bet.