Gender Bomb-ed? Male Movies vs Female Reboots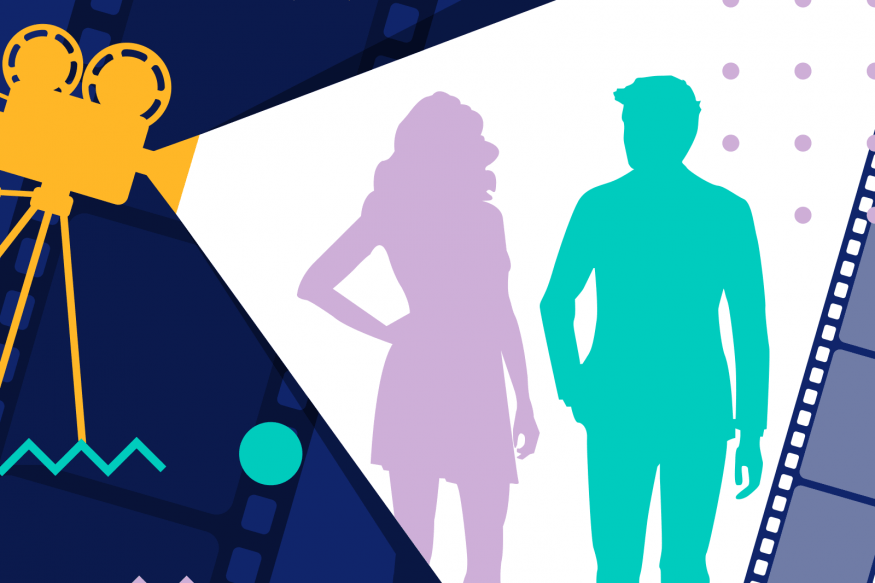 We've been in a movie mood lately, pondering the future of some of our favorite film franchises. And following reports that the next instalment of Pirates of the Caribbean could get a female lead, we started thinking…
Female film reboots haven't always received the warmest receptions and reviews — yes, we're looking at you Ocean's 8 and Ghostbusters — particularly when the source material is male-led and has already carved a niche in pop culture.
But is that because these female-led revivals of old favorites are truly flops? Or are audiences and movie makers still clinging on to old tropes?
We decided to take a look at how 'female reboots' are perceived in comparison to their male-led originals. We start by sizing up the star ratings on IMBD, before diving into the data of budgets, box office earnings and fan sentiment. Hold onto your nachos…
Gender Wars: IMBD Ratings
If you can't judge a movie by its IMBD ratings, what can you judge it on?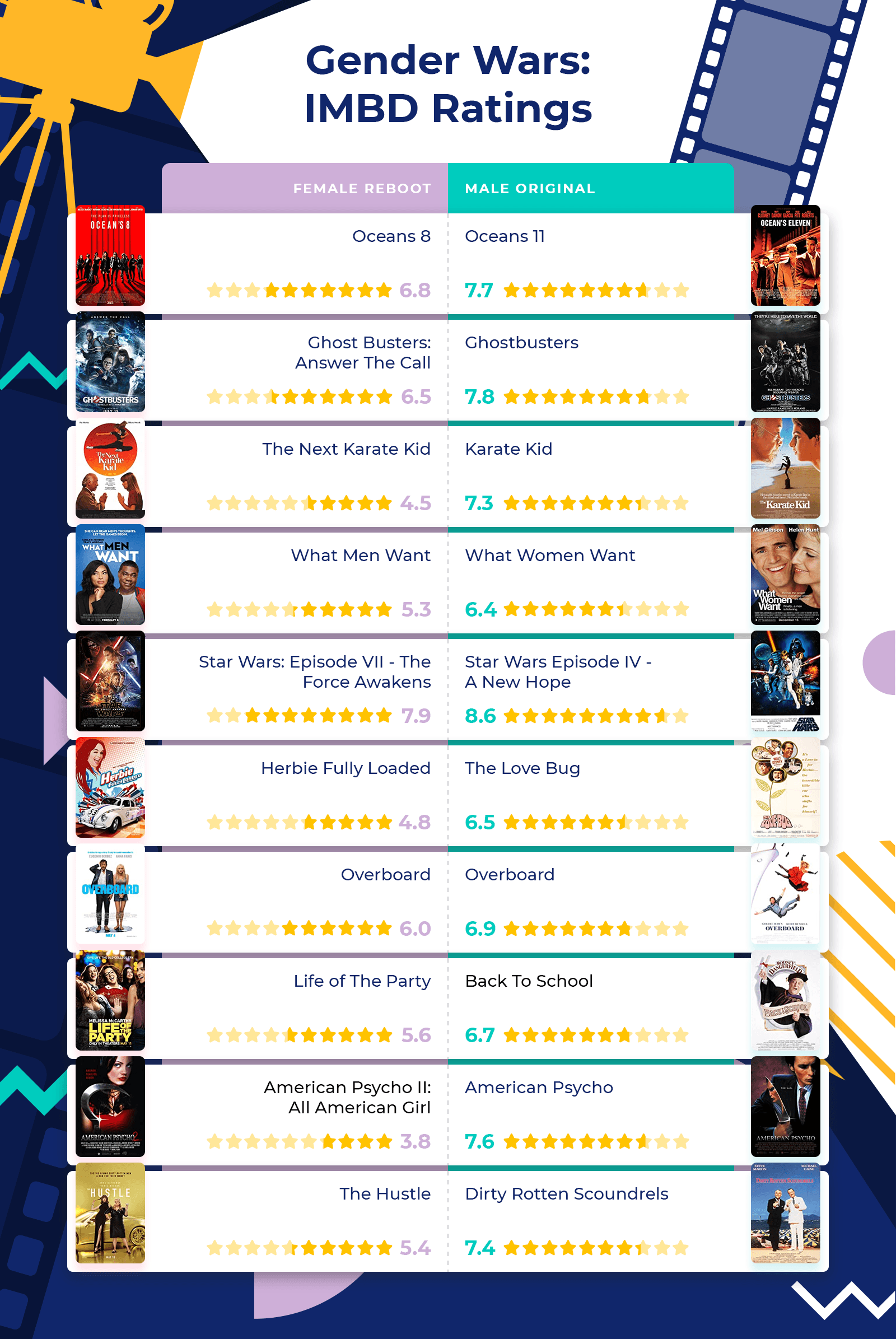 We start the famous stars comparison with Ocean's 8, where Sandra Bullock and co. get up to heist hijinks in the 2018 gender-flipped remix of the 2001 George Clooney and Brad Pitt vehicle.
The all-female ensemble sequel actually scores a respectable 6.8 in IMBD ratings but that's still far behind the original Ocean's 11 buddy movie, which gets 7.7.
As for another recent female refresh of an old franchise, the Melissa McCarthy-led Ghost Busters: Answer The Call is rated at just 6.5, while the iconic 1984 Ghostbusters with Bill Murray and co. clocks up a cool 7.8.
But despite these famous gender swaps getting a lot of media attention, they don't have the biggest IMBD ratings gap in our research.
That award goes to American Psycho, which viewers gave 7.6, while American Psycho II: All American Girl was the lowest rated film we found at 3.8 — that's a 3.8 rating gap, too.
The trend continues even with highly-rated movies such as Star Wars.
Episode IV — A New Hope scores a whopping 8.6, with Mark Hamill and Harrison Ford in starring roles. While the focus is on Daisy Ridley's Rey as the protagonist in Episode VII – The Force Awakens, which registers a lower 7.9.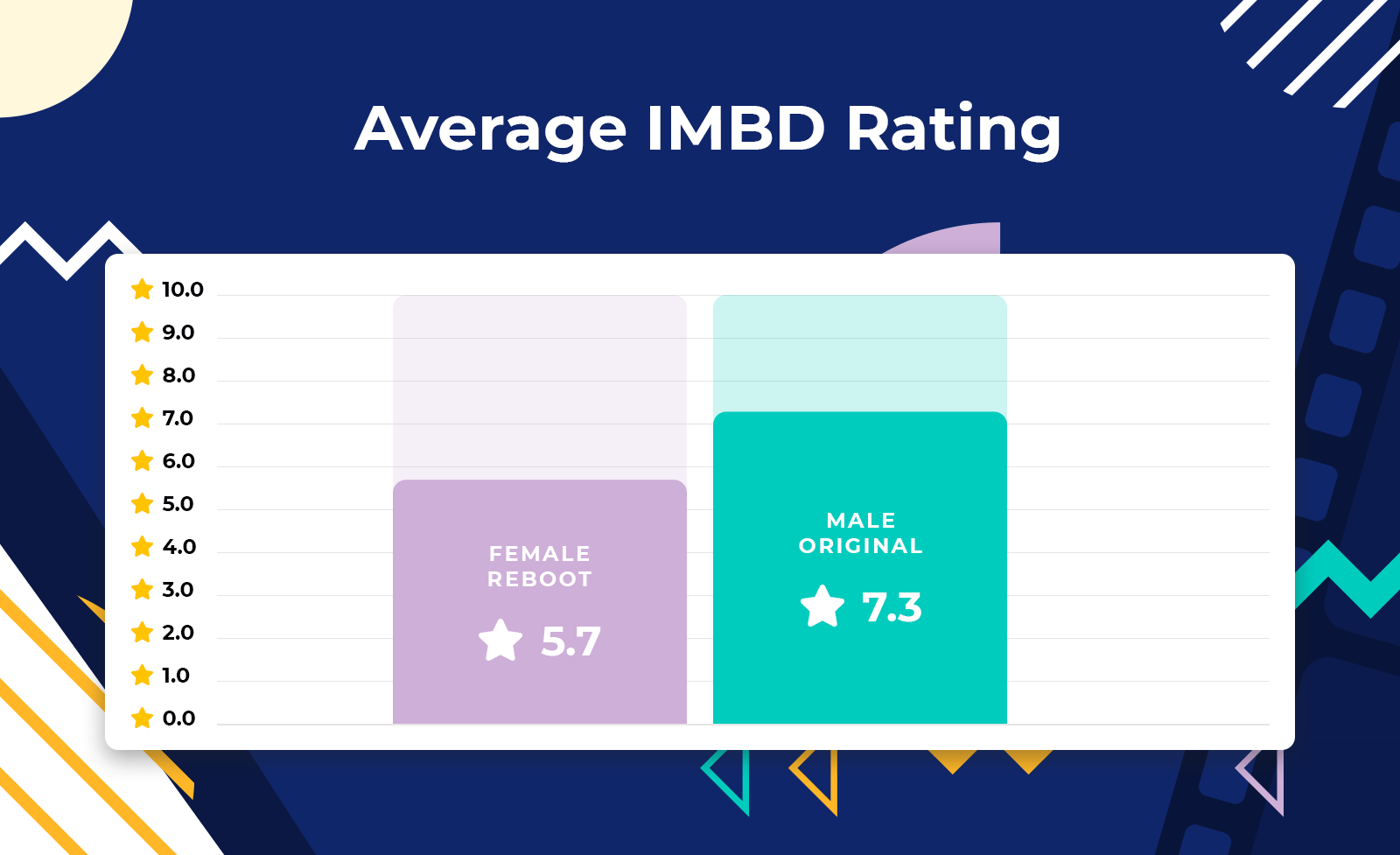 Overall, the 10 female reboots we found received an average rating of 5.7, while the male originals came in at 7.3 — leaving us with a 1.6 difference in ratings as the credits roll…
Mind The Gap? Budgets For Female vs Male Movies
It's time to take a look at the bank balance. While it's true that throwing money at movies doesn't make them a success, it can be key in figuring out why they fail.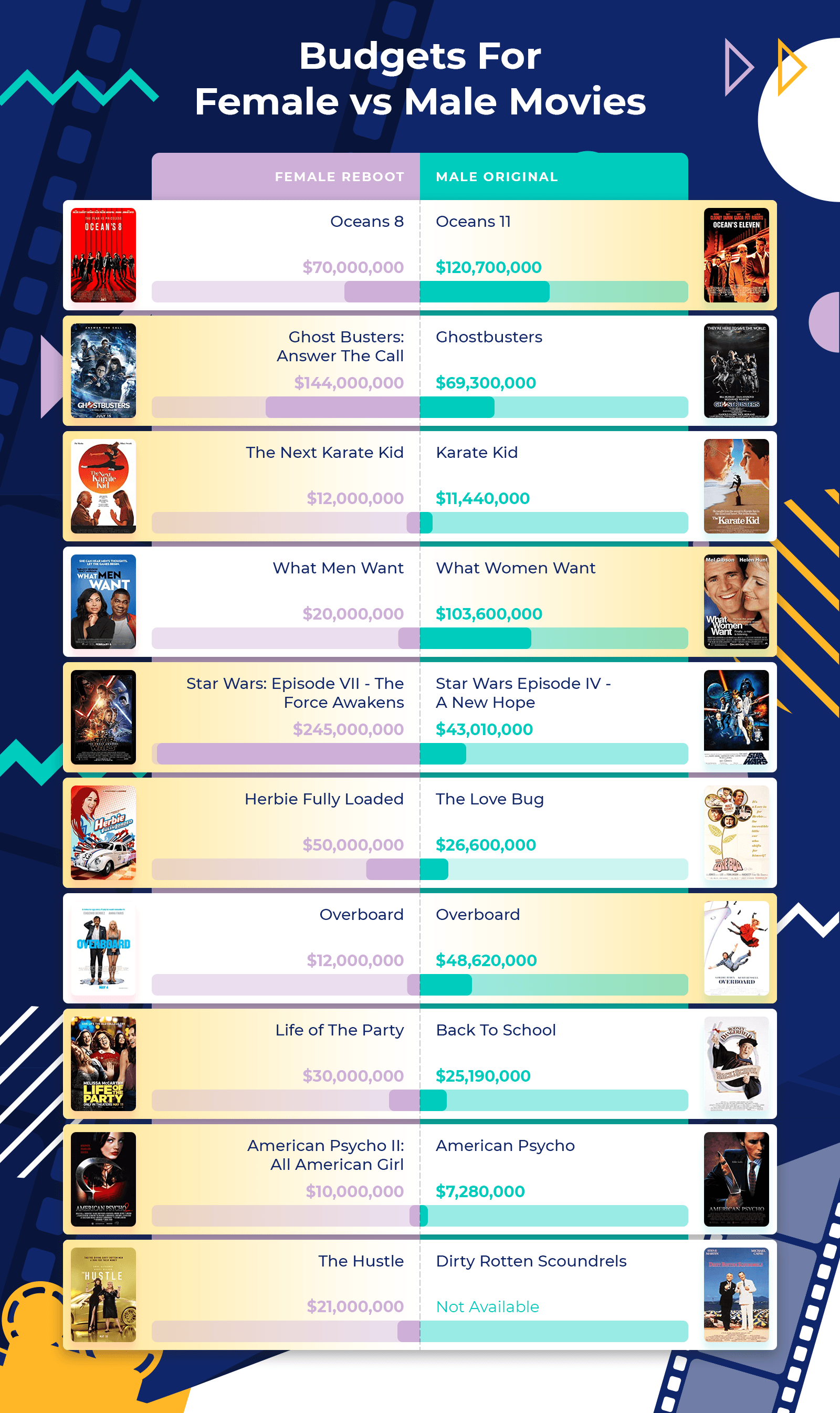 Have movie makers stumped up the money to ensure equal chances of success? Or are the cinema bigwigs reluctant to back female-led films with big budgets?
This will go some way to determining whether or not the female film flops were hampered by Hollywood.
Our calculations, which allowed for inflation between the time of the originals and the relaunches, brought up some surprises.
Although it was filmed a whopping 17 years after the original, the Ocean's 8 female reboot 'only' had a budget of $70,000, 000 — considerably lower than Ocean's 11's ginormous $120, 700,000 bankroll. Yeesh.
While, in 2000 and with Mel Gibson in the title role, What Women Want had a $103, 600,000 budget to burn — but with the roles reversed for Taraji P.Henson in 2019, the movie only got $20,000,000.

Some films such as Ghostbusters and Star Wars bucked the trend, possibly thanks to the need for CGI.
But our sums reveal that, overall, female reboots were given, on average, over $15 million less for their budgets than the male-led originals…
Hidden Figures: Box Office Earnings
Another great way to judge the success of a movie is also, of course, how much money it makes and its ability to put bums on seats.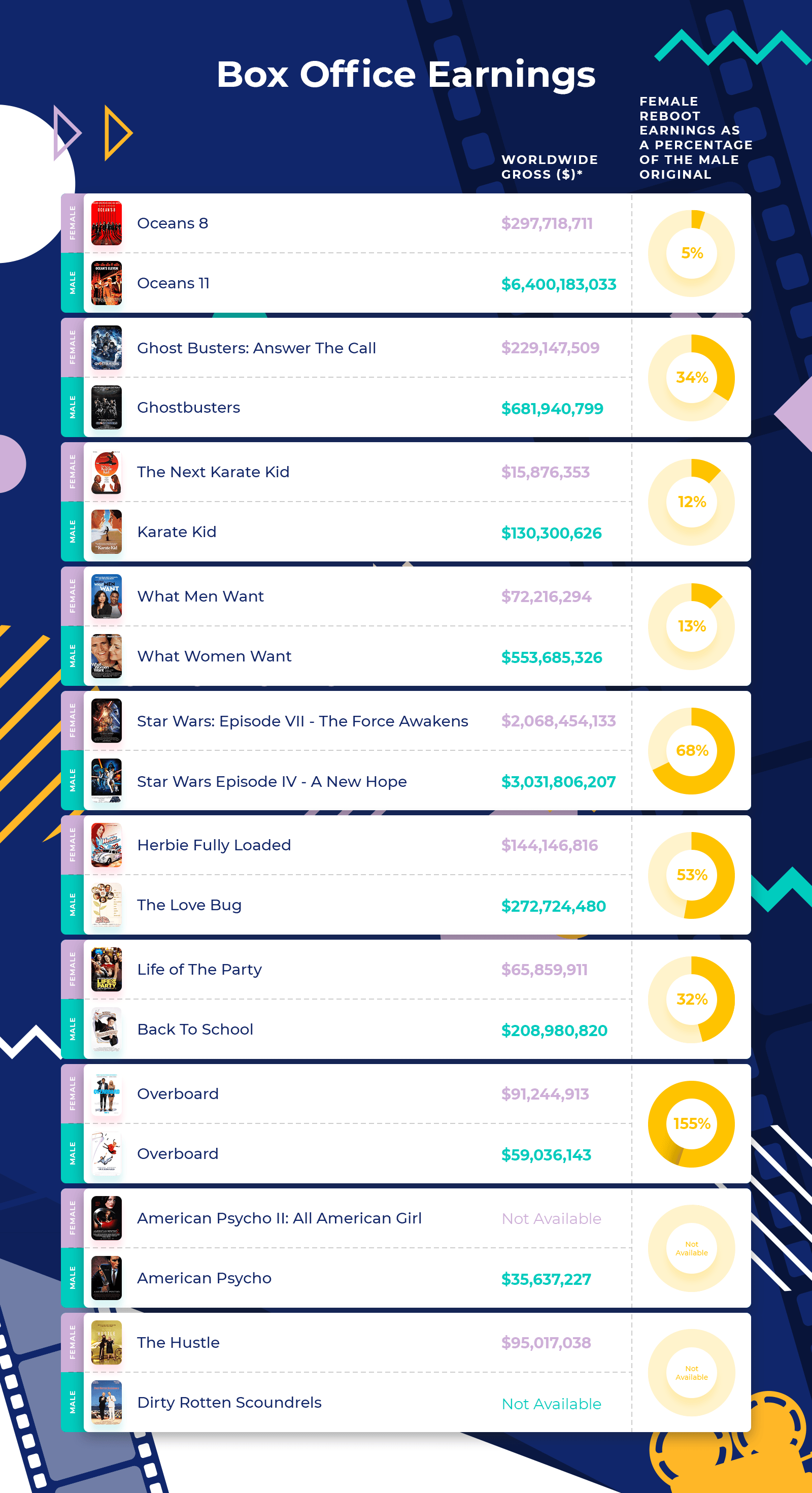 So we headed to the box office, courtesy of IMBD data, to take a look at the estimated worldwide gross for each film and compare the male-led vs the female-led — again adjusted for inflation.
The biggest eyebrow-raiser is Ocean's 8. Despite banking $297, 718, 711 and with the likes of Bullock, Cate Blanchett, Anne Hathaway and Rihanna on board, it still only made 5 percent of Ocean's 11's overall takings. Ouch.
Other films that failed to match the pull of the original, include The Next Karate Kid, which only netted 12 percent of the Karate Kid's earnings.
What Men Want, meanwhile, managed just a measly 13 percent of What Women Wants' earnings.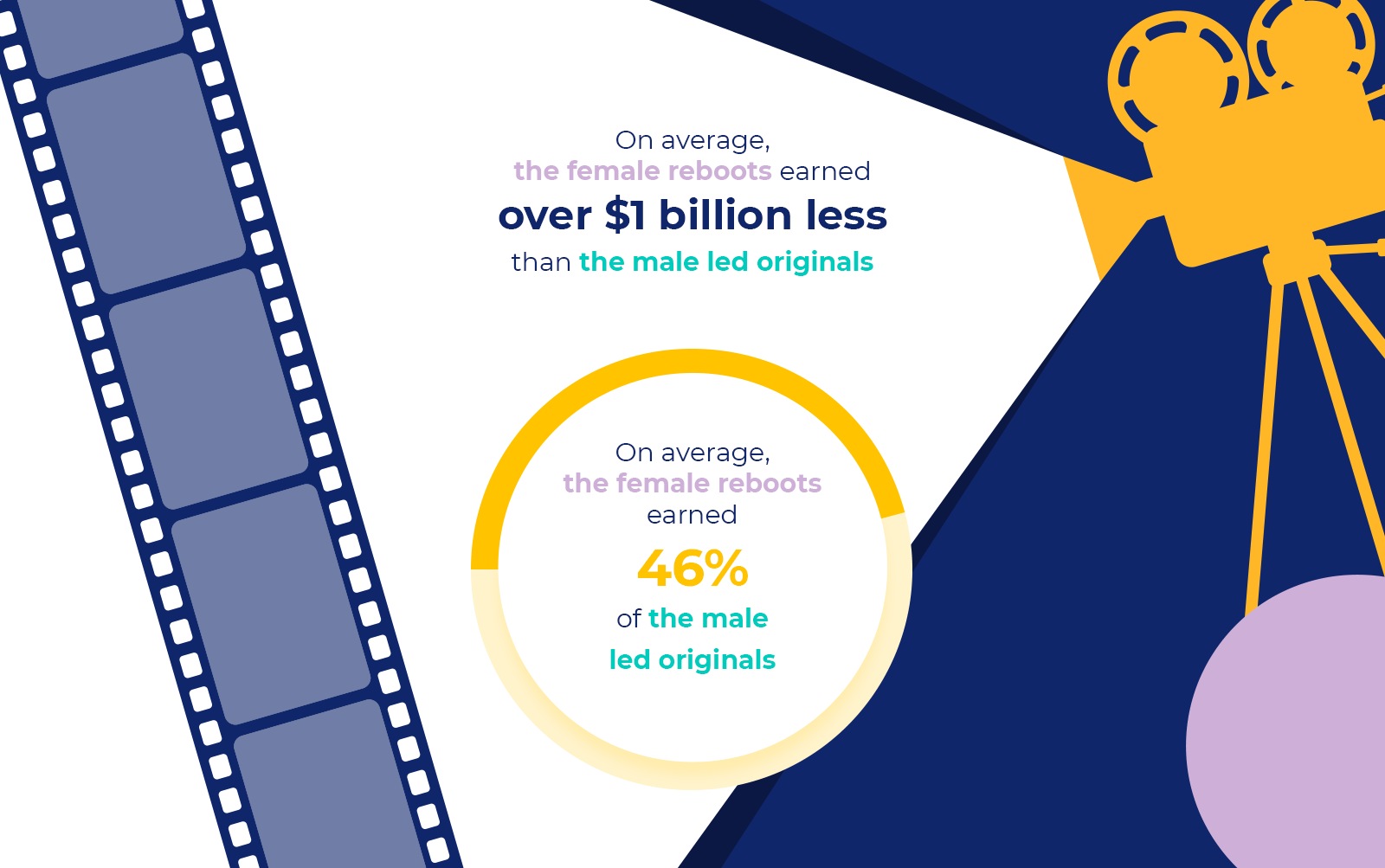 This all shapes up to show that, on average, the female reboots earned over $1 billion less than their original counterparts.
While, overall, they also earned just 46 percent of the male-led movies, too.
That's huge…
Bad Girls? Fan Sentiment On 'Feboots'
Fan feelings also hugely determine how well a movie will do — especially in the social media influencer and chat forum age.
To garner the public mood on the ground when it comes to female reboots, which are also sometimes known by the less than flattering and arguably demeaning name 'feboots', we used BrandWatch to analyze every online mention of 'female reboot' in the last 10 years.
We then went further and looked at the context — the emotion and sentiment behind the words.
So, what did a decade of data reveal?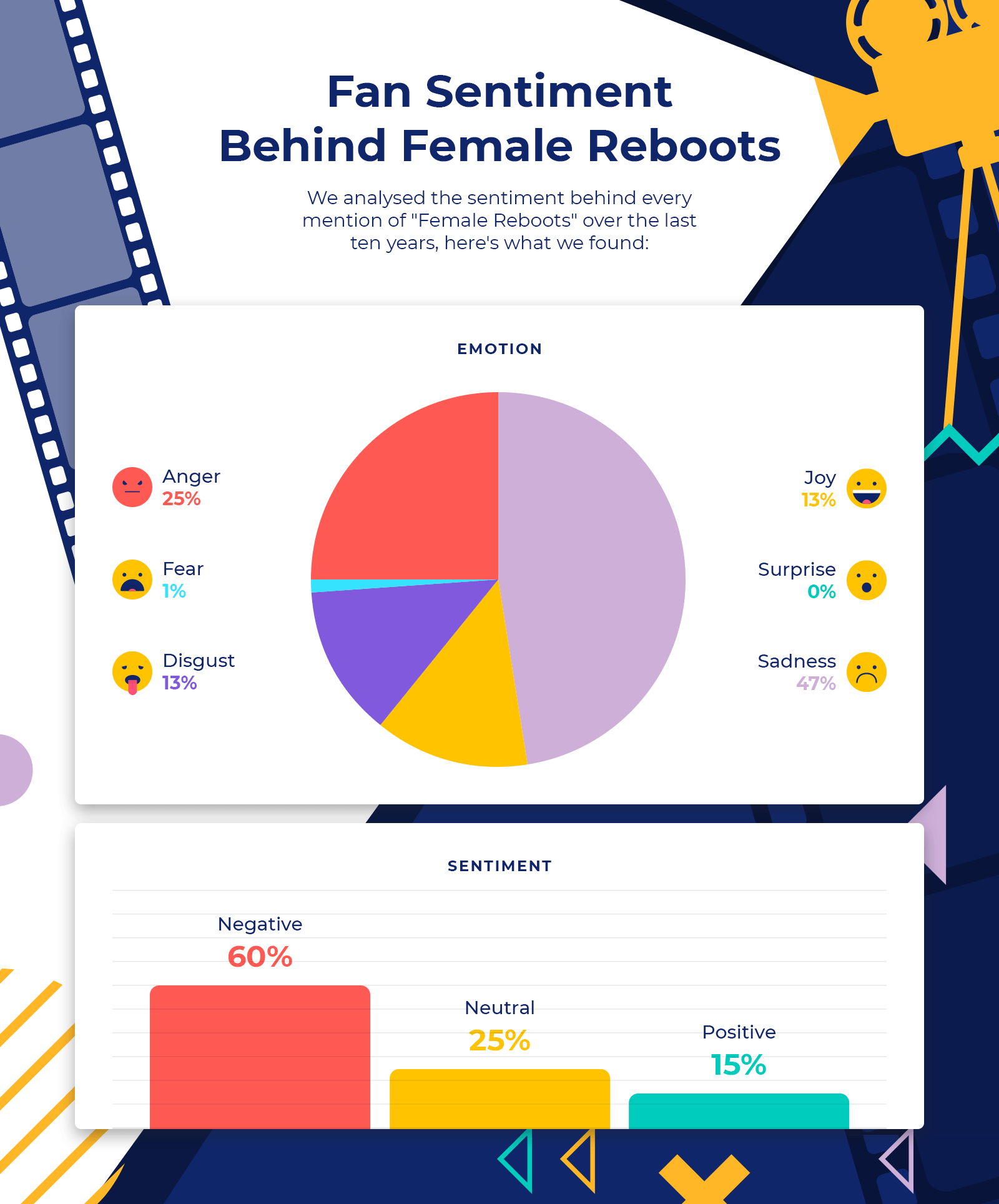 There's not a lot of good feeling out there, that's for sure.
An astounding 60 percent of online mentions were negative, with only 15 percent analyzed as positive.
While 25 percent of mentions were related to anger and 47 percent sadness, with 13 percent also linked to disgust. Wow.
So what does all this tell us about current film culture?
It might be too simplistic to say that audiences simply dislike movies with all-female casts or leads, or that movie makers fail them with lackluster scripts and smaller budgets in some kind of self-fulfilling prophecy.
We all know that the movies are male-dominated with outrageous gender pay gaps.
But we also know that, be it fronted by an actor that identifies as any gender or no gender at all, a sequel is rarely if ever as good as the original.
But it's equally oversimple to brand all the reboots as duds or box office bombs.
What's clear is that, although it's great to see cinema flipped on its head with fresh spins when it comes to gender roles, we need to make sure female actors are getting great fresh material too — so that the movie industry is full of fantastic female characters and casts on their own merit.
Then maybe the dialogue around female reboots will change too, so that the online chatter that surrounds them isn't overwhelmed by negativity before a red carpet has even been rolled out.
If you enjoyed this, you might like our study on gender differences in esports.