F. Pigalle Fondue Restaurant Opens Downtown, a Sexy, Succulent Surprise
Downtown Las Vegas has added another excellent offering to its already booming restaurant scene, the fondue-based F. Pigalle.
F. Pigalle had a soft opening on Dec. 15, 2015, with little fanfare and mostly friends and family in
attendance.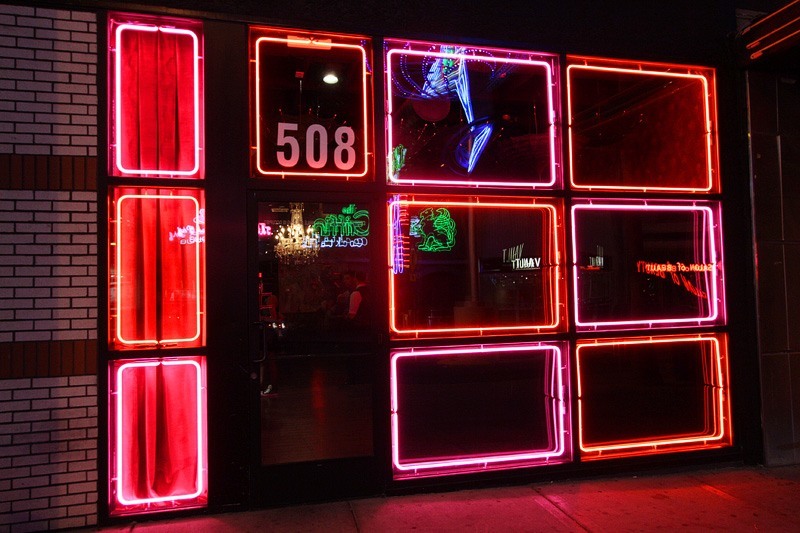 Fans of downtown have anxiously awaited the replacement for Radio City Pizzeria, and they'll be thrilled when they try F. Pigalle.
First, the obvious. The name of the place takes a little getting used to, but soon it'll be rolling off your tongue. Pigalle is pronounced "pee-GAHL." Say it a few times. We'll wait.
The "F" in the name stands for "fondue," and Pigalle comes from Quartier Pigalle, or Pigalle Quarter, in Paris. Pigalle is a famous tourist district, with sex shops and adult shows, and F. Pigalle on Fremont Street plays upon the theme in its decor. Here's more.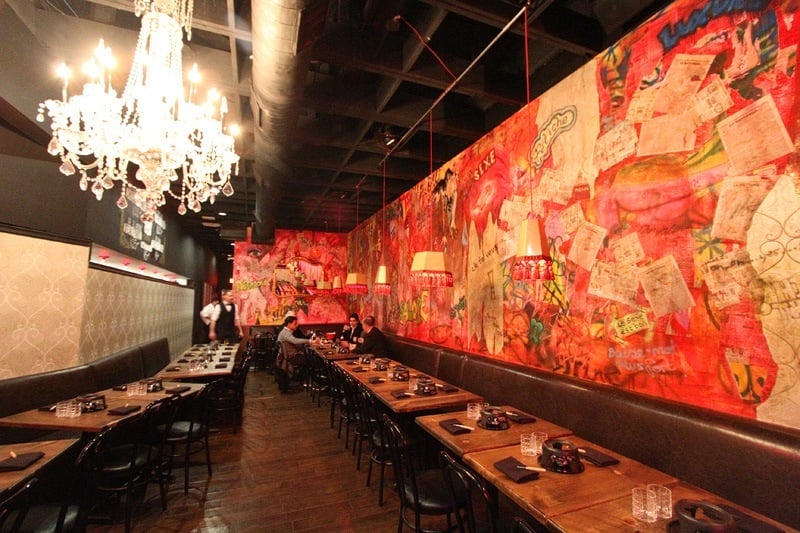 We suspect downtown denizens will come up with a nickname for F. Pigalle in time. During World War II, Allied soldiers referred to Quartier Pigalle as "Pig Alley," so there's that.
A small reception area sets the tone for the intimate restaurant, including displays featuring sex devices, the vast majority of which could make even the adventurous blush. Or cringe. But probably mainly that first thing.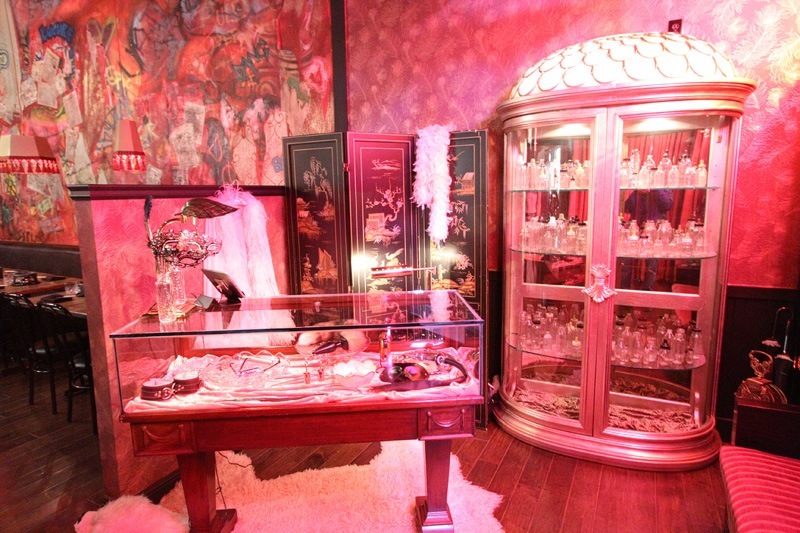 Examine the items in the display cases at your own risk, and unless you want to traumatize your kids, leave them in the trunk. Or wherever people are keeping kids these days.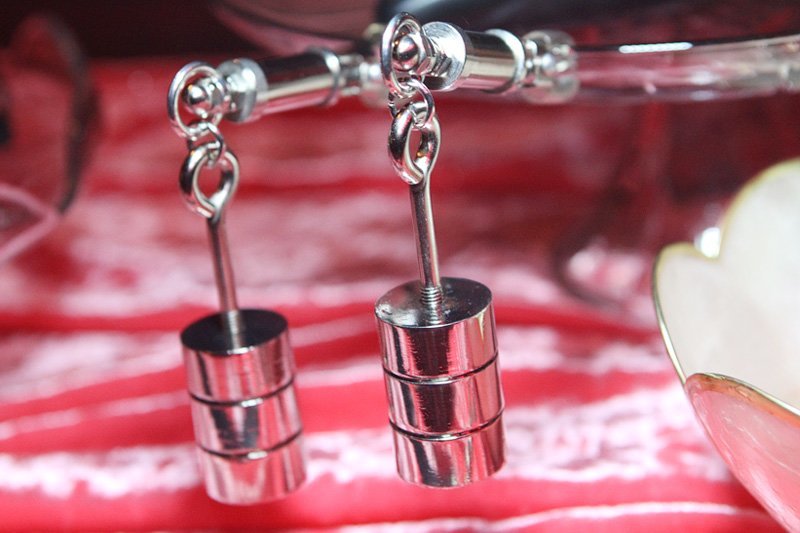 Oh, all right, one more device.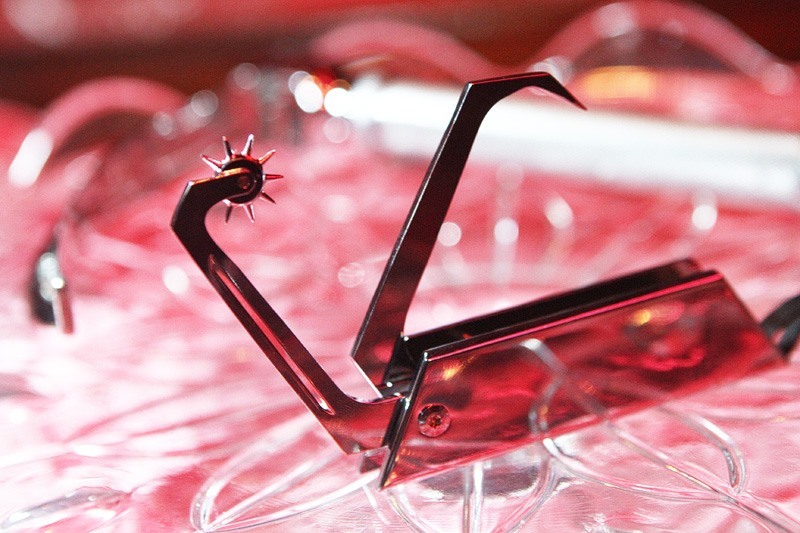 Moving on!
Guests aren't given a menu at F. Pigalle, and the selection is about as concise as any we've seen in Las Vegas.
Here's the F. Pigalle menu, in its entirety.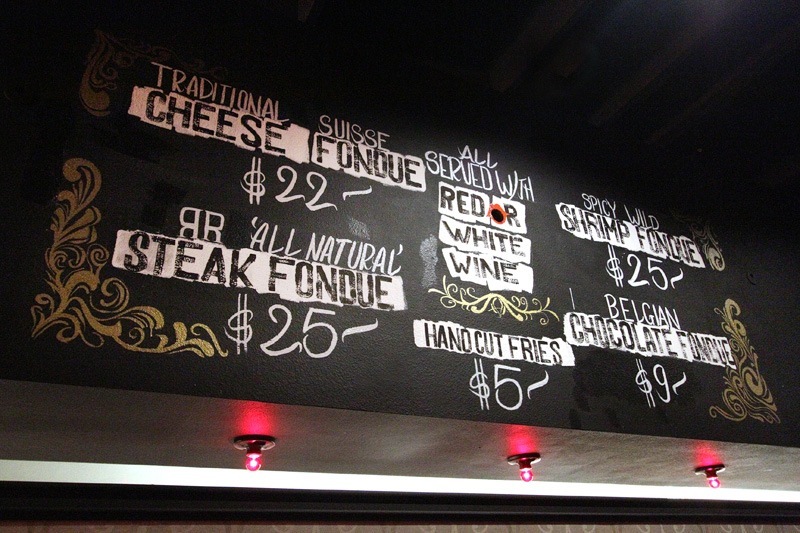 There are essentially three main courses, Cheese Fondue, Steak Fondue and Shrimp Fondue. There's a dessert, Chocolate Fondue, and a side, the tasty hand-cut fries. That's it!
We dove right in, ordering the Steak Fondue. The meat arrives raw, so you get to fondue it (assuming "fondue" can be used as a verb) to your liking.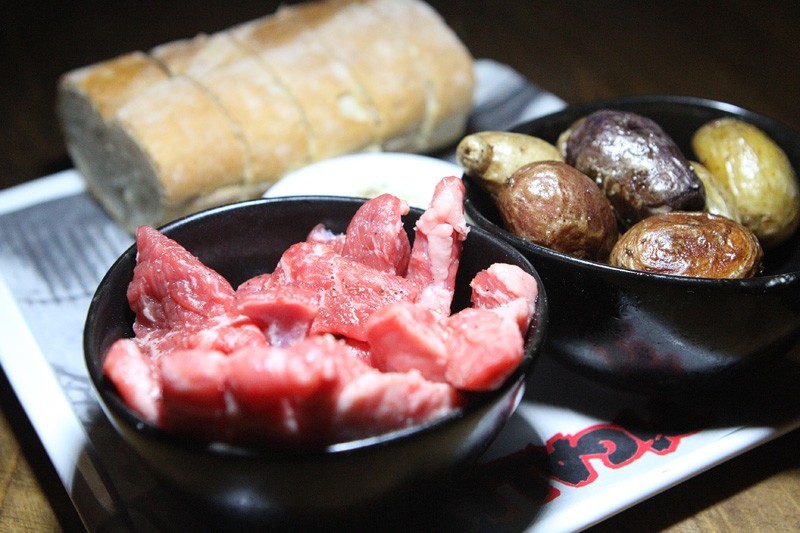 While the prices are surprisingly reasonable, especially since the main fondue packages could feed two people, assuming they also share the fries, each dish comes with bottomless red or white wine.
That's right. For each entree fondue ordered, guests get unlimited wine. (If you share a fondue, it's bottomless wine for one or the other of you, not both.) We're going to predict right out of the gate there's no way that deal lasts more than a few weeks at most, unless F. Pigalle has made a decision to not focus on what those in the business field call "being profitable."
For the moment, though, this is one of the better dining and drinking deals downtown, and that's saying a lot.
The Steak Fondue comes with four scrumptious sauces, chimichurri, horseradish, bernaise and demi-glace. Yes, we took notes for once in our life, they were just that good.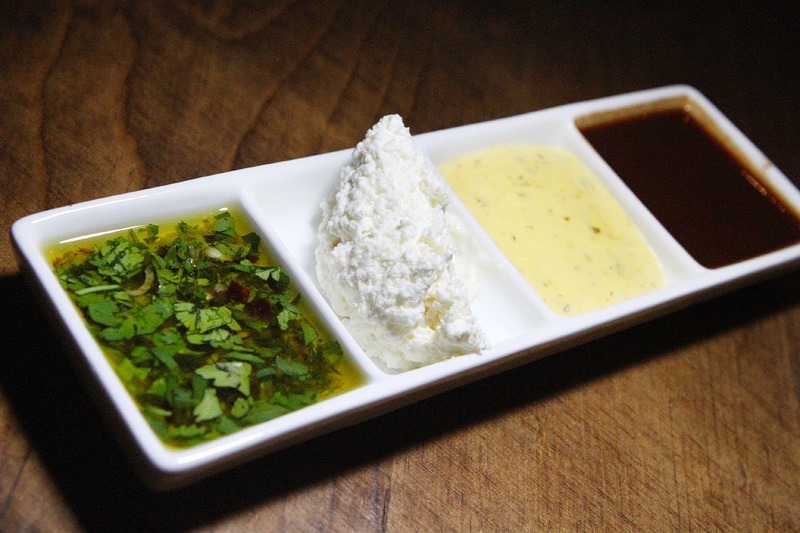 The deliciousness is due, in large part, to the restaurant's chef, Sam Marvin.
Marvin has an impressive background, which, were this blog not entirely drunk (yes, there's Captain Morgan), we would research extensively and pass along. In lieu (more French!) of that, here's a link.
What we do know is F. Pigalle is a collaboration between Marvin and restaurateur Jeffrey Fine. They're the team behind the highly-regarded Echo & Rig.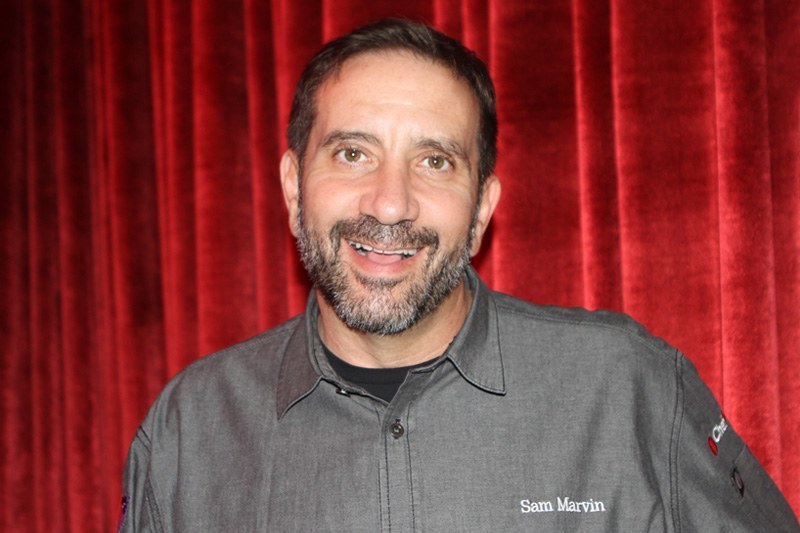 While we're on the subject of liquor, and when aren't we, a quirky aspect of F. Pigalle is the wine is served in baby bottles.
The story goes that when the French government began charging a tax for wine served in stemmed glasses, clever French persons began serving alcoholic beverages in baby bottles to evade the taxes. "Viva la tax loophole!"
The added bonus of baby bottles, of course, is the nipple intensifies the buzz, just as drinking through a straw does.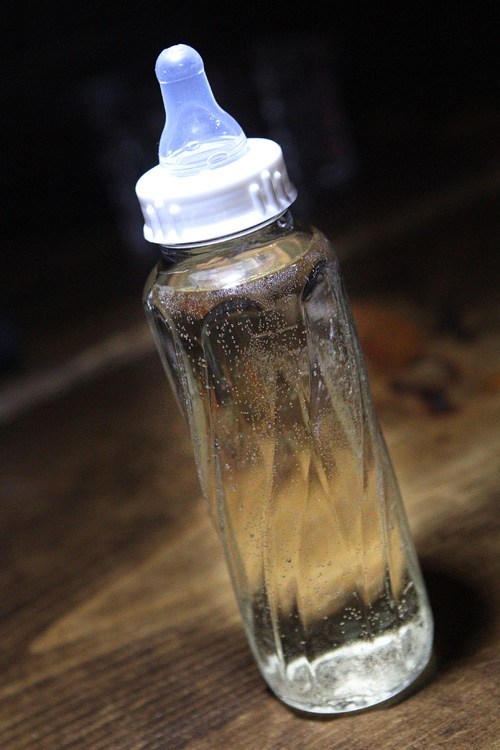 The baby bottles are seriously a thing at "Pig Alley." How serious?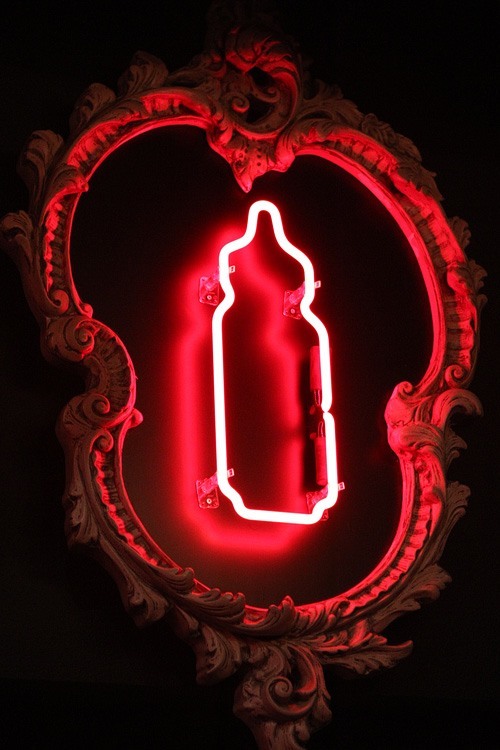 The Chocolate Fondue is a special treat, with a variety of things to dip into your melted chocolate. There are frozen bananas, strawberries, espresso pound cake and the best thing you could ever dip into melted chocolate, house-made Rice Krispie treats.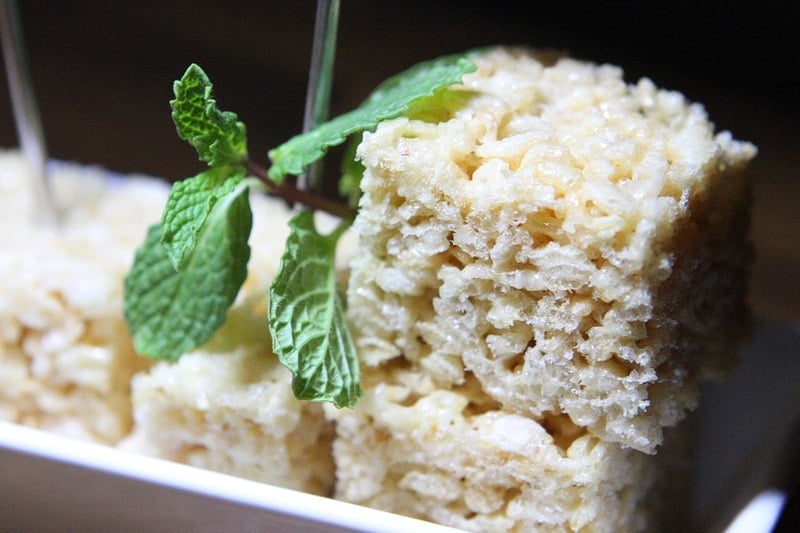 Let's slather stuff with melted chocolate, shall we?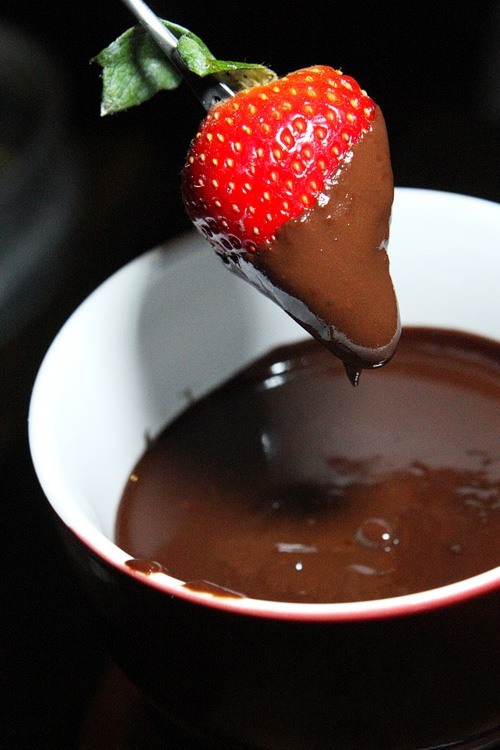 If you can pull yourself away from your Chocolate Fondue, it would be wise to venture out to the restaurant's patio bar, tentatively called the Red Light Bar.
This outdoor bar is going to be a hit, mark our words.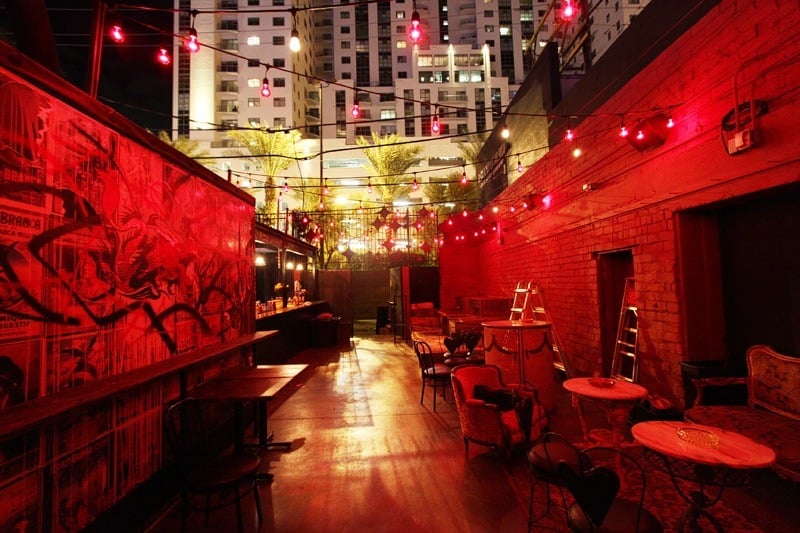 On opening night, F. Pigalle was offering guests a sample of its Rum & Marriage signature cocktail, and if it's any indication of the rest of the specialty cocktail menu, we're going to be spending far, far too much time at the Red Light Bar.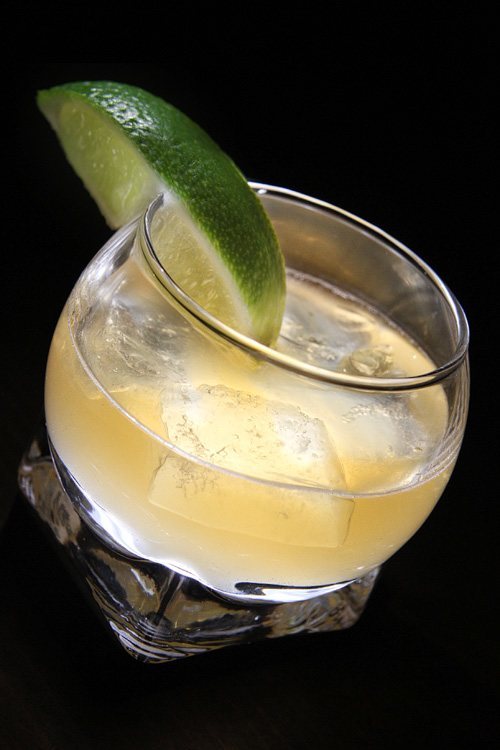 We honestly had no idea what to expect when we heard a fondue restaurant was coming to Fremont Street. It didn't take long for F. Pigalle to win this Las Vegas blog's heart and loin. Unless that's awkward, then we'll just stick to our heart.
Fondue makes for an interactive, social dining experience, a perfect fit for the expected clientele, including a lot of people who live and work downtown.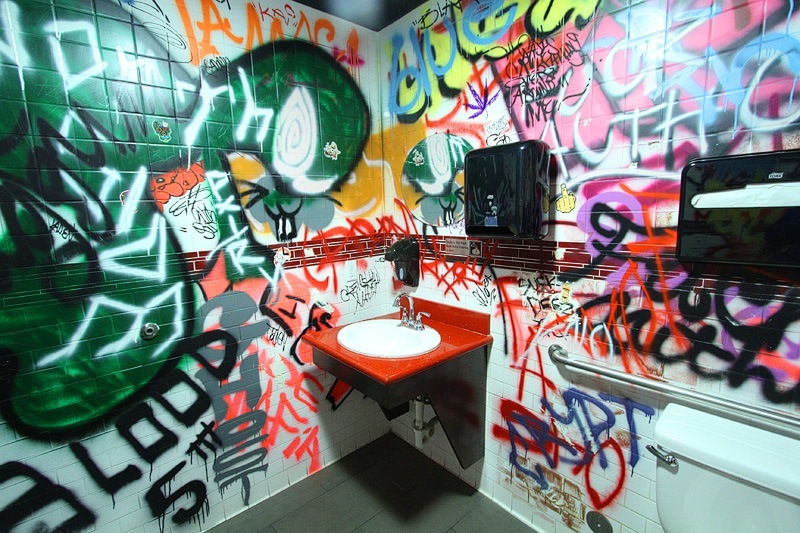 F. Pigalle also doesn't take itself too seriously, a trait this blog holds in very high regard.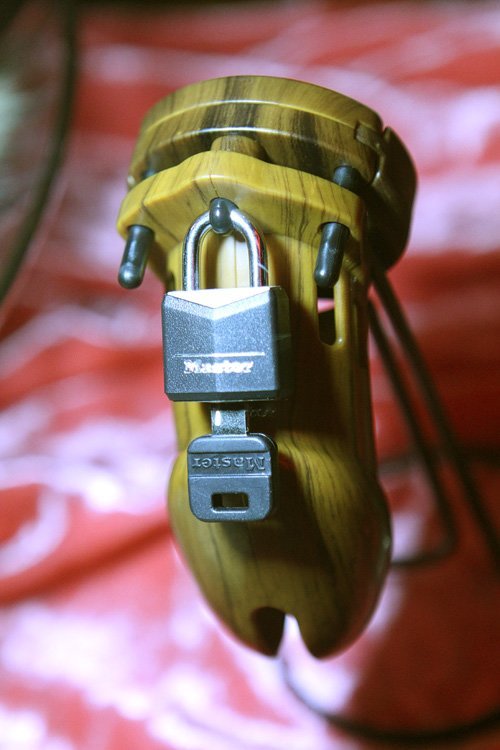 Service at F. Pigalle was top-notch, and the ambient music played at precisely the right volume, a big deal if you're a fan of conversation.
For the moment, F. Pigalle won't be open for lunch. It will operate 4:00 p.m. to 4:00 a.m. The restaurant can be found beetween Park on Fremont restaurant and the now-closed Insert Coins, across the street from the new Smashed Pig Gastropub and Flippin' Good Burgers & Shakes.
F. Pigalle fondue restaurant and bar in downtown's Fremont East district is well worth a try, despite the myriad other enticing options in the neighborhood. Let us know what you think, especially if you agree. We're open-minded like that.
Update (5/30/16): F. Pigalle closed in May 2016. The space is now Evel Pie, a 1970s-inspired pizza restaurant. Read more about Evel Pie on Fremont East.