Who are we? We are lovers of all things Las Vegas. We love the casinos, the restaurants, the shows and even Criss Angel. Well, OK, we love the casinos, restaurants and shows.
We're here to give you the essential news and information you need to get the most from your next Las Vegas visit, all with a slightly skewed, occasionally intoxicated, perspective.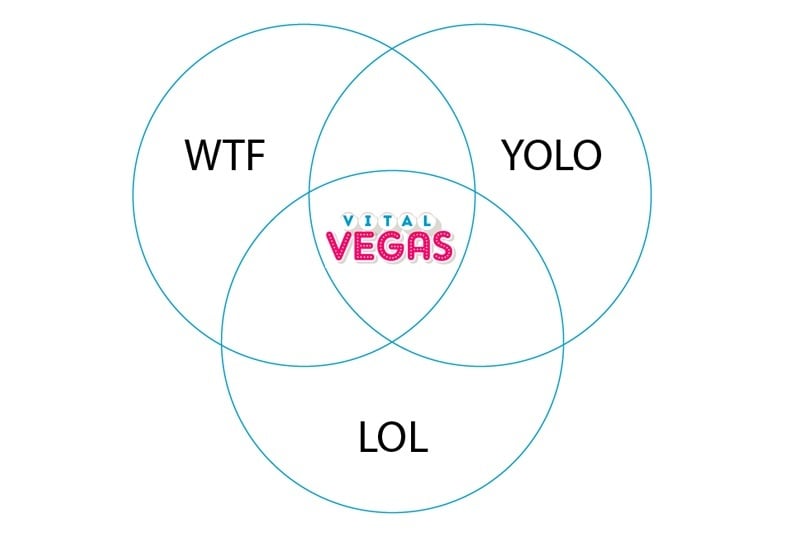 We know people. We dig things up. We lampoon as needed. We're so inside, we're concave.
One of the most baffling things about us is we're just one person, Scott Roeben, although we speak about ourselves in the first person plural. Drop us a line at scott@vitalvegas.com.
We've been in Las Vegas for nearly 20 years, and once created words for one of the world's most recognized Web sites, LasVegas.com.
From there, we went on to write the Pulse of Vegas blog for Caesars Entertainment, the world's largest gaming company. The Pulse of Vegas blog was named the Best Marketing Blog in the entire country by PR Daily.
We also worked in digital marketing at Fremont Street Experience in downtown Las Vegas for six years. Fremont Street Experience won first prize for "Best Use of Social Media" in the Las Vegas Interactive Marketing Association Awards. Our efforts also garnered the "Groundbreaker Award"​ for interactive marketing from the Las Vegas Metro Chamber of Commerce.
Given our love of Las Vegas, it was just a matter of time before we started a site devoted to the entire destination.
Among the many accolades we are far too modest to mention, Vital Vegas was named the Best Business Blog by the Las Vegas Interactive Marketers Association.
Our network of sources in Las Vegas is unparalleled, which means you get news and industry chatter others don't (or won't) share, and even if they do, it's months or even years later. Yawn. Waiting for news releases just doesn't cut it anymore.
In Nov. 2021, we officially partnered with Casino.org, the premier online news source for all things casinos and gaming. Casino.org is not only an amazing source for news and information about casinos and gambling, they let us do whatever we want, making it possibly the best partnership in the history of ever. Working with Casino.org allows us to maintain complete independence from any Las Vegas casino or other entity. That means we get to say what we want, the way we want, and you know you're getting the straight scoop and unvarnished truth.
Here's the thing about Vital Vegas, though. What's vital is hearing from you, and creating a place where the community of people who love Las Vegas can chat each other up, answer questions and share tips.
So, please comment. Share our posts if you enjoy them. If you don't, keep it to yourself. We're here mainly for the adulation and groupies.
You'd be wise to follow us on Twitter, where more than 100,000 followers get their Vegas news, opinions, wild speculation and copious amounts of WTF. Today's Tweet could win you a bar bet someday.
Thanks for visiting, and we hope you'll return.
Recent Stories…

September 21 2023
—
2 min read
—
0 comments