Sneak Preview: Flippin' Good Burgers & Shakes Comes to Downtown's Fremont East
The long-awaited arrival of Flippin' Good Burgers & Shakes on Fremont East in downtown Las Vegas has arrived.
The new burger joint opens Aug. 29, 2015.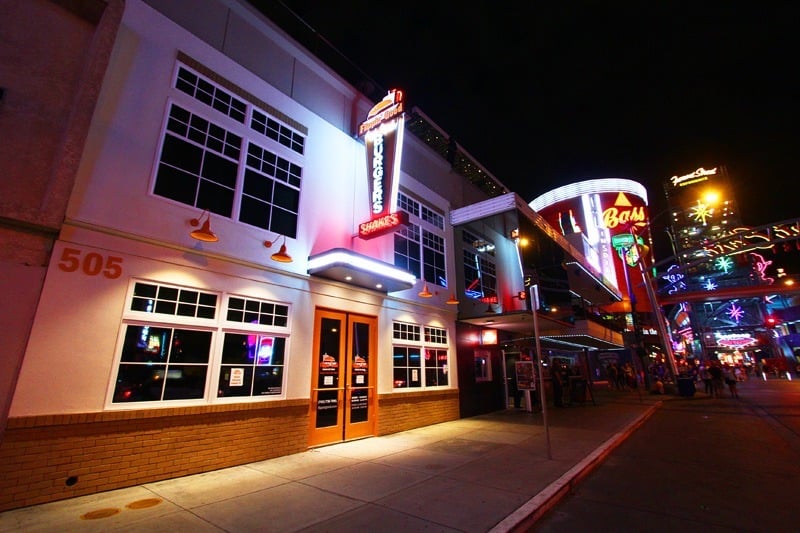 Because the new restaurant hasn't officially opened yet, it's not really fair to review it just yet. Then again, the food was good, so what the hell.
Flippin' Good Burgers & Shakes is nothing too fancy, but it's a solid addition to the new offerings downtown and should do a booming business given its price points and location.
Flippin' Good Burgers & Shakes sits in the space formerly occupied by two downtown fixtures, Uncle Joe's Pizza and Kabob Korner. The space is leased from the Downtown Project, but Downtown Project isn't an investor as it is with several other downtown bars and restaurants.
Let's dive in, shall we?
Here's a look at the Flippin' Good Burgers & Shakes menu. Streamlined but satisfying.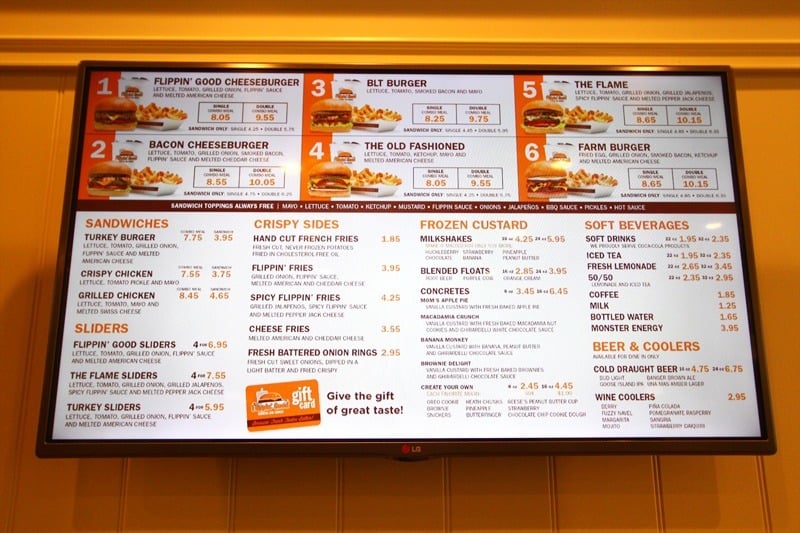 Here's the menu in a size humans can read without their retinas imploding.
The menu keeps it simple, with burgers, sandwiches, along with sides like hand-cut French fries, cheese fries and onion rings. Shakes and frozen custards round out the menu.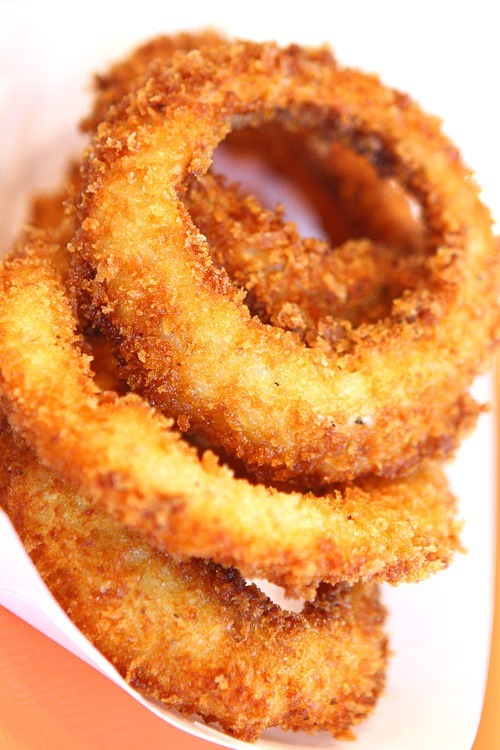 During the soft opening, we tried multiple items and liked them all. As the burgers are in the name of the restaurant, they will probably get the most scrutiny.
The basic burger, The Old Fashioned, is $4.25 ($8.05 as part of a combo). The price is right, the ingredients are fresh and it's a burger comparable in quality to In-N-Out, but thicker and more filling. If you know anything about In-N-Out, you know we mean that comparison as a compliment, and In-N-Out does really, really well.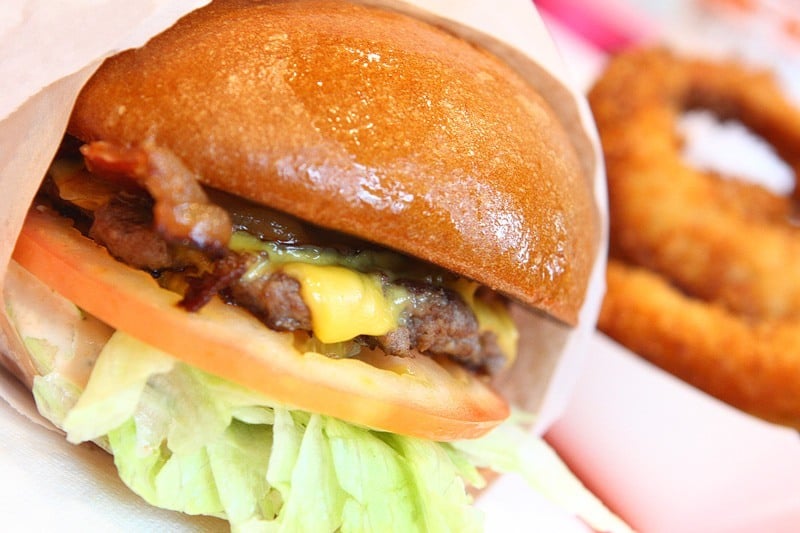 While we're comparing, the burgers at Flippin' Good Burgers & Shakes wallop the over-hyped burgers at Shake Shack, hands down.
Also good are the turkey sliders and burger, as well as the crispy chicken sandwich.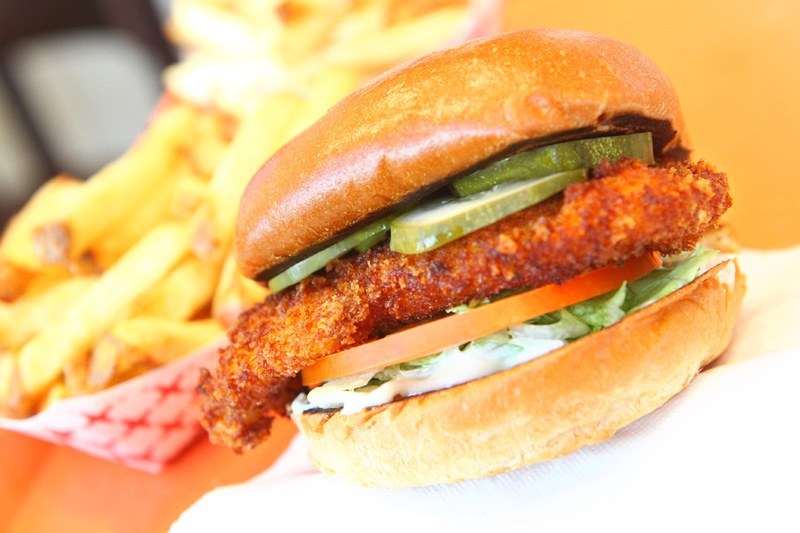 Here's a little insider tip: Make sure to check out the list of items labeled "Sandwich Toppings Always Free" on the menu. Here, you'll find some extras that allow you to customize your burger or sandwich. Easily overlooked, but swapping out BBQ sauce or hot sauce for mayo could make your meal even better, depending upon your culinary bent.
Before we move on, here's another insider tip you won't find elsewhere: If you're a die-hard vegetarian, there's slim pickings. (Again, the word "Burger" is in the name of the place.) However, there's a secret menu and if you ask nicely, you can get a grilled cheese sandwich. Don't say we never did anything for you. We'll be ferreting out the rest of the secret menu in the weeks to come.
Onward and fullerward.
The shakes are pretty good, but Vegas is home to a lot of spectacular shakes. We'll be back to try other flavors. They're offered in huckleberry, strawberry, pineapple, chocolate, vanilla, banana and peanut butter.

The frozen custard and concretes (think Blizzards at Dairy Queen) are outstanding.
In the case of the concretes, which we're fairly sure we'll never get comfortable calling them, you can stick with the house specialties or create your own. Signature concretes include Mom's Apple Pie, Macadamia Crunch, Banana Monkey and Brownie Delight. They run a reasonable $3.45 for eight ounces and $6.45 for 16 ounces.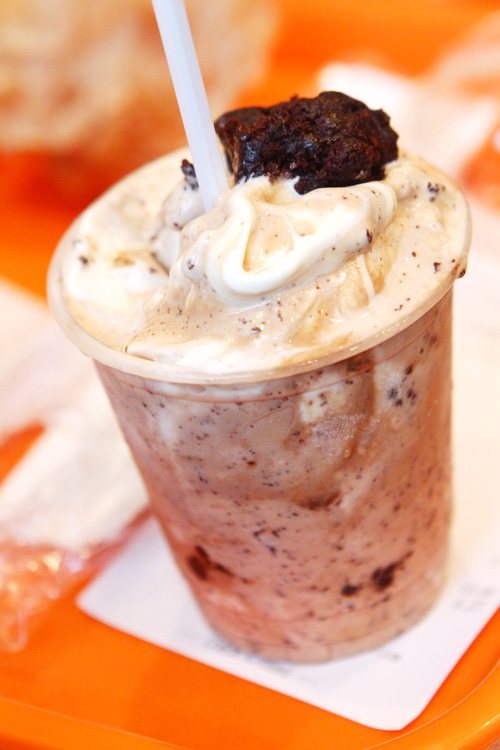 As we are on Fremont East, there's some liquor, but not a huge selection.
See below for the beer on tap, and there are also wine coolers. Flippin' Good Burgers & Shakes doesn't pretend to be a bar. There are already a few of those downtown.

The interior of Flippin' Good Burgers & Shakes is simple and clean. There are a mix of uncomfortable chairs (required by city ordinance in new downtown restaurants) and cushy booths.
While you can sit, this isn't a sit-down restaurant, per se. No servers. You order at the counter, which ends up being a money-saver, as you can skip the tip.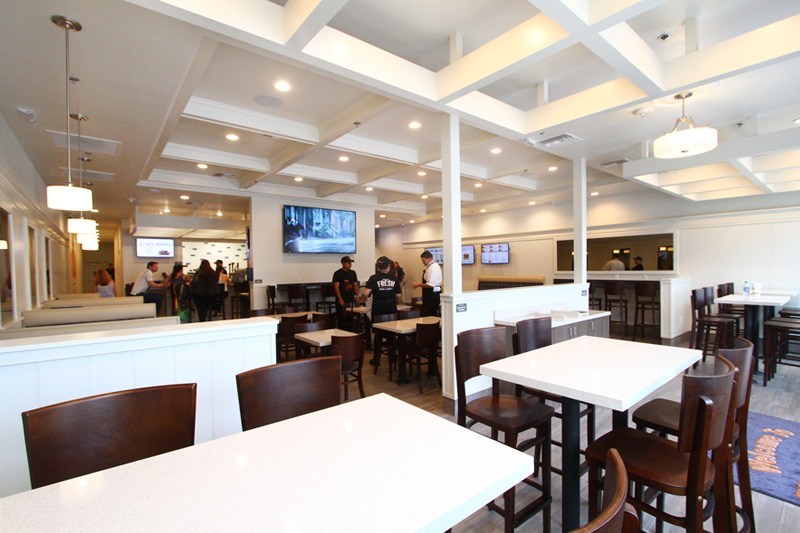 Ultimately, Flippin' Good Burgers & Shakes gets the job done and is sure to be a regular haunt for folks who work downtown (like this blog), and value-conscious bar-hoppers. Those party animals and hipsters with cocktail-driven cravings often hit up Radio City Pizzeria's walk-up window for a slice because it's right across the street. That restaurant closes Aug. 29, 2015. Flippin good timing!
Once it opens, we expect Flippin' Good Burgers & Shakes will join our regular rotation of downtown restaurants. Las Vegas blogs do not live by Pizza Rock alone.
Flippin' Good Burgers will be open 10:30 a.m. to 11:00 p.m. Sunday through Thursday; 10:30 to 3:00 a.m. Friday and Saturday.
Give it a try, mention we sent you, and let us know what you think.
Flippin' Good Burgers & Shakes