Mohegan Sun Moving Forward With Incheon Casino in South Korea Despite Region's Political Unease
Posted on: May 9, 2017, 12:00h.
Last updated on: May 9, 2017, 12:09h.
Mohegan Sun revealed this week during a conference call that its $1.6 billion casino resort named Inspire in the South Korean city of Incheon is a go.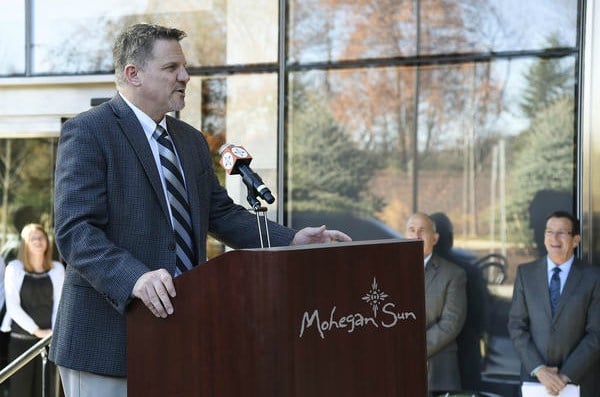 Despite ongoing political tensions with North Korea, and the highly contentious border just some 25 miles north, the Connecticut-based Native American group is moving forward in South Korea and taking its brand international.
The first phase of the resort comes with a budget of $1.6 billion, according to Mohegan Sun, with additional phases over a 20-year period expected to bring the resort's total investment to $5 billion.
Mohegan Sun has partnered with KCC Corp, a Seoul chemicals and auto parts manufacturer, and the Incheon International Airport (IIA), in building the complex.
When complete, Inspire will feature a 215,000-square-foot casino, 1,350 five and six-star guest rooms, Paramount Studios indoor theme park, and private air terminal at the adjacent IIA. Mohegan Sun has a 2020 target opening date for the resort.
On a much smaller scale, Mohegan Sun is also currently trying to obtain permission to move forward with a satellite location in East Windsor, Connecticut, in conjunction with the state's other Native American group, the Mashantucket Pequot Tribe.
Casino, Hotel, Theme Park, Maybe Missiles
Mohegan Sun had plenty of hype for its investment in South Korea during the conference, but tribal gaming executives didn't mention South Korea's ongoing tensions, and the close proximity of Incheon, to North Korea.
The country's first casino resort opened in Incheon last month, but owners of the $1.12 billion Paradise City are none too happy that the North and South Korea conflict is hampering visitation during its opening weeks.
China, which heavily supports North Korea, is penalizing South Korea for partnering with the United States in deploying an anti-missile defense system. Last month, North Korea, in what was thought be an attempt to display power and its war capabilities, failed to launch a missile into the Sea of Japan.
In the meantime, the People's Republic of China has issued a travel ban on its citizens from venturing into South Korea. Since Koreans aren't permitted to gamble or enter casinos, Paradise City opened its doors to lackluster fanfare. "It's a pity that, because of the missile issue, there might be fewer Chinese mass customers at first," a gaming analyst told Reuters last month.
There's plenty of reason for Mohegan Sun to proceed. South Korea's 17 land-based casinos generated $17 billion in revenue last year, and with construction expected to take three years, the joint partnership is betting on the travel ban being lifted before 2020.
Malaysia Benefits
While the South Korean economy is being drained due to China's travel and trade embargo, Malaysia is reaping the rewards. The country's only casino resort, Resorts World Genting Highlands, is adding 250 premium rooms and refurbishing 400 others to coincide with the opening of its 20th Century Fox theme park in the second half of 2018.
The resort, which dates back to the 1960s, is forecasting a 93 percent occupancy rate for its more than 7,000 hotel rooms, largely thanks to China and South Korea's strained relations.
"Beijing has banned Chinese tour groups from visiting South Korea. This change will … be an incremental positive for visitation growth since Genting Highland is a major attraction among Chinese tourists," opined Affin Hwang Capital, a Malaysian-based financial research firm.