Mohegan Sun Blackjack Dealer Accused of Chip-Passing Scam
Posted on: December 4, 2015, 11:47h.
Last updated on: December 4, 2015, 12:13h.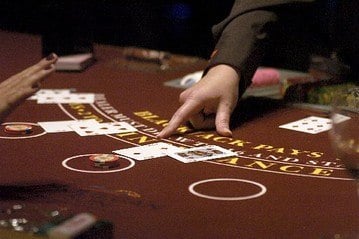 A disgruntled Mohegan Sun blackjack dealer stands accused of passing $78,390 in chips to a player-accomplice.
It's alleged that Roy Mariano, 52, of New London, Connecticut, passed blackjack chips worth $100 each that were hidden in stacks of lower denomination red chips to Marlene Rivera of Southbridge, Massachusetts during 16 different blackjack sessions in August of this year. Both have been charged with first-degree larceny.
Mariano admitted to police that he had a grudge against his employers. The dealer, who had worked at the casino since it first opened in 1996, was upset that management had reduced his role from full-time to part-time. He is handicapped and needed the money, he said, as recorded in court documents.
Conflicting Accounts
Mariano claims that he was approached in May or June by Rivera, who had told him she could help him out with money. He began giving her extra chips each time he paid her winnings, and she would hand him his cut as he walked from the table to the break room. He claimed he couldn't remember how much money he had received from Rivera.
Despite the apparent confession, the dealer's lawyer entered a plea of not guilty to the charge of first-degree larceny for his client, which comes with a maximum sentence of 20 years in prison.
Rivera, 36, a mother of seven, tells a different story.
She said that Mariano approached her boyfriend, and that the two had concocted the scheme together. The boyfriend played several times, she claims, and he and Mariano allegedly split the winnings 50-50. When she later began playing too, Mariano also gave her half the winnings, the woman added.
Police said they suspected that Rivera, who has yet to enter a plea, was being deceptive during her interview.
Facebook Gloating
Rivera's Facebook page records several winning visits to an unnamed casino in August, followed by a vacation to Las Vegas in September. The August social media posts include messages like:
"Great night at cino"
"Casino night again$$$"
"Whacha think Joe… a car? Lol monneeyyy…cha-ching!!"
While the scheme eluded supervisors on duty, it was eventually picked up by the eye-in-the-sky. The Mohegan Tribal Police began examining surveillance footage on September 1st at the request of Tribal Gaming Commissioner Robert Bjork.
As well as hiding $100 chips in stacks of five-dollar ones, it also showed Mariano hiding one $100 chip beneath a card used to cut the deck before passing it to Rivera.
Mariano and Rivera were arrested at the table.