MGM and Wynn Ask For Changes to Massachusetts Casino Law
Posted on: May 28, 2014, 05:30h.
Last updated on: May 27, 2014, 11:53h.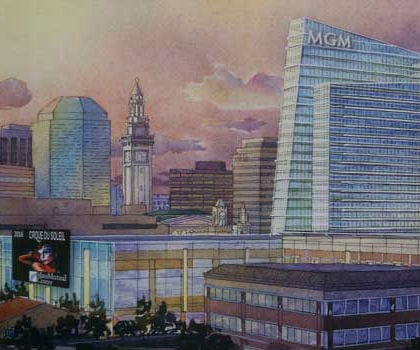 When it comes to the gaming industry, even the casinos themselves admit that there needs to be strong regulation. After all, it would be way too easy for unscrupulous operators to cheat players, launder money, or engage in other illegal activity if there wasn't any oversight. On the other hand, there are still plenty of disagreements on exactly how authorities should be regulating the casinos in their jurisdictions.
That was the argument playing out in Massachusetts this week, as MGM Resorts International and Wynn Resorts joined together in petitioning the State Legislature to make several changes to the 2011 law that allowed casinos to enter the state. According to the firms, some of the provisions in that law are too burdensome to administer, would drive patrons to casinos in other states, or even clash with other state laws.
While neither MGM nor Wynn has yet received a casino license in Massachusetts, the two are bidding for them in separate regions of the state, meaning they are not in direct competition. This contrasts with Mohegan Sun – a direct competitor to the Wynn for the only casino license available in the Greater Boston area – which has come out in support of the legislation "as it stands."
Requests Cover Wide Range of Policies
The Massachusetts Gaming Commission issued a memo last week that outlined the changes the two companies would like to see in the casino law. These changes cover a number of different aspects of how casinos would be governed in the state.
For instance, one provision would currently require the casinos to document anything that was given away for free – or "comped" – to patrons, and then submit quarterly reports to the Gaming Commission with this information. The commission recommended to the legislature that they take away the quarterly reports, but did not go as far as agreeing with the casino companies that the provision should be abolished entirely.
Wynn and MGM also want a repeal of a requirement to check whether an individual has outstanding child care payments or tax liabilities before any winnings over $600 are paid out. The companies pointed out that the state doesn't yet have a database they can access to properly verify such information. The commission mostly agrees, saying that the rule should at least be suspended until such a database is available – and that the threshold should be increased to $1,200, as it is in most other states.
Other requested changes include weakening a provision that would permanently disqualify anyone ever convicted of a felony or some other crimes from becoming a casino employee.
Current Laws Aren't a Deal Breaker
According to MGM, the success of casinos in Massachusetts doesn't ride on these changes – but they would certainly help make it easier to operate a casino there.
"The Gaming Act is one of, if not the most, thoughtful and comprehensive pieces of gaming legislation in the country," said MGM spokesperson Carole Brennan. "MGM, along with other applicants, has suggested small changes to the Act that would make our facilities more competitive and successful…We do not expect any particular legislative item will keep us from building MGM Springfield."
MGM is expecting to hear whether they will receive the Western Massachusetts casino license for their proposed Springfield resort by June 13. The Greater Boston license, contested between Wynn and Mohegan Sun, will not be awarded until late August or early September.