Melbourne Cup Produces Several Large Betting Winners
Posted on: November 8, 2023, 08:25h.
Last updated on: November 8, 2023, 10:53h.
In a thrilling Melbourne Cup, horse Without A Fight, guided by jockey Mark Zahra, triumphed in the annual two-mile race in Australia. Not only was he the big winner of the race, with its AU$8.4-million (US$5.3 million) purse, but a number of bettors scored huge paydays as well.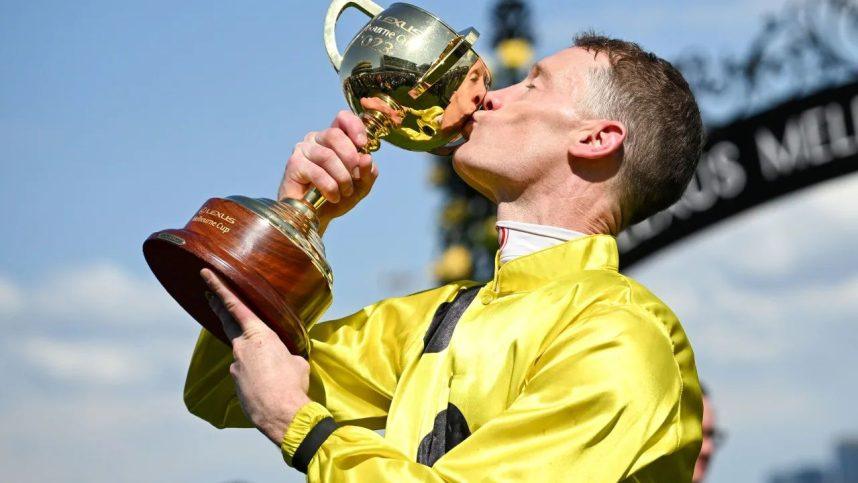 Zahra, having secured victory last year with Gold Trip, showcased his strategic prowess once again by expertly navigating the last stretch and surging past competitors. This achievement marked Zahra's second consecutive Melbourne Cup victories on different horses, and saw him win AU$4.4 million (US$2.8 million) of the total purse.
Entering the race with favorable odds of +600, Without A Fight stood as one of the top choices among contenders, though Vauban claimed the leading spot with odds of +225. Soulcombe (+1000) secured second place, trailing by two and a half lengths, while Sheraz (+3300) claimed the third spot.
Small Bets, Big Wins
Sports bettors who placed their faith in Without A Fight reaped significant rewards. A courageous bet of $10K on the victorious horse resulted in a prize of AU$75,000 (US$48,172).
Two other savvy bettors capitalized on favorable odds promotions with New Zealand Tab (Tab NZ), wagering NZ$5,500 and $5,000 (US$3,258 and $2,962) and walking away with NZ$49,500 and $45,000 (US$29,328 and $26,662), respectively.
Another Kiwi bettor with a NZ$5 (US$2.96) stake on the top four finishers celebrated a stunning win of NZ$106,333 (US$63,002). These contributed significantly to NZ TAB's reported payout of NZ$10 million (US$5.92 million) on the race.
Meanwhile, a homeless man in New Zealand invested NZ$5, strategically selecting options for the four finalists. His astute predictions materialized, earning him a substantial NZ$106,000 (US$62,805), a testament to the unpredictable nature of the Melbourne Cup.
Not every bettor experienced success on this eventful day. A professional bettor in Australia wagered AU$320,000 (US$189,600) on Vauban to win, only to witness the horse finish in 14th place. It could have been worse, as the bettor revealed that he had initially contemplated an AU$400,000 (US$237,000) wager.
Protestors Disrupt the Events
The Melbourne Cup weekend saw one of the biggest turnouts in years, which, just like last year, also opened the doors for protestors to disrupt the festivities.
On Melbourne Cup Day, a group of approximately 100 pro-Palestine activists gathered outside the Flemington racecourse. Chanting slogans like "Free Palestine" and "Ceasefire Now," they blocked a road leading to the event.
The protesters called for an end to the Israel-Hamas conflict while surrounded by police. Videos captured the scene as activists stood on top of a van, holding lit flares with "Free Palestine" written on them.
Another group that voiced their dissent during the Melbourne Cup was animal rights activists, who argued that horse racing, including events like the Melbourne Cup, constitutes animal cruelty. They protested against the race and the restaurants in the area that promoted it.
Their concern centered around the treatment of racehorses, emphasizing the physical strain and risks they face during such high-stakes competitions. Race organizers from Victoria Racing reported no deaths or injuries during this year's event.
Beyond the racecourse, the protests extended to local restaurants that embraced the Melbourne Cup festivities. These establishments faced criticism from various groups, including animal rights advocates.
The argument was that by promoting the race, these restaurants indirectly supported an industry that exploits and endangers horses. While the restaurants themselves may not have been directly involved in the cruelty, their association with the event drew the ire of protesters who had nothing better to do this weekend.