Iowa Football Coach Kirk Ferentz Says NCAA Should Ease Sports Betting Rules
Posted on: July 31, 2023, 10:55h.
Last updated on: July 31, 2023, 11:07h.
Iowa football coach Kirk Ferentz will almost certainly celebrate his 200th win leading an NCAA Division I football program this fall. But the legendary coach isn't focused on his forthcoming achievement. He is instead keeping his eye on the NCAA's ongoing deliberations regarding how it governs student-athletes when it comes to sports betting.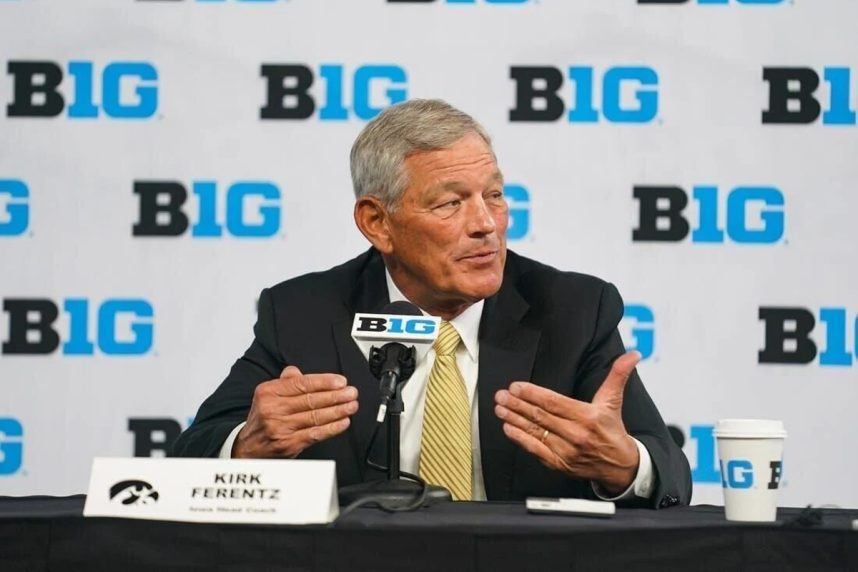 More than two dozen student-athletes at the University of Iowa are subjects of NCAA investigations for their alleged participation in sports betting.
Though sports betting is legal in Iowa in-person at the state's casinos and online through internet sportsbooks, the NCAA requires that its student players refrain from placing sports bets.
The NCAA previously banned student-athletes who were found to have violated the sports betting rule with a one-year suspension. In June, the NCAA, under new President Charlie Baker, eased recourses for betting infractions.
Changes Need Revisiting
The NCAA said last month that student-athletes who are determined to have engaged in "activities to influence the outcomes of their games or knowingly provided information to individuals involved in sports betting activities" will remain subject to a loss of a season. But the NCAA adopted reduced penalties for other betting breaches.
For student-athletes who bet on their sport, but not their team, the individual will face a loss of 50% of a season of eligibility. For student-athletes who bet on sports they don't play, the penalty is based on the amount wagered.
For bets of $200 or less, the student-athlete will have to attend sports betting education classes. For bets up to $500, the NCAA will consider up to a 10% loss of a season. For bets up to $800, a 20% loss of season is on the table. For bets upwards of $800, 30% or more of a loss of season will be considered. The NCAA says a student-athlete who is found to be wagering excessively will face permanent ineligibility.
Speaking at the Big Ten's Media Days last week, Ferentz opined that the NCAA should reconsider its new penalty structure.
Our world has changed dramatically," Ferentz said about sports and gambling. "I'm hopeful that is an opportunity for the NCAA to reconsider two things: what punishments might be fair and relevant to the world we're living in right now. And probably the bigger thing, there's an opportunity right now for a better education process."
Ferentz believes the NFL's sports betting rules, which allow players to bet on all sports other than the NFL, is a smarter regulatory strategy.
"I think what the NFL has done with their rules makes a lot of sense," the coach said.
School Probe
Iowa University and Iowa State in May confirmed NCAA investigations into dozens of their student-athletes who have allegedly bet on sports in direct violation of the association's rules. University of Iowa officials said 26 of its student-athletes are involved in the probe and have been accused by the NCAA of sports gambling.
Ferentz clarified this week that the football team is not responsible for most of the alleged infractions.
"Long story short, we don't know what the outcome is going to be," Ferentz said of the ongoing review. "I don't think anyone condones gambling, especially on the college game. I think your number one concern is anyone gambling on your team. That's what the instruction should be about."