Iowa College Athletes Caught Up in Investigation, Dozens May Have Bet
Posted on: May 9, 2023, 02:44h.
Last updated on: May 10, 2023, 12:12h.
The University of Iowa and Iowa State have notified the NCCA of multiple suspected violations of sports betting rules by their athletes.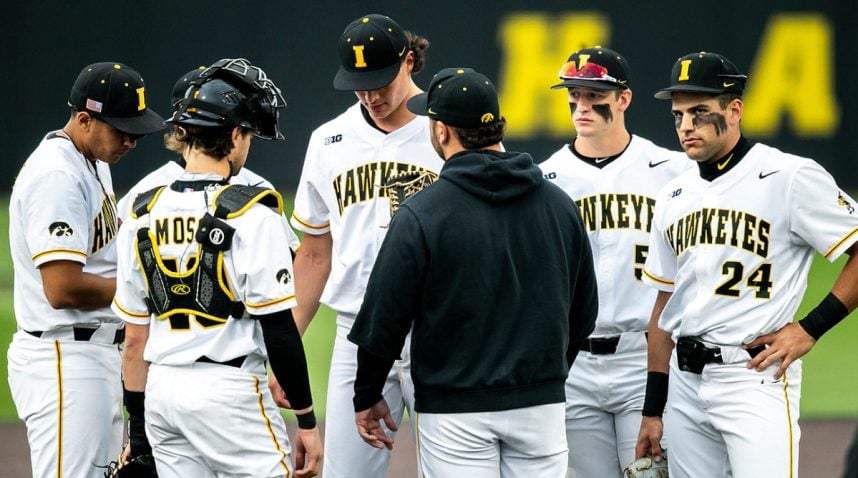 Iowa said Monday that more than two dozen athletes across five sports – baseball, basketball, football, track and field, and wrestling – were suspected of placing bets on sports, against NCCA regulations.
The school said it was informed on May 2 by law enforcement that the activity involved "potential criminal conduct," and that an investigation was underway involving a total of 111 individuals, 24 of whom are current athletes.
Separately, Iowa State said 15 of its athletes across three sports (football, wrestling, and track and field) also are suspected of violating gambling rules.
Both Iowa and Iowa State said they withheld the athletes from competition following the discoveries. Four players from the Iowa Hawkeyes baseball team were unavailable last Friday for the team's series against the Buckeyes.
'No Evidence' of Match-Fixing
The Iowa Gaming Commission, which is also investigating, told the Action Network there is no evidence to suggest that match-fixing had occurred, or that any betting markets had been compromised. As such, it's unclear what "potential criminal conduct" might have occurred, other than unlicensed betting.
Many states that have legalized sports betting don't permit wagering on NCAA games. But in Iowa, it's legal to bet on professional and college sports, provided it's done through a licensed operator.
The NCAA prohibits athletes, coaches, and athletic staff from betting on sports, whether it's legal in the state or not.
Bad Optics
Some news outlets have suggested that Iowa may the tip of the iceberg, and that college sports could be facing a national betting epidemic. This could spark a backlash against sports betting, which has been rushed to market by some states.
The news comes just days after the University of Alabama fired its head baseball coach. Brad Bohannon's dismissal followed reports of suspicious betting activity around the April 28 LSU-Alabama game in Baton Rouge, La.
Multiple sources who spoke to ESPN claimed that Bohannon is suspected of involvement in a betting conspiracy centered around the sportsbook at the Great American Ballpark, home to the Cincinnati Reds.
Last week, Las Vegas-based sports integrity company US Integrity alerted the Ohio Gaming Commission to suspicious bets placed on Alabama to lose at the Cincinnati sportsbook.
This prompted the Ohio Gaming Commission to issue an emergency order to pull markets on Crimson Tide games and launch an investigation.
Sportsbook surveillance video at the Great American Ballpark showed that the individual who placed the suspicious bets was in "direct communication" with Bohannon, according to ESPN sources.