Three Iowa Student-Athletes Accused in Gambling Probe
Posted on: August 3, 2023, 09:42h.
Last updated on: August 3, 2023, 11:49h.
Three student-athletes from the University of Iowa are under criminal charges for sports gambling, including ex-Hawkeyes basketball player Ahron Ulis, baseball player Gehrig Christensen, and backup kicker Aaron Blom from the football team.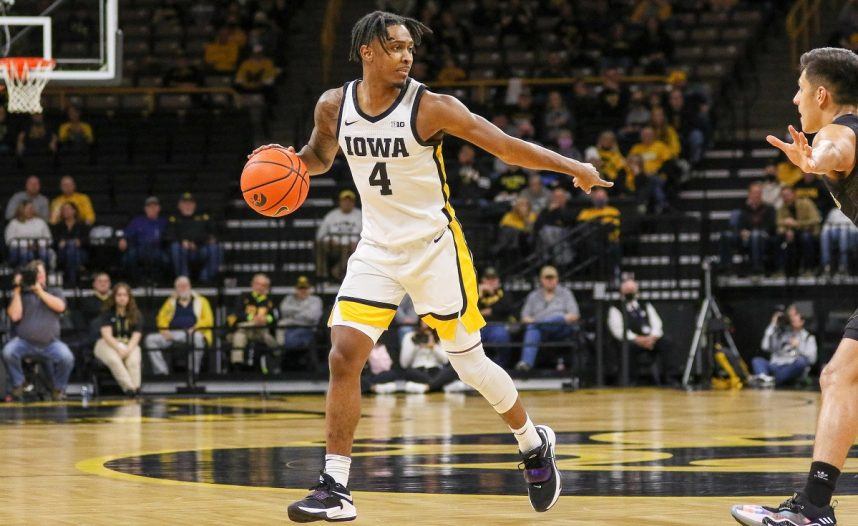 In total, seven student-athletes were charged on Monday in a gambling sting by the Iowa Criminal Division.
Four student-athletes from Iowa State were accused of gambling on their own school's events. That includes three football players — quarterback Hunter Dekkers, defensive line star Eyioma Uwazurike, and offensive lineman Dodge Sauser — who made wagers on their own games. In addition, Big 12 wrestling champion Paniro Johnson allegedly placed more than 1,250 wagers.
Dekkers, Sauser, and Johnson were underage bettors who used other accounts to place bets, according to the complaint.
Uwazurike, a fourth-round draft pick by the Denver Broncos, earned an indefinite suspension by the NFL for betting on games during his rookie season in 2022. Uwazurike is one of 10 NFL players suspended for violating the league's strict gambling policy last season.
In May, the NCAA was notified that student-athletes from Iowa State and the University of Iowa were under investigation for gambling violations.
Basketball Starter Ulis Named in Probe
Ahron Ulis, originally from Chicago, started 27 games at point guard for Iowa during the 2022-23 basketball season. He averaged 6.1 points, 2.1 assists, and 1.6 rebounds per game in his junior season.
Ulis came off the bench the previous season and averaged 3.1 points, and 2.1 assists per game as a sophomore.
One complaint stated that Ulis made wagers on a Fan Duel account that was originally set up by his brother. Ulis placed 1,850 wagers totaling more than $34,800 between February 2021 and December 2022. At least 740 of those bets occurred when he was underage. Ulis bet on 430 total NCAA football and basketball games, including at least one Iowa sporting event.
Iowa's basketball team posted a 19-13 record last season and finished in fifth place in the Big Ten. They failed to secure a trip to the March Madness basketball tournament when they were eliminated from the Big Ten conference tournament by Ohio State.
Ulis transferred to Nebraska in the off-season to play under head coach Fred Hoiberg. Hoiberg, nicknamed "The Mayor," was one of Iowa State's most popular and successful basketball players before he embarked on an NBA career.
Fan Duel's mobile betting app went live in the state of Iowa in September 2020.
Iowa Baseball Player and Football Player Also Charged
Gehrig Christensen, a catcher on the Iowa baseball team, appeared in 11 games for the Hawkeyes last season. His parents were big baseball fans and named their son after New York Yankees legend Lou Gehrig.
Christensen placed wagers at DraftKings using an account in his mother's name. Christen made 559 different wagers on his own phone, including 23 on Iowa sporting events. His bets totaled $2,400, and the majority of those wagers were on NBA games.
The Iowa baseball team went 44-16 last season and hoped to compete for a national championship in the College World Series. Their sensational season ended with a disappointing loss against North Carolina in the NCAA regionals.
Christensen is no longer with the baseball team.
A football player and academic star was also caught up in this latest gambling scandal. Backup kicker Aaron Blom made the Dean's List at Iowa in five different semesters. He was also recognized as an Academic All-Big Ten during the previous two seasons.
Blom scored four points for the Hawkeyes during the 2022 season. He connected on his only extra-point attempt of the season in a game against Iowa State. He made 33.3% of his field goal attempts in 2022, including a 46-yarder as his longest successful kick.
Blom also used an account under his mother's name. The complaint stated Blom, who was only 20 years old at the time, made 170 bets totaling $4,400.
The Iowa football team went 7-5 in the 2022 regular season and secured a berth to the Transperfect Music City Bowl, where they defeated Kentucky.