Former Century Casino Caruthersville Riverboat Floats Up Mississippi River
Posted on: April 20, 2023, 12:38h.
Last updated on: April 20, 2023, 07:15h.
A former Missouri riverboat casino no longer in use has departed its barge where it sat docked for 28 years.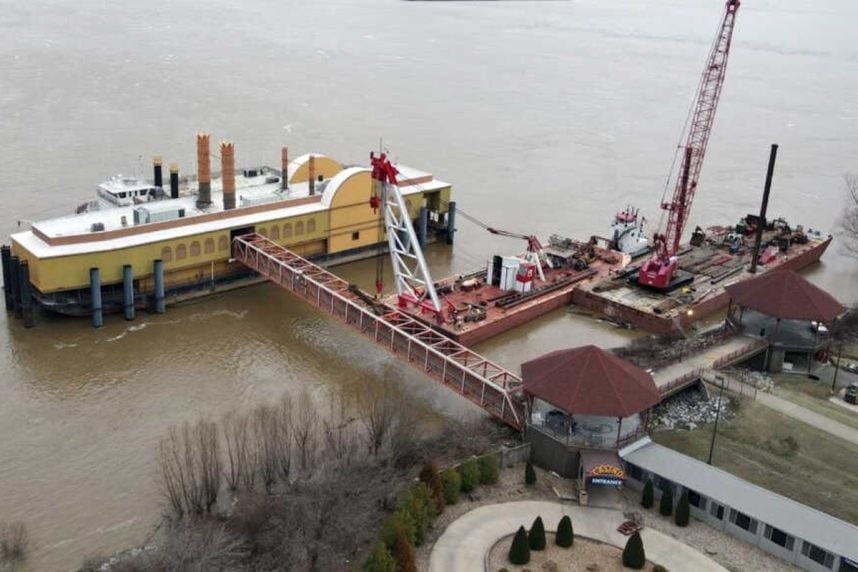 The vessel that was one of Missouri's long-floating riverboat casinos opened in April 1995 as the Casino Aztar Caruthersville. Built at the cost of $55 million, the riverboat changed names along with its owner when Aztar Corp. sold the property to Isle of Casinos in 2007.
The Missouri casino was renamed Lady Luck Caruthersville that same year and operated under that brand until Century Casinos and Vici Properties acquired the venue in 2019. The new owners renamed the boat Century Casino Caruthersville.
The state's 1993 liberalization of casinos mandated that slot machines and table games only operate in a "floating facility." In 2021, Missouri lawmakers amended the state's commercial gaming law to allow casinos to operate above land. The Missouri Gaming Commission has since signed off on relocating riverboats inland.
Century Casinos is a Colorado-based gaming company that operates six casinos in Missouri, Colorado, Nevada, and West Virginia. The company is also constructing a new land-based casino in Cape Girardeau, another former Mississippi riverboat.
Caruthersville Boat Departs
Century Casinos is currently constructing a new brick-and-mortar casino just inland from where its Caruthersville riverboat floated for decades.
While construction continues, Century Casinos is operating an interim gaming space inside the pavilion on the banks of the Mississippi. The Missouri Gaming Commission approved the temporary casino facility last October. The interim casino features about 430 slots and six table games.
Century says the forthcoming land-based casino will include 650 slots and around a dozen table games. The permanent resort will also feature a boutique hotel with 38 guestrooms. The facility is expected to open late next year.
With the riverboat no longer needed, Century sold the vessel to a local business called Cowboys Cranes. The Villa Ridge company, according to its website, specializes in general contracting, crane work, demolition, heavy hauling, and specialized jobs "others are not capable of completing."
Larry "Cowboy" Proemsey told the Southeast Missourian this week that the former riverboat casino is for sale. His purchase of the casino's two pedestrian bridges and the barge is also being offered.
"I'll sell them as a package or piece by piece," Proemsey said while declining to reveal an asking price.
A similarly sized former casino riverboat in Oregon, formerly the Emerald Queen Casino, is also on the market. That vessel is listed for $1 million.
Long Voyage North
Proemsey says that after he took ownership of the former Caruthersville casino riverboat in late February, plans were made to relocate the vessel north to Cape Girardeau. After a month of planning, the shuttered casino made the more than 150-mile trek up the Mississippi River.
Proemsey says interested buyers can see the riverboat in person at the Southeast Missouri Regional Port in Scott City.