Casino Ad Spending on New Jersey Referendum Tops $20 Million, Arkansas Ballot Rejected
Posted on: October 13, 2016, 05:00h.
Last updated on: October 13, 2016, 03:48h.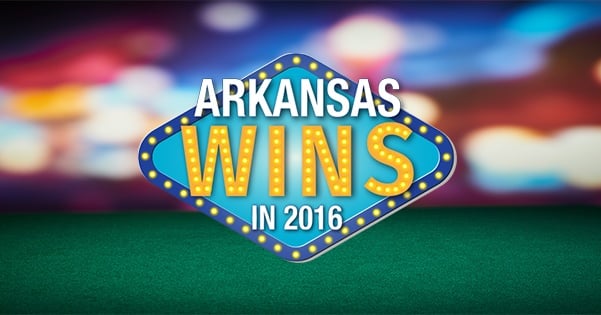 Casino ad spending surrounding gambling expansion in New Jersey has now topped $20 million.
In financial records obtained by the Associated Press, groups supporting and opposing the state constitutional referendum facing Garden State voters next month are spending heavily on their respective marketing campaigns.
Groups like Trenton's Bad Bet, an organization looking to defeat gambling expansion, and Our Turn NJ, a pact trying to do just the opposite, are raising substantial sums of money in their crusades to persuade voters to their side.
"It's already set a record for ballot questions, and I've been saying we may see $40 million in spending," New Jersey Election Law Enforcement Commission Executive Director Jeff Brindle told the AP.
In addition to deciding between Hillary Clinton and Donald Trump, Jerseyans who venture to their voting booths will also be asked if they support passing a law to allow two additional casinos to be built in the state that are at least 72 miles from Atlantic City.
Anti-expansion groups are spending more than pro-ballot question organizations. The latter largely suspended their efforts in September due to dwindling public support.
Arkansas Casinos Ousted
New Jersey is one of several states still considering gambling expansion, but Arkansas is cashing out.
Like the Garden State, voters in Arkansas were going to be tasked with determining whether they want to expand gambling. The Razorback State doesn't currently have any commercial or tribal casinos, but is home to two racinos.
Supporters and opponents have been spending millions of dollars there as well.
The Center for Public Integrity says 2,333 casino ads have aired on broadcast television. Protect Arkansas/Stop Casinos Now has spent $1.2 million, while Arkansas Wins, the pro-casino group, has spent $1 million.
But it appears the casino opposition has officially taken the pot.
Protect Arkansas Values/Stop Casinos Now filed a lawsuit in September with the Arkansas Supreme Court to remove the state constitutional amendment from the November 8 ballot. The group said the ballot language misleads the public and fails to convey the consequences of legalizing land-based casinos.
On October 13, the high court ruled in favor of the anti-casino group and granted the motion to remove the referendum. It did, however, allow a medical marijuana ballot measure to proceed.
Rhode Island Remains
Twin River Management Group, owners of the Newport Grand Casino and Twin River Casino in Lincoln, is asking voters to back an amendment to authorize a commercial casino in Tiverton.
Twin River has spent $370,000 on their efforts, and while that might not sound like a lot compared to what's going on in New Jersey, it equates to about 50 cents per eligible state voter. The gaming group wants to close its Newport venue and transfer the license to Tiverton.
Citizens to Create Jobs and Protect Revenue, a pro-referendum group being funded largely by Twin River, has spent more than $883,000 on their advertising push. That means more than $1.50 has been spent on every voter in Rhode Island on the casino question alone.