Bwin.party Picked Up by 888 Holdings in $1.4 Billion Deal That Surprises Insiders
Posted on: July 17, 2015, 12:25h.
Last updated on: July 17, 2015, 12:30h.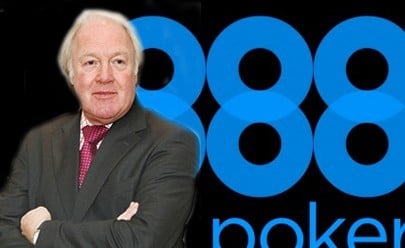 Bwin.party is engaged no more. After what seemed like several whirlwind corporate romances, the iGaming company has made a decision and said "yes" at last. But it wasn't to the suitor that most had anticipated.
After months of speculation, bwin.party said yes to an offer from 888 Holdings in a cash and stock deal worth £898 million ($1.4 billion).
It's a final twist to a bidding war between gambling superpowers that many observers assumed was over last week. At that time, it was announced that GVC Holdings, backed financially by Amaya Inc., had offered £908 million ($1.471 billion) to acquire bwin.party, and most of the industry assumed it was all over but the shouting.
Experts believed it was unlikely that 888 would sweeten that the pot, and it looked like a done deal. In fact, GVC CEO Kenny Alexander was confident enough to announce that he expected to finalize terms "in the next few days."
Interestingly, 888 did not attempt to trump the GVC offer. Instead, it was able to convince the bwin.party board that its lower proposition made business sense and that synergies and overlaps would ease integration and save costs going forward.
The integration process proved to be a complex, challenging, and lengthy one when bwin merged with Party Poker in 2011, and the difficulties the new group faced, just as mobile popularity began to disrupt the industry, was one of the reasons bwin.party lost ground in the market.
Industrial Synergies
888 will be able to now shed overlaps in regulated markets that are expected to save the new group multiple millions by removing duplicated costs, technology, and administration fees. Furthermore, both companies have offices in Gibraltar, Israel, and Romania, and bwin.com's bingo offering runs on 888 technology. Both companies are active in New Jersey, meanwhile, which will put them in a strong position in the US as more states begin to regulate.
"The bwin.party directors have concluded, after further work with GVC and its advisers and after careful consideration, that 888's offer provides a higher degree of certainty for bwin.party shareholders and that GVC's modest incremental premium to 888's offer is not sufficient for the bwin.party board to recommend GVC's proposal over 888's offer," said the bwin.party board in an official statement on Friday.
Enhanced Scale
"This is a transformational opportunity for 888 in the consolidating online gaming industry, which is expected to grow significantly over the coming years," said 888 executive chairman Brian Mattingley. "The enlarged group will benefit from significantly enhanced scale, an improved product offering as well as significant cost and revenue synergies.
The combined group will have projected revenues of over $1 billion and expects to reap cost benefits of $70 million a year by the end of 2018. Bwin.party shareholders will own 48 percent of the group.
"We believe the deal creates one of the world's leading online gaming operators," Mattingley told Reuters. "It's all about scale… When you've got critical mass you can ride storms and take advantage of opportunities as they come along," he added.