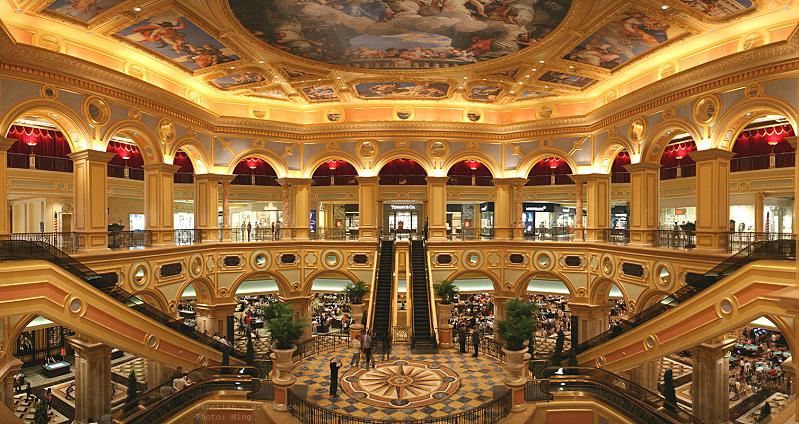 Macau, China is the home of The Venetian Macao, which towers 40 stories above the ground and currently holds the title of being the world's largest casino.
This massive structure houses a hotel, an entertainment and casino resort within its walls. Dominating Macau's Cotai Strip, this Goliath is owned by the huge gaming emporium, the Las Vegas Sands Corporation and cost an eye watering $2.4 billion US dollars to build.
Fashioned after the hugely popular Venetian in Las Vegas, Nevada, The Venetian Macao is the 6th largest building in the world, the largest hotel on the Asian continent and covers an unimaginable 10,500,000 square feet. Around 550,000 square feet of that is dedicated to gaming. Because of its size, the gaming area is divided into four themed areas. These are the Phoenix, the Imperial House, the Golden Fish, and Red the Dragon. Within these areas, there are more than 3,400 slot machines, as well as approximately 800 tables to provide gamblers with constant entertainment.
The Venetian Macao took its crown as the world's largest casino from the Foxwoods Resort Casino in Connecticut which has an impressive 344,000 square feet donated to gaming. Beating the The Venetian Macao is certainly not going to be easy. dwarfs that by providing 550,000 square feet of gaming space.
The hotel inside The Venetian Macao hosts 1,200,000 square feet of convention space along with 3,000 suites. The largest portion of the resort is actually used for retail space, with around 1,600,000 square feet dedicated to that. There is also an arena that can cater fro special events and which seats 15,000.
High rollers even have their own club inside the resort, known as the Paiza Club. This exclusive club has its own entrance, reception, lobby, and even features private elevators to hotel suites. Gambling in the Paiza Club is also in individual rooms for the privacy of the guests. If you would like to spend the night in super luxury we do recommend the club's Presidente suite that has four bedrooms. It really doesn't get much better than that!
So the next time you are thinking about heading off to Vegas for some gambling fun, you might want to reconsider. Apparently, Macao is now THE place to be…