Rapper Blueface Avoids Prison for Las Vegas Strip Club Shooting
Posted on: October 3, 2023, 05:10h.
Last updated on: October 3, 2023, 07:10h.
The rapper Blueface was sentenced to probation on Monday for last year's shooting at a Las Vegas strip club under a plea deal.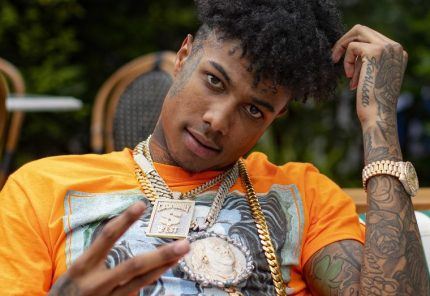 The 26-year-old performer, whose legal name is Johnathan Jamall Porter and who resides in Los Angeles, won't be imprisoned if he completes his 36-month probationary period.
If he violates the terms of probation, Blueface could be put behind bars, according to the sentence from Clark County District Court Judge Kathleen E. Delaney.
The judge also ordered Blueface not to possess firearms, other weapons, or illegal drugs during probation. He mustn't have contact with the shooting victim and can only go to the Las Vegas Strip or downtown Las Vegas if it relates to work.
The sentence stems from a man, identified as Kentabius Traylor, getting shot outside of the Euphoric Gentlemen's Club on Oct. 8, 2022. The club was located off the Las Vegas Strip and has since closed.
The victim wasn't seriously injured by the bullet, which grazed his left hand.
Plea Deal
Blueface was arrested for the incident in November on charges of attempted murder using a deadly weapon, discharging a firearm at or into an occupied structure, and owning a gun by a prohibited person, according to Las Vegas TV station KTNV.
In July, he pleaded guilty to battery and discharging a firearm at or into an occupied structure, and the other charges were dropped.
The shooting occurred after the victim and Blueface had a heated interaction at the club. At one point, the victim joked to Blueface about "speaking with some females in a cheap vehicle," according to Las Vegas TV station KLAS.
According to initial reports, The victim was also confronted and assaulted by members of the rapper's crew at the club. It appears the crew members weren't charged.
The club shooting also led to two lawsuits against Blueface, KLAS reported. They are believed to be still pending in civil court.
When asked about the sentence, Blueface's attorney, Kristina Wildeveld, in a statement to Rolling Stone, said her client was sentenced to a probationary period not to exceed three years. He can also get a reduced charge upon successful completion of his probation.
"We were pleased that the Court followed the negotiations of the parties in this matter … Mr. Porter is ultimately just looking forward to getting back to focusing on his music career and moving forward with his life," she added.
Prior Charges
Blueface has had many recent brushes with law enforcement. In June, he was arrested for robbery for allegedly stealing a cell phone from a woman at the Palms Casino Resort in Las Vegas.
The incident occurred after the fan took a video of Porter's girlfriend, Chrisean Rock, 22, using a cell phone, authorities said. That led Porter to allegedly grab the phone.
He was arrested on a weapons charge in 2022 and 2019, according to TMZ. The 2019 charge was dropped.
In 2018, he was arrested on an assault with a deadly weapon charge, according to the New York Times. In 2021, he attacked a bouncer after he was denied entry into a Los Angeles club, police said.
It's not immediately known how the prior charges were adjudicated in court.
Blueface was the subject of more controversy recently after he posted a photo of his son's genitals on social media, according to TMZ.
Most Read