Pennsylvania State Representative Marc Gergely Denies Membership in Illegal Gambling Racket
Posted on: March 3, 2016, 07:33h.
Last updated on: March 3, 2016, 07:33h.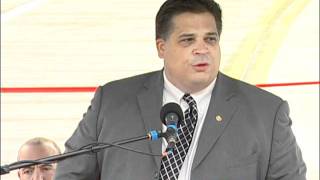 Pennsylvania State Representative Marc Gergely (D- 35th Dist) appeared in court today, accused of being a member of an illegal Pittsburgh slots gambling ring led by a man named "Porky" Melocchi.
Gergely, one of over a dozen charged in the case, is facing three felony counts, including dealing in the proceeds of illegal activity, plus three misdemeanors. He pled not guilty.
It is alleged that Ronald "Porky" Melocchi, who was sentenced to 10 years' probation last year, used his connections in the world of local politics to persuade business owners to install his machines on their premises.
In one such case, Gergely allegedly told a local restaurateur that he should accept Melocchi's slot machines because he the legislator had connections to local law enforcement and could protect the business from "trouble."
Prosecutors also claim Gergely received a $2,000 campaign donation from Melocchi, the source of which the lawmaker attempted to conceal with some creative accounting.
Bogus Letter Sting
"The allegations show what I would consider the insidious nature of organized crime," said Mark Serge, who is senior deputy at the Pennsylvania Attorney General's office. "You have relationship and money that tends to infiltrate the political system and individuals get caught up in that.
"This is an ongoing criminal investigation, we do anticipate more charges in this matter," Serge added. "It could involve other individuals that are involved in the political system and had any kind of relationships with Mr. Melocchi and his organization."
The court heard that in November 2012, having caught wind of Melocchi's operations and his suspected links to Gergely, prosecutors sent the representative a fake letter, ostensibly from the wife of a gambling addict whose husband had blown their life savings on Melocchi's machines.
"Mr. Gergely, I believe you're the only person I can trust," the letter said. "I don't know if I should call the FBI or State Police."
Wiretap Evidence
Sufficiently spooked by the correspondence, Gergely called his business partner to tell him that he needed to find out who the gambler was and put an end to his gambling spree, as authorities listened in via a wiretap.
"I just want to take care of you," Gergely told Melocchi, according to court documents. "She obviously has no idea that we have a connection. You know what I mean?"
The seven-term legislator has lost his position as the ranking Democrat on the state House Labor and Industry Committee because of the charges, but he has not resigned from the legislature.
He claims that Melocchi was a longtime friend of his father and that their relationship extended no further than that.
Most Read