Georgia Convenience Store Gambling Raid Puts Three in Jail
Posted on: February 17, 2017, 03:00h.
Last updated on: February 17, 2017, 03:19h.
A convenience store gambling operation has been shutdown after police in Georgia raided the suspected business this week.
The Marietta Police Department said in a press release that a two-year surveillance into two Gantts Food grocery stores began as a drug trafficking sting, but transitioned into an illegal gambling and money laundering investigation.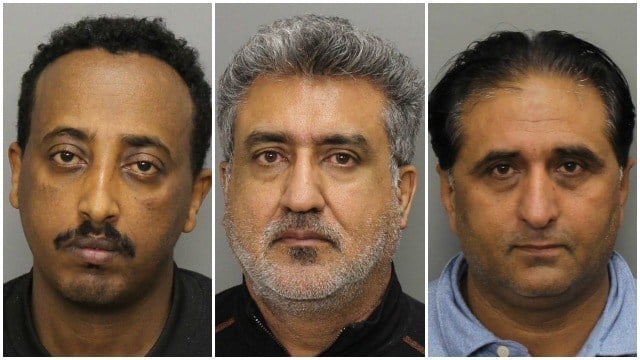 After obtaining search warrants for the locations and the owner's home, law enforcement confiscated 15 unlicensed coin-operated slot machines. They also discovered $250,000 in cash, a large bag of jewelry, eight computers, and five luxury vehicles.
Gantt Foods owner Khubaib Hussain, along with two workers, Samson Beye and Arif Muhammad, were arrested and each charged with a commercial gambling felony. After spending time in a Cobb County jail Tuesday night, the three posted bail, with Hussain's being the costliest at $38,720. The others were released on just $2,970.
It's unclear if Hussain owns other businesses in addition to his convenience stores. The vehicles seized by police include a Range Rover and Mercedes-Benz SUV.
Long Overdue
The Peach State is currently mulling a legislative bill that would bring Georgia its first land-based gambling establishments.
Georgia is one of just a handful of remaining states that doesn't have commercial or tribal casinos, nor pari-mutuel wagering. The state does, however, have a bountiful lottery that provided over $1 billion for education last year alone.
It's unclear why it took Marietta police more than 24 months to carryout the sting on Hussain's businesses. According to one news report, a regular customer said the slot machines were in plain view and were regularly occupied by patrons.
"People come and sit at the machines and they smoke their cigarettes," a resident told FOX 5. It's also worth noting that Georgia prohibits smoking in all enclosed public places.
Georgia does allow stores like Hussain's to offer coin amusement machines, but only store credit or lottery tickets are to be won. Paying out prizes in cash is illegal.
Law enforcement agencies are trying to crackdown on illegal gambling throughout the state. Also this week, an alleged online sports betting network being run by a 54-year-old Woodstock resident was discovered. The operator is accused of taking bets on college and professional sports through an illegal internet site.
Legalization Support
The casino bill in the Georgia State Capitol would effectively curtail operations like Hussain's should it one day become law.
The gambling bill, introduced by State Senator Brandon Beach (R-Alpharetta), calls for the construction of two casino resorts in Georgia. Atlanta would be an obvious choice for one of the locations.
Marietta is just a short drive northwest from Atlanta. Assuming slots machines weren't banned in the state, Hussain's rogue convenience store gambling establishment would theoretically receive fewer bets, ultimately leading to less money going into his wallet.
Numerous gaming bigwigs are interested in bidding on Atlanta should the state authorize a casino. The list of interested parties includes Wynn Resorts, Las Vegas Sands, Penn National Gaming, Golden Nugget, and Boyd Gaming.
Similar Guides On This Topic