North Carolina Casino Effort Busts, Budget Moves Forward Sans Gaming
Posted on: September 8, 2023, 08:15h.
Last updated on: September 8, 2023, 02:00h.
Commercial casinos won't be coming to North Carolina anytime soon.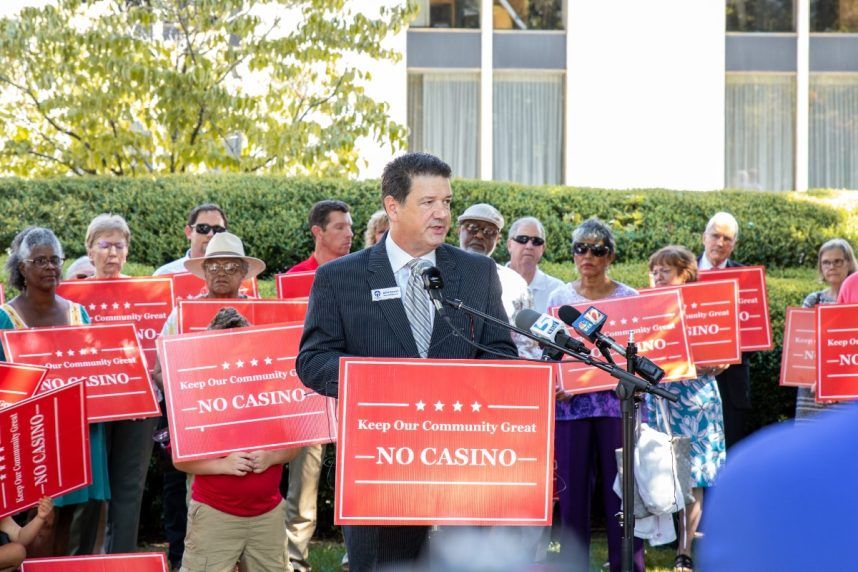 North Carolina House Speaker Tim Moore (R-Cleveland) broke the news that after caucusing his Republican lawmakers, the consensus didn't relay enough support for him to move forward with the gaming push. Moore was supportive of Senate President Pro Tempore Phil Berger's (R-Rockingham) belief that the General Assembly should legalize commercial casinos — aka non-tribal ones like the state's current casinos, Harrah's Cherokee, Harrah's Cherokee Valley River, and Catawba Two Kings.
Berger and Moore wanted to bring commercial casinos to two border counties and place another just off Interstate 95 near Rocky Mount. Their thinking was such gaming resorts would keep money from flowing to casinos in neighboring states. Virginia is opening at least four casinos, with two near the North Carolina border.
Berger had hoped to tag a commercial gaming bill to the state's 2023-25 budget, which the legislature remains finalizing in Raleigh in an extended special session. The budget was due in June, but spending discrepancies among lawmakers led to a lengthy stalemate.
Berger and Moore say a consensus on the spending blueprint has finally been reached, and a formal vote in Raleigh is expected next week.
Votes Not There
Berger and Moore wanted to allow a commercial casino in the counties of Rockingham, Anson, and Nash.
Rockingham borders Virginia and is just miles south of where Caesars Entertainment is building a $650 million casino resort. Anson, southeast of Charlotte, butts up against South Carolina. Nash County is home to Rocky Mount, a major pitstop for I-95 travelers.
Berger and Moore said allowing commercial casinos in those designated areas would provide North Carolinians, many of whom are already gambling in nearby states or illegally on their mobile devices, a legal option closer to home. The two powerful GOP leaders also said state and local counties would finally benefit from such gaming — not neighboring states or offshore websites.
But after surveying his House members, Moore said gaming support wasn't found.
Moore said 61 Republican votes are needed to pass the budget, and party leadership isn't willing to further stall the spending bill to try and win over additional GOP members to back gaming. Moore wrote House Republicans late Wednesday night, informing them that the gaming issue is dead.
Members, there has been confusion regarding the status of the vote count regarding gaming and other matters. To be clear, we will not pass a budget that does not have 61 Republican votes. There are not 61 Republicans willing to vote for the budget if it includes gaming. Watch you inboxes for a caucus meeting next week about the budget without gaming," Moore wrote.
The North Carolina House of Representatives numbers 120 lawmakers. Seventy-two are currently Republicans.
Opponents Win, for Now
Local officials and many residents in the three counties where Berger and Moore targeted casinos were outraged by the closed-door gaming talks. Community members from the three areas earlier this week picketed outside the state Legislative Building in Raleigh to express their hostility to casinos in their hometowns.
Their campaign seemingly resonated, as many state lawmakers representing them and nearby counties told Berger and Moore they won't sign a budget with casinos.
Berger says the casino topic is dead for 2023, but a standalone gaming bill could be considered next year.