Rockingham Officials Clear Path for Possible Casino in North Carolina Town
Posted on: August 22, 2023, 08:44h.
Last updated on: August 22, 2023, 09:54h.
The Rockingham County Board of Commissioners on Monday night unanimously approved a rezoning request. The move will allow an undefined commercial enterprise to operate on approximately 192 acres of land along US 220 north of Carefree Lane in Stokesdale.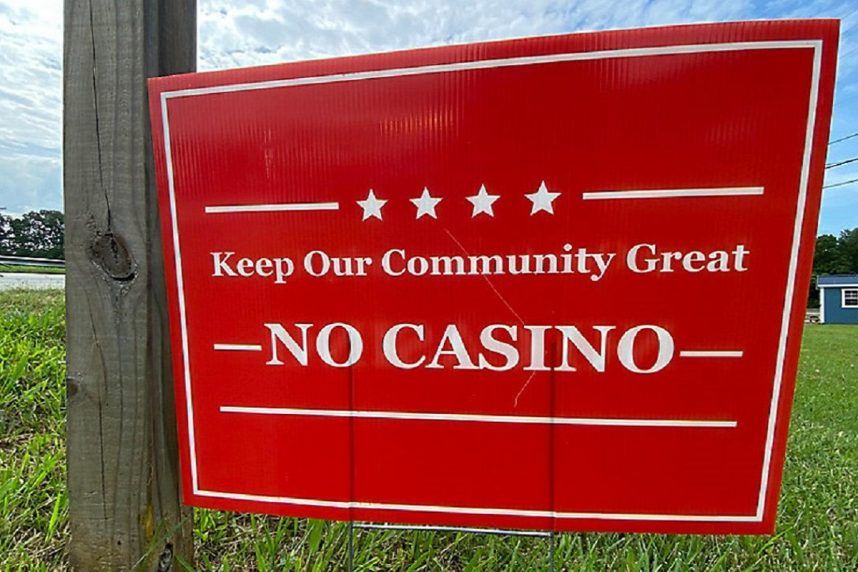 Casino.org last month reported on The Cordish Companies entering into a tentative purchase agreement with a Rockingham landowner for the tract. It is located just north of Camp Carefree, a free summer camp for children with disabilities and chronic illnesses. Cordish is the firm behind the state entity called NC Development Holdings, the potential buyer of the rural property.
Real estate listings show the property as "pending," with an asking price of $5.5 million. Cordish operates Live!-branded casinos in Maryland and Pennsylvania and entertainment districts in numerous states.
Republican leaders in Raleigh, specifically Senate President Pro Tempore Phil Berger (R-Rockingham), are trying to convince state lawmakers to legalize commercial casinos in three counties. Berger believes ending the state's prohibition on commercial gambling is warranted to keep gaming money and subsequent tax dollars from crossing the border to casinos opening in Virginia.
Land Use Approved
Throngs of Rockingham residents and community members from neighboring counties came out in full force Monday night to oppose the rezoning request. Many area residents say they don't want a casino in their backyard. Commissioners stressed that the rezoning request doesn't authorize a gambling establishment.
However, the rezoning does open the door to allowing Cordish to construct a Las Vegas-style casino resort on the property should state lawmakers get behind Berger's gaming push.
Many community members held up signs Monday evening encouraging the commissioners to vote against the rezoning application. "Keep Our Community Great! NO CASINO!" the signs read.
Do what is right," said Kelly Demry, a Rockingham County resident and mother of two. "If you don't, you will get a 'no' vote from me if you seek reelection."
Commissioners said the area has been targeted for commercial development for more than a quarter of a century.
"We've had land-use plans since 1998, with that corridor designated as a business corridor," said Commissioner Charlie Hall. "As such, we've been transmitting that to the public, to property owners, to potential investors to say if you want to look to put a business here, then look favorably in this area. We're trying to be consistent with this messaging."
Anyone could have purchased this land. It's been for sale," added Commissioner Houston Barrow.
Commissioner Mark Richardson said it's the board's responsibility "to do what's right" for the county's 92K residents.
"It's a difficult job on occasion," Richardson said.
Berger's son, Kevin, was one of the five commissioners who voted in favor of the rezoning request.
Economic Benefits
If approved by the General Assembly, Berger's casino bill would require that each of the three commercial casinos employ a minimum of 1,750 people. Berger also stresses that host counties would receive millions of dollars in new tax revenue from a gambling and entertainment district. Along with Rockingham, Nash and Anson counties are included in Berger's gaming statute.
Rockingham residents voiced typical concerns that come with new casino efforts, including the possibility of increased crime, violence, and bankruptcies. Camp Carefree owner Chis Rodenbough said a casino neighboring the camp would tarnish the idyllic setting.
"This is not something that's going to be reversible. It's going to be detrimental to this camp and to the community and to the people who live here because gambling doesn't bring out sweetness and light," Rodenbough said.