Outrage Over NFL-Owned Kids Daily Fantasy Sports Site from Youth Advocacy Group
Posted on: February 25, 2016, 01:20h.
Last updated on: February 25, 2016, 01:23h.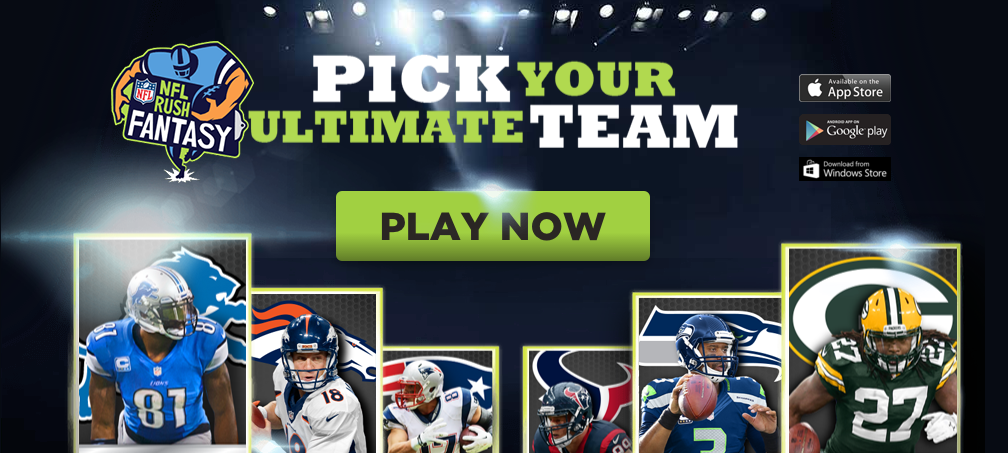 Aimed at pre-teen kids, daily fantasy sports (DFS) site NFL Rush is being asked to cease operations by the non-profit organization Campaign for a Commercial-Free Childhood (CCFC).
In a story that might seem more appropriate for satire, the truth is that the National Football League is catering to children to participate in free DFS contests, with the chance of winning weekly prizes like an XBOX One, video games, and a grand prize of a $5,000 scholarship.
According to the NFL Rush Fantasy website, "US residents between 6 and 12 who have parental consent are eligible."
Though the league and its commissioner, Roger Goodell, have long publicly opposed sports betting and gambling, it apparently has no qualms when it comes to children and fantasy sports. In conjunction with the National Council on Problem Gambling, the CCFC is calling on Goodell and the NFL to stop marketing fantasy football to children.
"There is evidence that playing fantasy sports, particularly with the incentive of valuable prizes as offered on the NFL Rush Fantasy website and app, can lead to problem gambling and addiction," CCFC Executive Director Josh Golin said in his letter to the league. "It is unconscionable that the NFL encourages children as young as six years old to develop the habit of engaging in this adult activity."
NFL Hypocrisy?
 The NFL has always maintained that any expansion of traditional sports betting could negatively impact the league and compromise the integrity of its games. Surprisingly, it's taken a rather different stance on daily fantasy contests.
FanDuel has contracts with 15 NFL teams, while Dallas Cowboys and New England Patriots owners Jerry Jones and Robert Kraft hold stakes in DraftKings.
DFS differs from sports betting due to the fact that the participant isn't simply picking a team or line, but assembling a roster of players in a process that is considered to be a skill-based endeavor.
Multiple attorneys general have ruled that DFS constitutes gambling, with the operators themselves, not surprisingly, fighting back. The statistics on who routinely wins DFS contests seems to support the skill over luck debate.
But as it applies to children, teaching 6 to 12-year-olds how to assemble a team of players to provide the best odds of winning a video game console is certainly cause for concern.
"By providing these valuable incentives, the NFL is indoctrinating children into engaging in fantasy sports with a financial stake in the outcome," the CCFC noted. "This exposes them, and our communities, to the risks of gambling problems."
You've Got to Be Carefully Taught
It should be noted that the NFL hasn't just promoted an online site: it's offered an in-classroom curriculum for teachers as well. Launched in 2014, NFL Rush Fantasy Learn, Play, Score! was billed as a math and language arts course based around fantasy sports. The league says that the program wrapped at the end of 2014-2015 season, but in it, children were encouraged to "choose their ultimate fantasy team each week" through critical thinking.
The program did employ basic math in determining how many fantasy points are to be allocated based on the player's performance, but it also required the student to understand the rules of football. Critics of the scheme argued it's the NFL's way to engage a new audience, as youth football participation continues to decline.
Hey, why not just teach the value of a dollar with a "Let It Rain" math program as well?
No Safeguards for Guardians
 If you're thinking NFL Rush features a series of protections to prevent children from signing up on their own, you'll be surprised to learn that registrants are simply required to provide their parent's email address, so that the NFL can verify their age and guardian consent.
Surely no 10-year-old would think to enter their friend's email or create a quick Yahoo address to self-confirm their validation, right? Of course not.
From online poker to the emergence of daily fantasy sports, the primary concern for many legislators is how to best protect adult consumers while gaming on the Internet, as well as the very issue of age verification. However, in the case involving children, the most susceptible and impressionable demographic, little is being done to keep your way-under-18-year-old child from participating in daily fantasy sports.
Surprisingly, no one from the pro-RAWA contingent seems to have jumped on this site as evidence that children will not be exempt from gambling online. It's exactly the kind of fodder that Sheldon Adelson and the bill's other sponsors, like presidential GOP contender Senator Marco Rubio (R-Florida), would love to throw in the face of everyone who supports Internet gaming.
Most Read