NFL MVP Odds Update: Jalen Hurts, Patrick Mahomes in Two-Way Race
Posted on: December 16, 2022, 11:36h.
Last updated on: December 16, 2022, 12:18h.
With only four games remaining in the regular season, the race to win the NFL's Most Valuable Player is down to a pair of outstanding quarterbacks.
Jalen Hurts from the Philadelphia Eagles is the consensus favorite to win the 2022 NFL MVP at -175 odds. But Patrick Mahomes from the Kansas City Chiefs is a close second at +200 odds on DraftKings' NFL Awards board.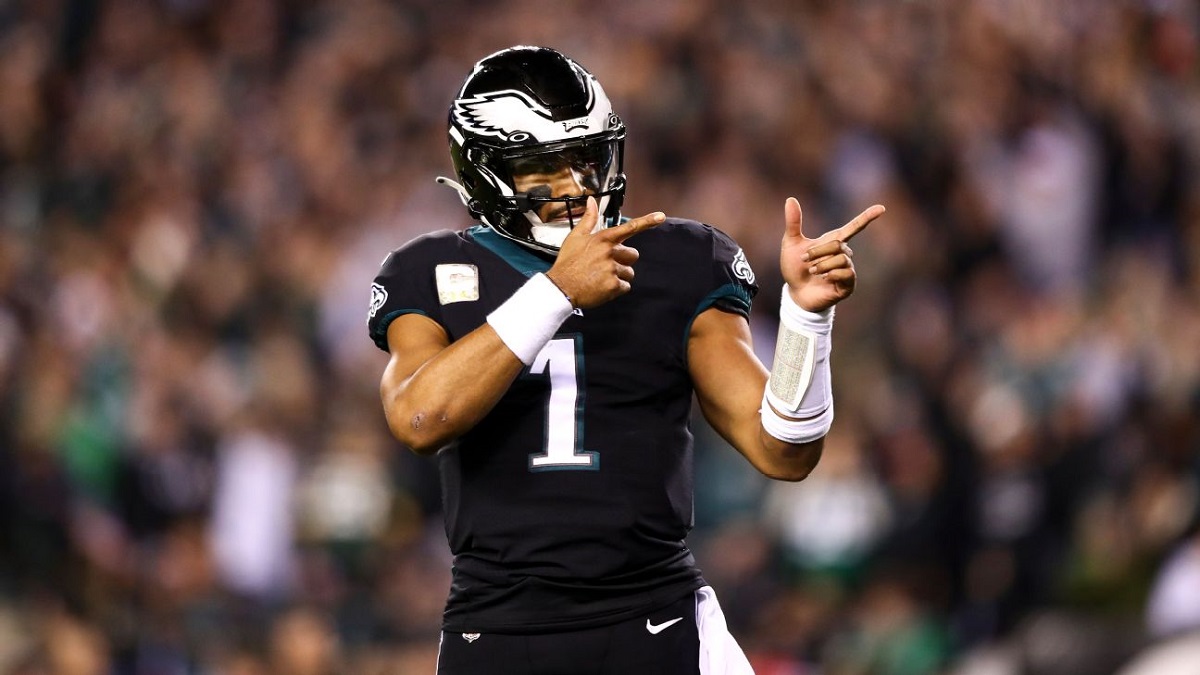 It's no surprise to see the quarterback from the premier team in each conference at the top of the betting board. Hurts has led the Eagles to a 12-1 record as the best team in the NFL this season, and they're on track to secure the #1 seed in the NFC playoffs.
Mahomes led the Chiefs to a 10-3 record, and they're fighting the Buffalo Bills for the #1 seed in the AFC.
| | |
| --- | --- |
| Player | NFL MVP Odds |
| Jalen Hurts | -175 |
| Patrick Mahomes | +200 |
| Joe Burrow | +1000 |
| Josh Allen | +2500 |
| Tua Tagovailoa | +4000 |
Aaron Rodgers from the Green Bay Packers won the MVP in back-to-back seasons, but he's not going to win three in a row. Multiple injuries slowed down Rodgers. The Packers struggled this season with a 5-8 record after winning 13 games during Rodgers' previous MVP campaigns.
Jalen Hurts -175
In his third season with the Eagles, Hurts completed a career-best 66% of his passes. He threw for 3,157 yards and 22 touchdowns in 13 games, which already passed the totals he posted in 15 games during the 2021 season.
Hurts is a dual-threat quarterback who's racked up 686 rushing yards in 139 attempts for 4.9 yards per carry. He also added 10 rushing touchdowns, which tied last season's total.
Hurts protects the ball and his low number of turnovers is one of the many reasons the Eagles only lost one game this season. With only three interceptions in 13 games, Hurts has thrown the fewest picks in the league. He fumbled five times via botched snaps, but the Eagles recovered all five.
Hurts has a 70.4 QBR rating, which is ranked #4 overall. He leads the NFL with a 108.4 passing rating.
Hurts was +600 odds to win the NFL MVP after Week 3 as the second favorite on the board, behind Josh Allen. But he's now -175 odds as the outright favorite.
The Eagles won four consecutive games following their lone loss of the season in Week 10 against the Washington Commanders. They play two more road games against the Chicago Bears (Week 15), and Dallas Cowboys (Week 16). They also host two more home games against the New Orleans Saints (Week 17), and New York Giants (Week 18).
Jalen Hurts to Slim Reaper for 41 yard TD on 4th and 7!

14-0 Eagles
pic.twitter.com/q0T9a5fDQm

— John Clark (@JClarkNBCS) December 11, 2022
Patrick Mahomes +200
Mahomes leads the NFL in passing with 4,160 yards and 33 touchdowns in 13 games. He also added two rushing touchdowns. He completed 65.8% of his passes and tossed 11 interceptions while absorbing 21 sacks. His 77.9 QBR rating is ranked #1, and he has a passer rating of 103.4.
After Week 3, Mahomes was tied with Lamar Jackson as the third-highest player on the NFL MVP board at +700 odds. Since then, Mahomes has been in close contention for the MVP with Hurts. Mahomes offers some value at +200 to win the MVP because he's won the award before, which might garner some favor in the eyes of voters.
Mahomes won the MVP in 2018, but the Chiefs failed to secure a trip to the Super Bowl. They were edged out by the New England Patriots in an overtime victory in the AFC Championship, and the Patriots went on to win Super Bowl LIII.
The Chiefs have two more away games against the Houston Texans (Week 15) and Las Vegas Raiders (Week 18). They host two more home games against the Seattle Seahawks (Week 16) on Christmas Eve, and versus the Denver Broncos (Week 17) on New Year's Day.
The most Patrick Mahomes TD of all time
pic.twitter.com/XBhOmOWNvC

— PFF (@PFF) December 11, 2022
Joe Burrow +1000
The Cincinnati Bengals are one of the hottest teams in the NFL right now after winning five consecutive games. After losing to the Cleveland Browns on Halloween, the Bengals snapped off five-straight victories, including a 27-24 win against Mahomes and Chiefs in Week 13.
Burrow has completed 68.1% of his passes for 3,665 yards and 27 touchdowns in 13 games. He also added a career-high five rushing scores. He's ranked #3 in passing yards and ranked #7 in passing touchdowns. He has a 102.4 passer rating, and a 49.6 QBR rating.
Burrow was plagued with a slow start when the Bengals were afflicted with the proverbial Super Bowl hangover. Burrow was +4000 odds to win the NFL MVP in Week 3 after a 1-2 start. But he's since improved to +1000 odds as the third favorite on the board.
In last year's playoffs, Burrow caught fire and led the Bengals to a trip to Super Bowl LVI. He's heating up at the right time once again, but he won't get enough MVP votes to catch Hurts or Mahomes.
Josh Allen +2500
The Buffalo Bills have their eyes on the Super Bowl this season because of quarterback Josh Allen. Allen has completed 63.8% of his passes for 3,553 yards, 26 touchdowns, and 11 interceptions. The mobile Allen added six rushing touchdowns. He rushed for 628 yards and averaged 6.3 yards per carry on 99 attempts.
Allen has a passer rating of 95.5, and his QBR rating of 73.2 is ranked #3.
Earlier in the season, Allen made a strong case to win MVP. He entered the season as the betting favorite and was at the top of the board at +300 odds after Week 3. Allen suffered an elbow injury in a loss against the New York Jets in Week 9, and his stats have dipped overall.
Allen didn't miss any games with the UCL strain on his throwing arm. But the injury slowed him down for a couple of weeks when the Bills lost back-to-back games in November. Since that low point, the Bills won four games in a row and improved to 10-3. Allen's arm has been looking stronger in each victory.
At +2500 odds, Allen is something of a long shot to win the NFL MVP. Allen would tell you that he'd rather win the city of Buffalo their first Super Bowl than win a personal award like the MVP.
Tua Tagovailoa +4000
Tagovailoa from the Miami Dolphins was +1400 odds to win the NFL MVP in Week 3 after a torrid start, but he's dropped back to +4000. He survived a brutal head injury and multiple concussions this season, including a nasty injury in Week 2. He bounced back from that frightening incident on Thursday Night Football against the Bengals in Week 3.
The Dolphins are 8-5 and currently occupy one of the AFC wild-card spots. In 11 games, Tagovailoa completed 65.5% of his passes for 3,004 yards, 22 touchdowns, and five interceptions.