Patrick Mahomes, Tua Tagovailoa in Close NFL MVP Race After Week 5
Posted on: October 11, 2023, 01:47h.
Last updated on: October 11, 2023, 03:17h.
After the first five weeks of the season, quarterback Patrick Mahomes from the Kansas City Chiefs (+450 odds) and quarterback Tua Tagovailoa of the Miami Dolphins (+475) are close betting favorites to win the 2023 NFL MVP award.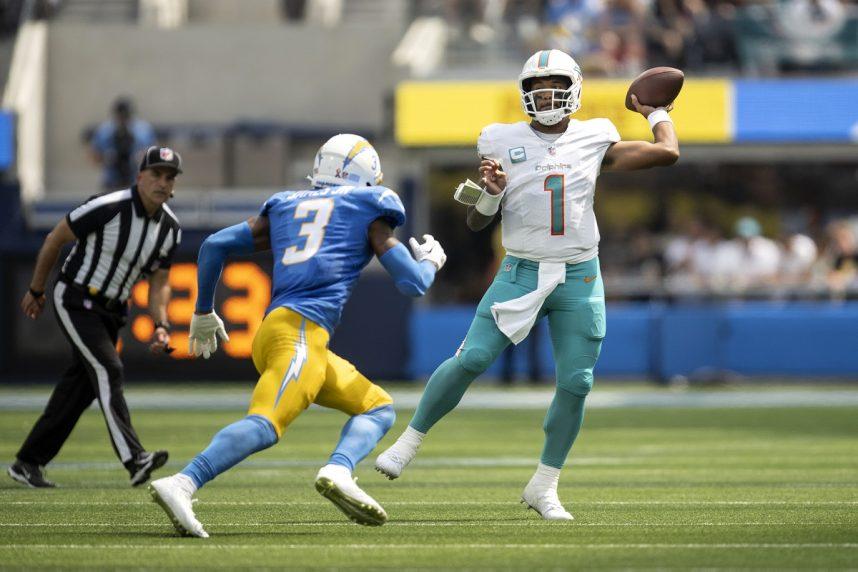 Mahomes was one of the MVP betting favorites on DraftKings' NFL Awards board before the season began. After five games, a healthy Tagovailoa has almost pulled even with Mahomes.
2023 NFL MVP Odds

| | |
| --- | --- |
| Player | Odds |
| Patrick Mahomes | +450 |
| Tua Tagovailoa | +475 |
| Brock Purdy | +650 |
| Josh Allen | +700 |
| Jalen Hurts | +700 |
| Christian McCaffrey | +1400 |
| Lamar Jackson | +2000 |
| Trevor Lawrence | +2000 |
| Justin Herbert | +2500 |
| Joe Burrow | +5000 |
Mahomes is the reigning MVP and is seeking the award for the second consecutive season. He won the MVP twice before in 2018 and 2022.
Lamar Jackson from the Baltimore Ravens won the MVP in 2019, and he's the only other previous winner who's currently in the top 10 on DraftKings' NFL awards board. Jackson is +2000 odds to win a second MVP.
Patrick Mahomes +450
The Chiefs dropped the season opener to the Detroit Lions before they won four straight games. While most of the attention with the Chiefs these days is on tight end Travis Kelce and his relationship with pop star Taylor Swift, Mahomes' leadership and consistency has flown under the radar.
Mahomes completed 66.8% of his passes for 1,287 yards, 10 touchdowns, and only four interceptions. He led the Chiefs to the best record in the AFC with a wide receiving corps that lacks a big-time name. His favorite target, Kelce, has been banged up all season and missed Week 1 with a bruised knee.
The Chiefs aren't lighting up the scoreboard this year, and have relied heavily on a much-improved defensive unit. The Chiefs are ranked #9 overall in scoring by averaging 25.6 points per game, but they have ample enough offense to win four games this season.
So long as the Chiefs keep winning, the popular Mahomes will continue to be a front-runner for MVP. He's +450 odds right now, but MVP bettors feel more confident in his long-term health over the season versus Tagovailoa.
Tua Tagovailoa +475
Any futures wager on the Dolphins (4-1), or any awards bet on Tagovailoa hinges on his health. Right now, you can back Tagovailoa at +475 odds to win his first MVP award.
Tagovailoa suffered multiple concussions last season, including one gnarly head injury during a nationally televised game that was tough to watch. He's one big hit away from ending his career, though that's a risk that every quarterback in the NFL understands.
A healthy Tagovailoa leads the NFL's top offense that averages 36.2 points per game. The Dolphins generate a league-best 513.6 total yards per game and have accounted for more yardage through five weeks than the NFL's all-time best offense, the 1999 St. Louis Rams, which was known as "The Greatest Show on Turf" for three seasons at the turn of the century.
Tagovailoa averages 327.8 passing yards per game. He completed 71.7% of his passes for 1,614 yards and 11 touchdowns. He threw five interceptions, and the offensive line has done an excellent job at protecting him by allowing only six sacks in five games.
Tagovailoa has two of the fastest players in the NFL with wide receiver Tyreek "Cheetah" Hill and rookie running back De'Von Achane. Head coach Mike McDaniel is an offensive wunderkind who installed a potent stretch offense that's been causing ripples through the league. One of the reasons it works is because Tagovailoa has been stellar in executing the plays. If he remains healthy and the Dolphins continue to win, Tagovailoa could be a legitimate threat to win the MVP this season.
Brock Purdy +650
San Francisco 49ers quarterback Brock Purdy has yet to lose a regular season game as a starter. He improved to a 10-0 career record with the 49ers. Heck, since he took over for the 49ers last December, he lost only one game, and that's because he sustained an elbow injury in the NFC Championship.
Purdy bounced back from surgery and he's led the 49ers to an undefeated 5-0 record this season. The 49ers have the second-best offense in the NFL, averaging 33.4 points per game.
Purdy has a 72.1% completion rate this season. He passed for 1,271 yards, nine touchdowns and zero interceptions. He averages 254.2 passing yards per game, and only Tagovailoa has better numbers. As a rusher, Purdy tallied two touchdowns on 12 total carries.
Purdy is third overall behind Mahomes and Tagovailoa on the awards board at +650 odds to win the MVP. He's had a magical ride since the 49ers selected him with the last pick in the 2023 NFL Draft. The final pick in the draft every year has the moniker of "Mr. Irrelevant," but Purdy has been the complete opposite since he made a splash last season.
When Jimmy Garoppolo sustained a foot injury late last season, Purdy stepped up and led the 49ers to five straight victories. His run-good continued in the postseason with two more wins until an injury thwarted the 49ers' pursuit of a Super Bowl berth.
With Purdy under center, the 49ers emerged as the consensus favorite to win the Super Bowl at +350 odds.
Christian McCaffrey +1400
Christian McCaffery, the dual-threat running back from the San Francisco 49ers, is the highest non-quarterback on the awards board at +1400 odd to win the MVP. He's sixth overall on the board, and the top running back in contention for this season's MVP.
Adrian Peterson is the last running back to secure MVP honors back in 2012 with the Minnesota Vikings. A quarterback won the MVP 10 seasons in a row, and 15 times in the last 16 seasons. Since 2001, a non-quarterback won the MVP on only three occasions. All three were running backs.
McCaffrey posted sensational numbers since the Carolina Panthers traded him to the 49ers last year. He's been healthy, which has contributed to his output.
In 16 games with the 49ers, McCaffrey rushed 238 times for 1,256 yards and 13 touchdowns. He added 72 receptions for 632 yards and five touchdown catches.
In five games in 2023, McCaffrey rushed 99 times for 510 yards and seven touchdowns. He's averaging 5.2 yards per carry. He contributed an additional 20 receptions for 168 yards and one touchdown catch.
Injury concerns are the sole reason why McCaffrey's MVP odds aren't better. When McCaffrey is healthy, he's arguably the top running back in the NFL. After not missing any games in his first three seasons in the NFL. McCaffrey struggled with injuries in the 2020 and 2021. He appeared in only 10 games during those two injury-plagued seasons.