Miami Dolphins QB Tua Tagovailoa Out of Hospital, Suffers Neck and Head Injury
Posted on: September 30, 2022, 10:21h.
Last updated on: September 30, 2022, 03:47h.
Miami Dolphins quarterback Tua Tagovailoa suffered a brutal head and neck injury during a sack in the second quarter against the Cincinnati Bengals on Thursday Night Football.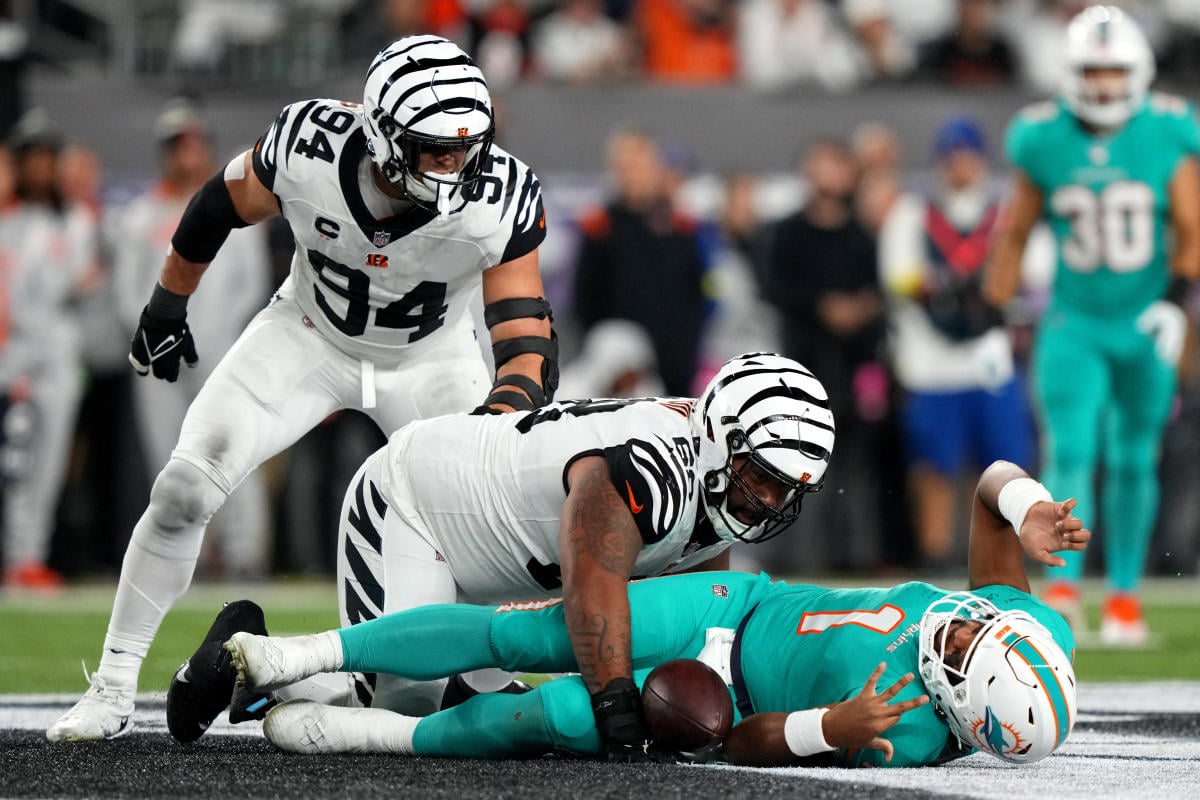 Josh Tupou from the Bengals sacked Tagovailoa, and the force of the sack caused the back of Tagovailoa's head to smack into the ground. His arms seized up immediately, and medical staff was instantly called out to the field.
Don't see how Tua can return with the form of posturing in his arms/hands/fingers," tweeted Dr. David Chao, former team doctor with the Chargers. "Can't be anything else but presumed head trauma that can explain that away."
All of the Dolphins' players gathered around the medical crew as they attended to Tagovailoa. Cincinnati fans chanted "Tua! Tua!" as he was being taken off the field on a stretcher.
Tagovailoa underwent further examination at a local hospital. He's since been released and flew home to Miami.
It was a frightening scene, especially on a nationally televised game featured on Amazon Prime. The Dolphins/Bengals game had gotten significant hype. The Dolphins were one of two undefeated teams at 3-0, and they were battling a Bengals team that went to the Super Bowl last season.
Backup quarterback Teddy Bridgewater replaced Tagovailoa, but the Dolphins lost 27-15 and slipped to 3-1 on the season. With the victory, the Bengals improved to 2-2.
Don't see how #Tua can return with the form of posturing in his arms/hands/fingers. Can't be anything else but presumed head trauma that can explain that away. pic.twitter.com/gW0SpzMWz0

— David J. Chao – ProFootballDoc (@ProFootballDoc) September 30, 2022
Tua's So-Called Back Injury in Week 3
Tagovailoa's head and neck injury occurred just four days after another controversial injury. Tagovailoa took a huge hit against the Buffalo Bills last Sunday and stumbled back to the huddle. The video replay seemed to indicate that Tagovailoa may have suffered a head injury and possible concussion.
But the Dolphins were adamant that he injured his back on the play, which seemed a thin excuse for why his knees buckled. That play also happened late in the second quarter, and the Dolphins' medical staff evaluated Tagovailoa at halftime. They determined it was a back injury, so he didn't enter the strict concussion protocol.
If he had been diagnosed with a concussion and brain injury, then Tagovailoa wouldn't have been allowed back in the game and the equipment manager would have taken away his helmet. Since he was diagnosed with a back injury, Tagovailoa returned to the field for the second half. He helped lead the Dolphins to a comeback win against the Bills, and they remained undefeated at 3-0.
TUA with a concussion. Definitely done. #dolphins #bills pic.twitter.com/aWKzXKesBM

— Browns Rally Possum (@BrownsRally) September 25, 2022
Backgate: Miami Cover Up?
Few people bought the official story from last Sunday and felt the Dolphins were covering up the severity of the injury. Head coach Mike McDaniel insisted Tagovailoa had a back injury against the Bills, and an independent neurologist cleared him to play in the second half.
People don't stray," said McDaniel. "We don't mess with that. As long as I'm the head coach, that will never be an issue."
The NFL Players Association — the players' union — requested an investigation and review of the initial concussion examination.
If Tagovailoa was diagnosed with a concussion against the Bills, there is no way he would have cleared concussion protocol in time to suit up for Thursday Night Football against the Bengals.
The NFLPA isn't a fan of Thursday Night Football. The league loves an additional prime-time game during the middle of the week, but players loathe the quick turnaround time. Teams don't have enough time to prepare for an opponent, but more importantly, banged-up players don't have enough time to heal up after playing on Sunday.
Prime-Time Concussion
If Tagovailoa's injury happened on any given Sunday, it could have gotten lost in the shuffle of the NFL's slate of a dozen other games. Since it happened on Thursday Night Football, millions of fans and most NFL players saw the gruesome injury happen on Amazon's live stream. NFL commissioner Roger Goodell saw the incident because he attended the game in person.
The NFL has a complicated history of poorly handling head injuries. At times, they are accused of seeming more concerned with avoiding the consequences of head injuries than accepting responsibility.
You can now add Tagovailoa's name to the long list of other players who put their livelihoods on the line for the love of the game. A concussion and traumatic brain injury are bad enough. Two alleged concussions four days apart are outright frightening.
Latest Casino Stocks:
Retrieving stocks data...
Retrieving stocks data...
Retrieving stocks data...
Retrieving stocks data...
Retrieving stocks data...