NFL Betting Trends: Primetime Points "Unders" Now 22-7
Posted on: November 8, 2023, 12:54h.
Last updated on: November 9, 2023, 11:33h.
NFL offenses are struggling this season, with numerous quarterback injuries and teams having no choice but to start a backup. As a result, bettors have found success backing the "under" in points totals wagers through the first nine weeks of the season. Scoring has been scarce in 29 primetime games, and unders are 22-7, a success rate of 75.8%.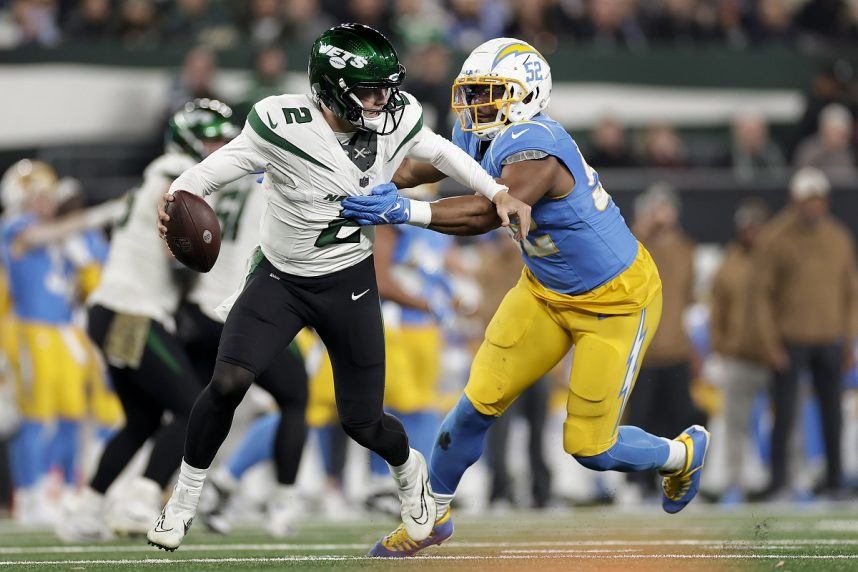 Overall this season, betting the under has produced an 83-52-1 result, for a 61.5% clip.
In Week 9, unders went 11-3 in 14 games, including in all three primetime games on Thursday Night Football, Sunday Night Football, and Monday Night Football.
The Pittsburgh Steelers defeated the Tennessee Titans on Thursday Night Footbal to kick off Week 9. The under barely came in with a points total of 36.5 over/under.
Sunday Night Football featured an epic matchup with Joe Burrow from the Cincinnati Bengals hosting Josh Allen and the Buffalo Bills. Oddsmakers anticipated a shootout, with a points total of 51.5 over/under. The Bengals held off the Bills and won, 24-18. The under hit when both teams combined for 42 points.
The Los Angeles Chargers defeated the New York Jets, 27-6, on Monday Night Football. Without Aaron Rodgers, the Jets' offense continues to struggle with backup Zach Wilson at the helm. The points total closed at 41, and the Chargers and Jets combined for 33 points to complete a 3-0 sweep for primetime unders in Week 9.
Lo-Fi Offenses
In Week 9, five teams scored less than six points, and 10 teams scored 17 or fewer points.
Six teams are averaging more than 26 points per game this season. The high-octane Miami Dolphins lead the way with 31.7 points per game, followed by the Philadelphia Eagles (28.0), Dallas Cowboys (27.5), San Francisco 49ers (27.3), Buffalo Bills (26.7), and Baltimore Ravens (26.6).
Those six teams played 52 total games, and a backup quarterback started only once. Sam Darnold filled in for Brock Purdy when the 49ers' starter sustained a concussion.
NFL teams average 21.7 points per game this season, and 17 teams generate less than that average. A total of 12 teams score less than 20 points per game, and five teams average less than 17 points per game.
The New York Giants are the lowest-scoring team in the NFL, averaging a paltry 11.2 points per game. The New England Patriots (15.0), New York Jets (16.5), Pittsburgh Steelers (16.6), and Arizona Cardinals (16.8) round out the bottom five offenses in the league this season.
At 21.7 points per team per game, this year's collective offense is tied for the lowest-scoring NFL season in the last decade.
Teams are averaging 330 yards of combined offense per game in 2023, which is the lowest in 15 seasons. These stats are a little startling, considering teams embraced a pass-first philosophy over the last decade versus old-school ground-and-pound rushing attacks that dominated in the 20th Century.
Backups and Rookies Everywhere
In Week 9, a backup quarterback started in at least eight out of 14 games on the schedule.
Eight different rookies appeared in Week 9, including Will Levis (Tennessee Titans), Jaren Hall (Minnesota Vikings), Clayton Tune (Arizona Cardinals), Tyson Bagent (Chicago Bears), C.J. Stroud (Houston Texans), Bryce Young (Carolina Panthers), Tommy DeVito (New York Giants), and Aidan O'Connell (Las Vegas Raiders).
The Vikings lost Kirk Cousins to a season-ending Achilles injury in Week 8. Hall earned his first career start in Week 9 against the Atlanta Falcons, and then exited the game in the first quarter because of a concussion. Backup Josh Dobbs joined the Vikings only five days earlier after they acquired him in a trade with the Arizona Cardinals. He was thrust into action, but led the Vikings to a comeback victory. The Vikings prevailed, 31-28, in one of the three games that actually went over. That was one of the few exceptions last week.
Meanwhile, the Cardinals had no choice but to start rookie Clayton Tune while they await the return of former starter Kyler Murray, who tore his ACL last season. The Cardinals were shut out, and the points under hit with Tune in his first career start.
The Indianapolis Colts began the season with a rookie and pivoted to a backup after disaster struck. The Colts named Anthony Richardson, the fourth-overall pick in the 2023 NFL Draft, as the Week 1 starter. A shoulder injury knocked Richardson out for the season, and backup Gardner Minshew took over as the starter for the remainder of the season while Richardson recovers from surgery.
Week 10: More Low Team Totals
Oddsmakers are aware that unders have been profitable overall this season, which is why six out of the 14 games on Week 10's schedule opened with a points total under 40 points. There are two primetime games this week where bettors are hoping the unders betting trend continues.
In Week 10, the Chicago Bears host the Carolina Panthers on Thursday Night Football. The points total is 39 over/under, with two rookie quarterbacks, Bagent vs. Young, heading into battle.
The Las Vegas Raiders host the New York Jets on Sunday Night Football. That ugly primetime game will feature two backup quarterbacks, including one rookie. The Jets/Raiders have the lowest total on the board in Week 10 at 36 o/u.
The Buffalo Bills host the Denver Broncos on Monday Night Football, which has a reasonable points total of 47.5 o/u.
Worst Under Teams: Giants, Steelers
Nine teams are among the worst in the NFL this season when betting points totals. Fading those teams generated at least a 75% success rate through the first nine weeks of the season.
The New York Giants (2-7) are 8-1 at hitting the under this season, for an 89% success rate. Their outlook seems grim after the Giants lost starter Daniel Jones to a season-ending ACL injury. DeVito, an undrafted rookie from Illinois, will start in Week 10 against the Dallas Cowboys.
The Pittsburgh Steelers (5-3) are second-best in the league with a 7-1 record with unders. Fans aren't happy with offensive coordinator Matt Canada, but the Steelers still have a winning record despite a lackluster offense.
Four teams have a 7-2 record with unders, including the Minnesota Vikings (5-4), Las Vegas Raiders (4-5), New Orleans Saints (5-4), and the Kansas City Chiefs (7-2).
Three teams are 6-2 in hitting the under this season, including the Tampa Bay Buccaneers (3-5), Tennessee Titans (3-5), and Los Angles Chargers (4-4).
In case you're wondering, the Chicago Bears (2-7) and Indianapolis Colts (4-5) are the best "over" teams in the NFL this season at 6-3 each.