Jacksonville Jaguars Quarterback Trevor Lawrence Questionable for Week 7
Posted on: October 19, 2023, 08:39h.
Last updated on: October 19, 2023, 10:52h.
The Jacksonville Jaguars listed quarterback Trevor Lawrence as questionable on the injury report ahead of a Thursday Night Football matchup against the New Orleans Saints.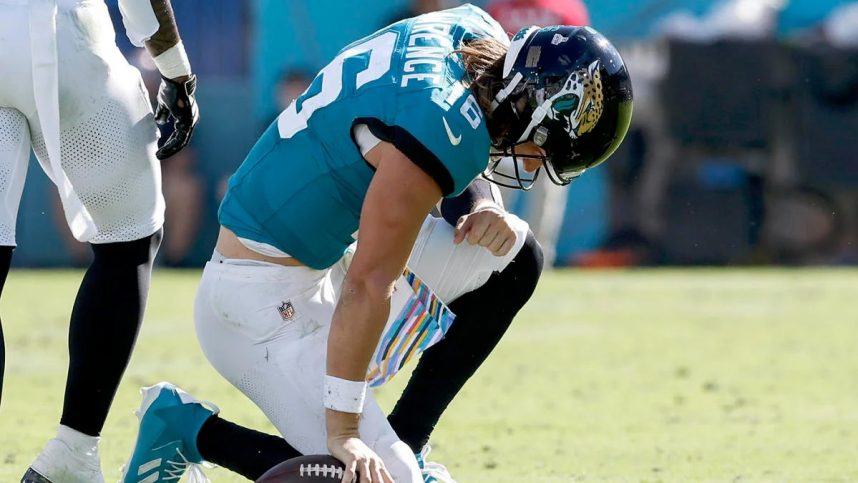 Lawrence is currently day-to-day with a left knee injury, and he'll be a game-time decision in New Orleans. He was spotted wearing a knee brace on Wednesday, but was limited in practice.
Lawrence hasn't missed a game during his short career. He would like to start on Thursday Night Football, but the Jaguars are reticent to let him play on the artificial turf at the New Orleans Superdome.
I'm optimistic, but of course we're gonna have to make that decision Thursday and we'll go from there," Lawrence told reporters on Tuesday. "Right now is not the day to do that."
If Lawrence is unable to play, C.J. Beathard is currently the backup quarterback. Beathard last made a start in 2020, and he was 2-10 in a dozen games as a starter with the 49ers. He's been the backup behind Lawrence in Jacksonville since 2021.
"T-Law is as tough as they come, and I know he's doing anything and everything he can to be ready to play," said Beathard.
Lawrence Tweaks Knee Trying to Seal a Win
Lawrence sustained the knee injury late in the fourth quarter of a 37-20 victory against the Indianapolis Colts. He faked a pitch to running back Travis Etienne and rolled out to the left side. Lawrence instantly grabbed his left knee after he was chased down by Colts defensive end Samson Ebukam.
I just felt some discomfort in my knee, and I went down," said Lawrence on Sunday. "Don't know if it was twisted or landed on or what. Felt it right away. I realized I could get up, so I was just trying to get up and get off the field."
Head coach Doug Pederson took some heat over the play call. The Jaguars were trying to get a first down via a running play, and then let the clock expire. Their running attack was ineffective down the stretch, which is why Lawrence kept the ball.
"Is there a little bit of risk there to run your quarterback? Yes," acknowledged Pederson. "But at the same time, the reward is you get the first down, and you stay on the field and ice the game in those situations."
Lawrence was initially diagnosed with a left knee bruise. He underwent an MRI on Monday, which revealed a minor sprain, and Lawrence avoided a serious injury.
The Jaguars selected Lawrence with the #1 pick in the 2021 NFL Draft. He has completed 63.5% of his passes and thrown 44 touchdowns and 28 interceptions in 40 career starts.
If you dismiss his rookie season, Lawrence has thrown 32 touchdowns and only 11 picks in his last 23 games since Pederson took over as head coach.
Lawrence is 4-2 as a starter this season. He completed 67.1% of his passes for 1,439 yards, seven touchdowns, and three interceptions.
Futures Market on Lawrence and the Jaguars
The Jaguars won three games in a row and improved to 4-2. The Saints are 3-3, but get the benefit of hosting the Jaguars on a short week on Thursday Night Football. The Saints recently survived a rough stretch in which they played four out of their last five games on the road.
On Sunday evening, the South Point Sportsbook in Las Vegas installed the Saints as a -3 favorite against the Jaguars. The line moved during the week, and bettors backed the Jaguars even though Lawrence was listed as day-to-day. The Saints are currently a -1 favorite.
The Saints are 1-4-1 against the point spread (ATS) this season. The Jaguars are 4-2 ATS, including 3-0 ATS during their current win streak.
Saints quarterback Derek Carr is also banged up and playing through a painful shoulder injury. The Saints began the season 2-0, but they dropped three out of their last four games.
The Jaguars are the betting favorite to win the AFC South at -130 odds. They're ahead of the Houston Texans (3-3) at +280 odds, Tennessee Titans (3-3) at +650 odds, and Indianapolis Colts (2-4) at +650 odds. The Colts lost rookie quarterback Anthony Richardson to a shoulder injury, and he'll miss the remainder of the season while he recovers from surgery.
The Jaguars are currently -230 odds to make the playoffs in consecutive seasons. They're +150 odds to miss the postseason, according to a prop bet by DraftKings.
The Jaguars are +2500 odds to win Super Bowl LVIII, and they're ninth overall on the futures board.
The Jaguars are +1400 odds to win the AFC Championship, and they're fifth on the board behind the Kansas City Chiefs, Miami Dolphins, Buffalo Bills, and Baltimore Ravens.
In a tight NFL MVP race, Lawrence is ranked #8 on the awards board at +2000 odds.
Most Read