Las Vegas Raiders to Start Rookie QB Aidan O'Connell, Jimmy G Benched
Posted on: November 2, 2023, 09:48h.
Last updated on: November 2, 2023, 01:33h.
The Las Vegas Raiders have benched starting quarterback Jimmy Garoppolo in favor of rookie backup Aidan O'Connell.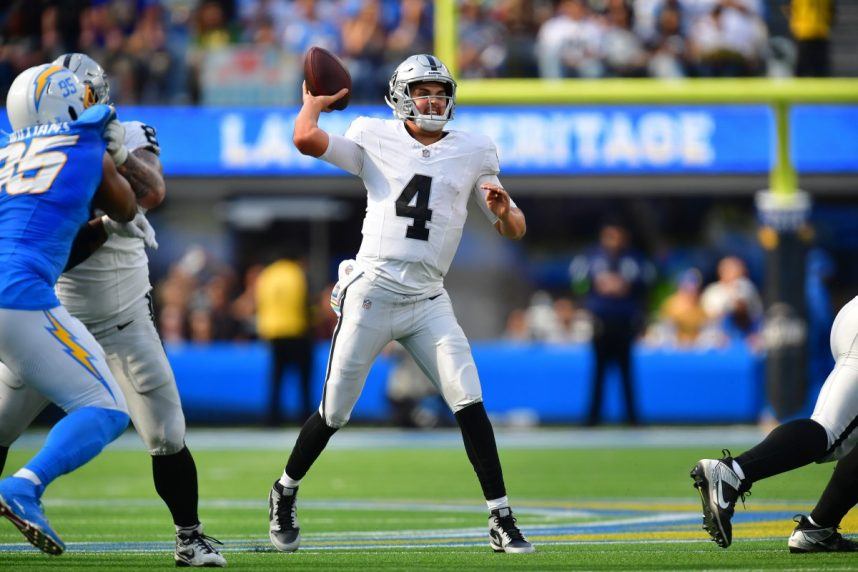 The Raiders (3-5) host the New York Giants (2-6) on Sunday.
O'Connell will start for a second time this season. When Garoppolo sustained a concussion in Week 3 against the Pittsburgh Steelers, O'Connell started in Week 4 in a loss against the Los Angeles Chargers.
The shake-up at quarterback occurred a half-day after the Raiders fired head coach Josh McDaniels midway through his second season in Las Vegas.
Jimmy G Out, O'Connell In
In nine games this season, Garoppolo had a 3-3 record as a starter. He completed 65.5% of his passes for 1,205 yards and seven touchdowns. He threw nine interceptions and was sacked 13 times.
Garoppolo has a passer rating of 78.1 and a QBR rating of 35.2. According to ESPN, Garoppolo was ranked #30 in QBR this season.
Although he struggled with multiple injuries the last few seasons, Garoppolo had a 40-17 record in 57 starts with the San Francisco 49ers and New England Patriots. The Raiders parted ways with former starting quarterback Derek Carr so they could sign Garoppolo in free agency.
Garoppolo played under McDaniels at the start of his career when he was the offensive coordinator of the New England Patriots. Their reunion in Sin City was short-lived before the Raiders fired McDaniels. The two couldn't replicate the success that they had with the Patriots.
The Raiders fired McDaniels and offensive coordinator Mick Lombardi on Tuesday evening. Under Lombardi and McDaniels, the anemic Raiders offense was ranked #31 in the NFL out of 32 teams.
The Raiders benched a struggling Garoppolo to give O'Connell another chance. The Raiders selected O'Connell with a fourth-round pick out of Purdue in the 2023 NFL Draft. Veteran Brian Hoyer will serve as a backup in Week 9.
In his first start against the Chargers, O'Connell completed 24 of 39 passes for 238 yards. He didn't throw any touchdowns, was picked off once, and was sacked seven times in a 24-17 loss.
O'Connell made a relief stint against the Chicago Bears during a loss in Week 7. He completed 10-of-13 passes for 75 yards and hooked up with Jakobi Meyers for the first passing touchdown of his career.
Halloween Deadline for Mark Davis
Team owner Mark Davis had a self-imposed deadline on Halloween to make decisions on the future of McDaniels and general manager Dave Ziegler.
Davis fired both McDaniels and Ziegler when they failed to install a winning culture in Las Vegas.
Unfortunately, I had great hopes for Josh and Dave," Davis said in an interview with ESPN. "It just seemed we were going in the wrong direction. So, with the trade deadline, I just felt it was time to make a change, time to make a move."
The Raiders suffered a humiliating loss against the Bears in Week 7. They failed to defeat a team that started an undrafted rookie quarterback who played in Division II last season. Tyson Bagent led the Bears to a 26-14 victory over the Raiders in his first NFL start.
After the Detroit Lions beat down the Raiders on Monday Night Football in Week 8, Davis made his decision to clean house.
Davis tapped Antonio Pierce as the interim head coach to replace McDaniels. Pierce played linebacker for almost a decade in the NFL, and he won a Super Bowl during his tenure with the New York Giants.
"Seemed like a fresh approach," added Davis. "Seemed like the adjustment we need at this time. I was impressed."
Bo Hardegree was promoted from quarterbacks coach to offensive coordinator. Hardegree will call the plays after the Raiders also fired former OC Lombardi.
Raiders Meet Giants in the Lo-Fi Bowl
The Raiders are a -1.5 favorite against the Giants in Las Vegas this Sunday. The line didn't move, even after the Raiders switched quarterbacks and benched Garoppolo. The Raiders are 2-1 at home at Allegiant Stadium this season, but they're 1-2 against nonconference opponents.
Quarterback Daniel Jones returns to the Giants for the first time in a month after sustaining a neck injury in early October. The Giants are seeking to get back on track after a devastating loss in overtime against the New York Jets in Week 8. They were a 99% favorite to win but blew a late-game lead when they couldn't seal a victory in crunch time with a field goal. The Jets rallied back and forced overtime, where they stole a victory.
The Giants and Raiders matchup features two of the worst offenses in the NFL. The Raiders are ranked #31 in offensive DVOA, and the Giants are ranked #32.
The Giants average only 11.9 points per game this season, the lowest in the league. The Raiders have the third-worst offense, generating only 15.8 points per game.
The points total is 37 over/under. If you're looking to bet the under, the Raiders are 6-2 this season. The Giants are even better, with a 7-1 record in under totals this season.