Nevada Gaming Commission Warns Casinos Not to Get High on Pot Business
Posted on: March 7, 2017, 01:00h.
Last updated on: March 7, 2017, 12:34h.
The Nevada Gaming Commission isn't altering its position on marijuana, and wants casinos to know that they aren't permitted to participate in the cannabis business.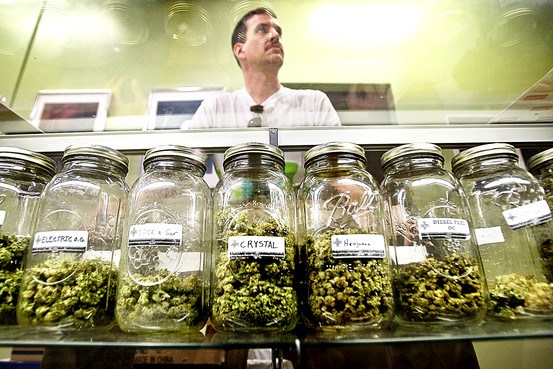 Last November, voters in the Silver State approved a ballot question to allow Nevadans over the age of 21 to use marijuana recreationally should they have one ounce or less of the drug.
The referendum received 54.47 percent support, to 45.53 percent opposed. Among the latter was the Nevada Gaming Commission, and the casino regulatory agency is maintaining its stance that marijuana is still illegal in the eyes of the federal government.
The Commission says casinos would be in direct violation of their gaming licenses should they do business with the emerging cannabis industry.
Nevada legalized medical marijuana in 2000, and three years later passed a bill to allow businesses to dispense the drug to approved patients. But now even those who haven't obtained their medical weed card due to that nagging backache can legally and freely smoking cannabis, so long as federal law enforcement isn't around.
Maintaining Policy
The state's Gaming Commission is adhering to its position it published in 2014 when board member and lawyer Terry Johnson released a directive to casinos regarding medical marijuana dispensaries.
"Unless the federal law is changed, the Board does not believe investment or any other involvement in a medical marijuana facility or establishment by a person who has received a gaming approval . . . is consistent with the effective regulation of gaming," Johnson explained three years ago. "Any such investment or involvement by gaming licenses or applicants would tend to reflect discredit upon gaming in the State of Nevada."
Perhaps surprising to some who might think casinos would thoroughly enjoy jumping in on the marijuana game, the major players on the Strip are just fine with avoiding the smoke.
The Nevada Resorts Association opposed the 2016 ballot measure, and Sheldon Adelson, owner of Las Vegas Sands, and South Point Hotel, MGM Resorts, and Boyd Gaming, all donated to opposition efforts. Adelson, worth over $30 billion, gave the lion's share with $3.65 million going to a "Protecting Nevada's Children."
Adelson's son Mitchell died of a drug overdose in 2005. The casino tycoon sees marijuana as a gateway drug to hard narcotics.
Hazy Law
State marijuana laws cloud the legality of the drug, and that's not necessarily a good thing for those who are interested in partaking in the plant. Users in Nevada are being told that the state considers the recreational use of marijuana legal, but the federal government does not.
Under Article 6 of the US Constitution, federal statutes supersede any conflicting state laws.
"Possession and distribution is a felonious act," Nevada Gaming Commission Chairman Tony Alamo told the Las Vegas Review-Journal. "It's still a felony, and it's still a Schedule 1 drug."
Former President Barack Obama took a rather lackadaisical approach to enforcing federal marijuana laws. New concerns for states with legalized marijuana laws arose when President Trump took office, but Attorney General Jeff Sessions recently told senators that he won't be encouraging the government to go into states to crackdown on cannabis.