Marijuana Ban Enforcement Could Be Back on, says Sean Spicer. Will Online Gambling Be Next?
Posted on: February 25, 2017, 12:00h.
Last updated on: February 25, 2017, 10:50h.
The Trump administration's preparedness to crackdown on recreational marijuana use could have ominous overtones for regulated online gambling in the US.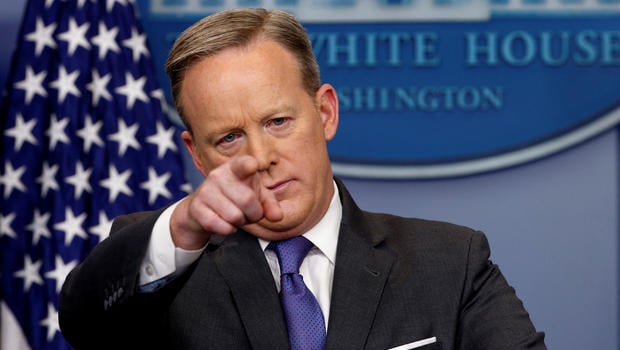 On Thursday, White House Press Secretary Sean Spicer fired a warning shot to the eight states that have decriminalized the use of the drug recreationally, emphasizing that they shouldn't expect the leniency exercised by the previous government.
"There's a big difference between the medical marijuana and recreational marijuana… When you see something like the opioid addiction crisis blossoming around so many states, the last thing we should be doing is encouraging people," Spicer told reporters. "There is still a federal law we need to abide by in terms of when it comes to recreational marijuana and other drugs of that nature."
Pot Laws Relaxed
While a federal prohibition does indeed remain in place, the Obama administration issued an administrative policy ending federal raids related to marijuana usage in states with "robust regulation." Then, in 2014, it prohibited the DEA from using federal funds to pursue medical marijuana operations that exist legally under state laws.
The relaxation of the enforcement of the federal ban on marijuana emboldened numerous states to legalize the medical and recreational usage of the drug.
Similarly, the Obama administration's 2011 opinion that the Federal Wire Act prohibits online sports betting alone, paved the way for New Jersey, Nevada and Delaware to legalize and regulate online poker and casino gaming.
Asked whether the marijuana states could be the target of renewed federal enforcement, Spicer said it's a question for the DOJ, but added: "I do believe that you'll see greater enforcement."
Smoking Sessions
Trump's controversial attorney general, Jeff Sessions, had made his stance on marijuana clear. "Good people don't smoke marijuana," he has said. He has also allegedly said he used to think the KKK were OK until he learned they smoked marijuana, later clarifying that this was "a joke."
Sessions has also professed himself to be "shocked" on the 2011 Department of Justice opinion on the Wire Act, when quizzed about it during his confirmation hearing.       
Asked whether he would revisit the opinion, he said he would. "I will make a decision on it based on careful study," he added pragmatically. "I haven't gone that far to give you an opinion today."
It's hard to know how far the new administration would go to provoke the states that have legalized recreational marijuana. Spicer recently said the government is pro states' rights when it comes to ending the Obama administration's federal protection of transgender people's right to use facilities based on gender identity.
This championing of states' rights doesn't appear to extend to recreational marijuana, and whether or not it extends to online gambling is still unclear.      
Similar Guides On This Topic