Melco-Hard Rock's Cyprus Casino Awaits Lift Off, Full Approval Imminent
Posted on: April 24, 2017, 04:03h.
Last updated on: April 24, 2017, 04:04h.
A Melco-Hard Rock consortium is set to bring casinos to the Republic of Cyprus.
On Friday, Cyprus' Tourism Minister Giorgos Lakkotrypis announced the evaluation process was complete, and, pending ratification by the country's cabinet, work will soon begin on the construction of a $550 million "Euro Casino" resort in the city of Limassol.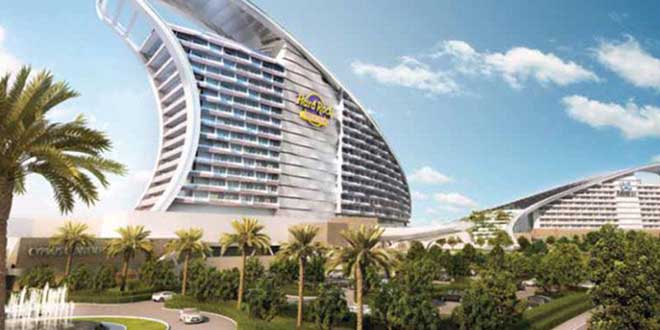 It will be the republic's first, but not the island's. Since Turkey invaded the north in 1974, Cyprus has been divided into north and south, ethnically and politically Turkish and Greek, respectively, separated by a United Nations buffer zone.
There are several dozen casinos and gaming halls in the north, and even within the buffer zone itself, but casino gaming is brand new territory for the south.
Secret Bidding Process
The republic enacted a bill to legalize casino gaming in 2015, creating one license to operate a single casino resort and a number of smaller satellite casinos. As a major European tourist hub, competition was fierce, and the tender process curiously secretive.
While the Cypriot government kept the names of bidders under wraps, it's believed that, along with Hard Rock and Melco, the likes of Nagacorp, Boomberry, Genting, Caesars and Sun International were also in the running.   
The consortium has said it expects to secure a 30-year licensing agreement that will allow it to operate a casino monopoly in the republic for the first 15 years.     
It hopes to open a temporary casino in Limassol in October 2017, while the work begins on the Euro Casino resort, which is scheduled to open in 2020. The completed Euro Casino will boast 500 luxury hotel rooms and at least 100 gaming tables and 1,000 slots.
Network of Gaming Venues to Follow
The consortium says that should the temporary casino in Limassol prove successful, it will consider opening a "network of gambling premises," including a casino in the divided capital city of Nicosia, supported by slot parlors in Paphos, Larnaca and Famagusta.
Lakkotrypis made the announcement during the island's travel and tourism exhibition, Taxidi 2017, as he discussed planned improvements to the country's tourism and travel sector.
A record number of visitors are expected this summer and he admitted investment in infrastructure was needed to avoid some of the airport delays witnessed last year.     
"Our ultimate goal, through well-thought-out, coordinated actions, is to enhance the quality and diversify our tourism product," he said. "To this end, we continue to enrich our experience, for example by promoting investments in major projects such as golf courses, marinas and the integrated casino resort."
Similar Guides On This Topic