Japan's Wakayama Prefecture Pushing Its Global Profile in Race for a Casino
Posted on: June 27, 2017, 10:00h.
Last updated on: June 27, 2017, 11:57h.
How do you get front-of-mind attention when you're a David in a sea of Goliaths, all vying for one of Japan's precious casino projects? For Wakayama, a district on the Kii Peninsula of Japan's Honshu Island, a fair amount of creativity is going into how best to beat out more obvious and better-funded rivals, such as Tokyo or Osaka.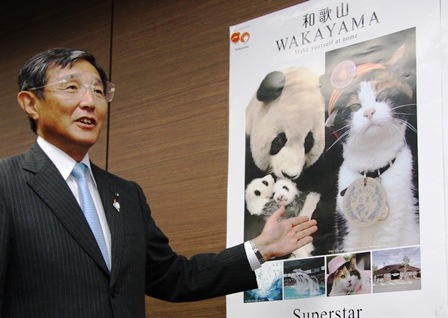 Besides a replica Japanese castle and numerous Shinto shrines, Wakayama's claim to fame lies mostly in its prolific fruit production.
Wakayama has set a goal to grow its export of fruits from ¥430 million ($3.84 million) in 2015, to over $53 million by 2026. The prefecture is home to a bountiful fruit crop that includes peaches, persimmons, and plums.
The latter are used for the production of plum wine, a popular adult beverage in the summer months throughout many parts of Asia.
But Can It Compete?
Despite rumors that only the country's largest cities are being looked at for an integrated casino resort project (IR), Wakayama says it isn't folding on its efforts.
The prefecture is hyping its 150-acre Marina City as the perfect location for a casino. The artificial island is home to a fish and fruits market, hot springs, fishing piers, hotel complex, and "Porto Europa," which includes a full-scale reproduction of streets in France, Italy, and Spain.
Marina City is less than an hour's commute via high-speed rail service from Kansai airport.
Aside from casinos, Wakayama is also asking the government to help fund marketing programs to raise the profile of smaller prefectures.
Two for Starters
The country's parliament, known as the National Diet, is currently deciding how many IR licenses to issue, but the general assumption is that just two casino destinations will be approved to start. Large, densely populated urban metropolises are the odds-on favorites to win the coveted permits, but that isn't stopping Wakayama from continuing its petition.
Prefecture Governor Yoshinobu Nisaka believes Japan's IR bill should help grow smaller cities in lesser-known areas. Japan is divided into 47 administrative divisions, the equivalent to a province or state.
Now, the betting man might not put money on Wakayama receiving one of Japan's initial two casinos. But should the resorts launch in a smooth manner, future gambling expansion might follow to more rural destinations.
Though the Diet isn't talking publicly about the gambling bill's developments, it's generally assumed that smaller, rural areas are no longer being considered. "Where did the view that this was for local revitalization go?" Nisaka asked last month.
Challenges Are Many
The primary issuing hurting Wakayama's chances of hosting a casino resort is that the Diet is expected to charge a costly entrance fee for locals that could be as much as $100 per visit. The admission fee is seen as a safeguard to reduce the likelihood of problem gambling among Japanese citizens.
That means the resorts will need to rely on international visitors, and while Japan is trying to make the country a tourism destination, for now that will primarily depend on business travelers who like to gamble. Tokyo is by far the largest financial hub, home to such mega-corporations as Toyota, Mitsubishi, Honda, Nissan, Hitachi, and Sony, and that has to weigh heavily in its favor in this arena.
Wakayama, on the other hand, has seen its population decline in recent years, and is now the least-populated prefecture in the Kansai region.