GOP VP Nominee Mike Pence Stumps in Nevada, Gambling Views Surface 
Posted on: August 4, 2016, 09:26h.
Last updated on: August 4, 2016, 10:06h.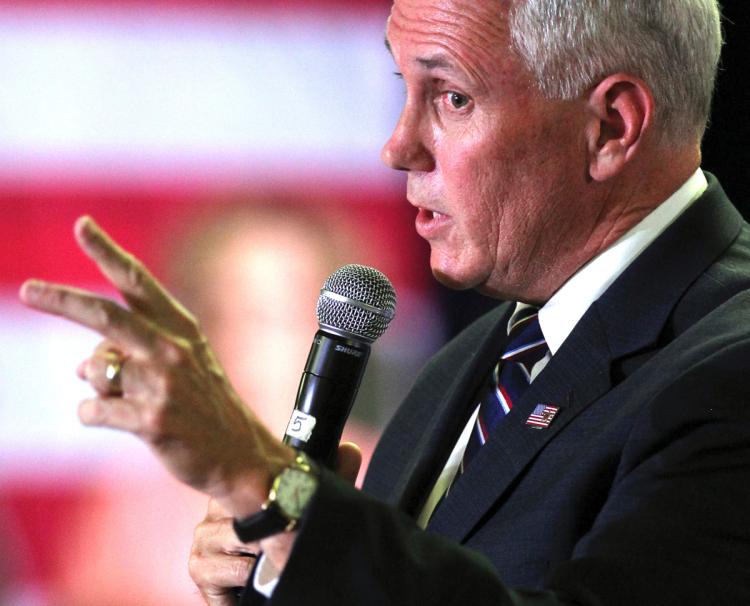 Republican vice-presidential nominee Mike Pence visited Nevada this week, where his views on gambling and the casino industry fittingly attracted plenty of attention.
The Indiana governor who shares the GOP ticket with billionaire businessman Donald Trump made campaign stops at the Carson Nugget in Carson City and Grand Sierra Resort in Reno on August 1.
Although Pence didn't specifically address his gambling views during either appearance, the 57-year-old's longtime opposition to casinos was certainly felt by those in attendance.
A steadfast conservative who was an early supporter of the Tea Party movement, Pence is seemingly a fish out of water on the grounds of a casino. But while the topic of gaming didn't come up at the town halls, plenty of other controversial matters did.
The most contentious moment was when a woman asked Pence why he was running with a man who disparages the military. Her question was in reference to a remark Trump made about the Khan family during the Democratic National Convention and whether slain soldier Humayun Khan's mother was forbidden to speak during her husband's remarks, due to her Muslim heritage.
"Capt. Khan is an American hero, we honor him and his family," former Marine Pence replied. The governor's own son is currently serving as a Marine as well.
Pence on Gambling
 So where does Mike Pence stand on gambling?
During his three-and-a-half years as Indiana's governor, Pence has remained adamantly opposed to allowing the state's 10 riverboat casinos to come ashore and bring live dealers to the venues. Indiana also has one land-based casino and two racinos.
Knowing Pence's opposition, the state legislature passed a gaming expansion bill that takes effect in 2021. Pence allowed the bill to pass without his signature.
The French Lick Resort Casino, originally surrounded by a manmade moat to satisfy the state's riverboat gaming laws, was converted to the first land-based casino in Indiana in 2008.
Pence has also supported the anti-online-gaming-oriented Restoration of America's Wire Act (RAWA) during his governorship. In 2014, he wrote a letter to his state's federal electorate, urging them to support that legislation, originally authored by Sen. Lindsey Graham (R-South Carolina) and Rep. Jason Chaffetz (R-Utah).
A strong antagonist to gambling online, Pence also opposed a state measure to allow Internet horse race betting. Then in a bit of a surprise move, Pence did sign a measure to regulate daily fantasy sports (DFS) in March.
Trump is more likely to support online and land-based gambling than his running mate. But like his record in Atlantic City, his casino history in Indiana was turbulent.
Trump wanted to buy French Lick in 2004 and was the high bidder, but negotiations eventually fluttered, and Trump's organization withdrew its proposal. And up north in Gary, Indiana, on Lake Michigan, the candidate's floating Trump Casino was sold in 2005, when Trump Hotels & Casino Resorts filed for bankruptcy.
Key Issue in Silver State
Gaming and tourism is, of course, vital to Nevada's economy. According to the Nevada Resort Association, the industry pays over $2 billion in taxes and fees to the state each year.
Twelve of the state's top 20 employers are casinos, and eight of the top 10 taxpaying corporations are gambling enterprises. Appealing to voters in Nevada by presenting pro-gaming stances could put the odds in a candidate's favor, but Trump-Pence might have sent the wrong guy.
With the Silver State a key swing state come November, Pence didn't talk about gambling during his Nevada visit, because much of his casino record doesn't align with the typical pro-gaming voter in the state.
Most Read