DraftKings Picks Up Sponsorship of 'NFL RedZone'
Posted on: September 8, 2023, 03:59h.
Last updated on: September 8, 2023, 04:58h.
DraftKings will reportedly become the presenting sponsor of the NFL Network's  NFL RedZone — the popular look-in show that allows viewers to watch multiple games at once.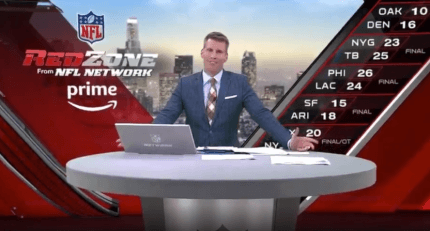 Neither the gaming company nor the league made an official announcement regarding the parternship. But multiple media outlets reported on it. Financial terms of the transaction weren't mentioned, but DraftKings reportedly will take on the marquee sponsorship role of the show, which was held by Amazon Prime Video during the 2022 season.
Scott Hanson kicks off your Sunday with 7 hours of live football, featuring up to 8 games at once within the octobox. NFL RedZone brings you every touchdown from every game, every Sunday afternoon during the regular season and acts as the perfect Fantasy Football companion. Watch from anywhere across NFL.com, NFL Mobile, and other connected devices," according to the NFL.
The 2023 NFL season commenced last night with the road underdog Detroit Lions upsetting the defending Super Bowl champion Kansas City Chiefs, 21-20.
Why 'NFL RedZone' Deal Matters for DraftKings
There are myriad examples of sportsbook operators engaging in marketing accords with professional  leagues and teams. But the "NFL RedZone" partnership could prove beneficial for DraftKings and could represent a more fruitful advertising avenue than basic commercials.
The NFL program is known for not running commercials, which might be one reason it's popular with fans. Without that traditional marketing tool, NFL Network will likely find other avenues for DraftKings integration, including odds and player updates.
Additionally, the agreement deepens DraftKings' ties with the most popular domestic sports league and it's separate from the one the two sides reached in 2021 that made DraftKings one of the league's three official sportsbook partners. The other two are FanDuel and Caesars Sportsbook.
For the 2023 season, the only iteration of  NFL RedZone will be available on the NFL Network because the DirecTV version didn't survive NFL Sunday Ticket's move to YouTube. The show can also be seen on five streaming services with which NFL Network has agreements.
'NFL RedZone' Possible ESPN Replacement for DraftKings?
Though Boston-based DraftKings has yet to comment on the accord with NFL RedZone, that partnership could also represent a replacement of sorts for what the gaming company is losing with ESPN.
When the sports network giant announced last month that it's partnering with Penn Entertainment on a new sports wagering deal, that meant previously notched accords with Caesars Sportsbook and DraftKings would be halted.
Both gaming companies are expected to realize some cost benefits via the end of their ESPN agreements. It is possible DraftKings is steering some of those resources to the NFL RedZone deal.