O.J. Simpson Launches Twitter Account from Las Vegas Home as Ex-Con has 'A Little Getting Even To Do'
Posted on: June 16, 2019, 01:18h.
Last updated on: June 16, 2019, 02:16h.
Those who have ever thought, "What's on O.J. Simpson's mind right now?" are now in luck. The former football legend with a permanently tarnished reputation now has a Twitter presence.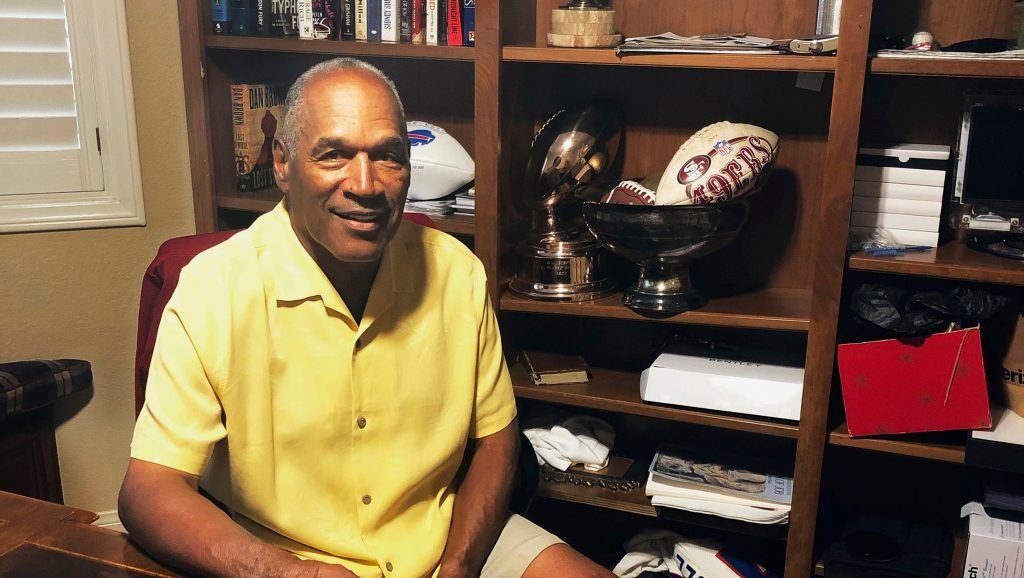 Simpson, using the handle @TheRealOJ32, posted his first tweet on Friday evening. In a selfie video, he announced what he would be doing on the social media platform.
Coming soon to Twitter, you'll get to read all my thoughts and opinions on just about everything… I got a little getting even to do," he said in a video that had nearly 10 million views by Sunday afternoon.
By 3:30 pm ET Sunday, he had more than 528,000 followers.
A Las Vegas resident, Simpson first became famous more than 50 years ago by winning the Heisman Trophy while starring as a running back for Southern California. He then became a Pro Football Hall of Famer after rushing for 11,236 yards in 11 seasons, nine of which he played for the Buffalo Bills.
Simpson parlayed his athletic success into a Hollywood career, becoming a pitchman for Avis Car Rental and appearing in numerous television shows and movies. He also served a commentator on football broadcasts for ABC and NBC.
Coming Soon!!! pic.twitter.com/R1tXOuuLgO

— O.J. Simpson (@TheRealOJ32) June 15, 2019
However, his career came to an end a quarter century ago after his ex-wife, Nicole Brown Simpson, and Ronald Goldman were found murdered in a grisly scene at her Southern California home. Simpson immediately became the suspect and, days later, led police officers on a chase that was televised live across the country.
After a media circus trial, a jury found Simpson not guilty of the murders. However, a civil suit was later filed by the survivors of Brown Simpson and Goldman. That jury later found him responsible and awarded the families $33.5 million in damages.
OJ's History in Vegas
In 2007, law enforcement officials in Nevada arrested Simpson on armed robbery charges after he and five accomplices took memorabilia from a dealer the Palace Station Hotel and Casino in Las Vegas. The football star claimed the items were stolen from him. A year later, a jury found him guilty and he was sentenced to 33 years in prison.
He was released on parole in 2017 and has been residing in Las Vegas ever since. Simpson remains on parole for another three years.
Shortly after his release, The Cosmopolitan permanently banned him after he and a group of friends were allegedly drunk and disruptive during a visit. A lawyer for Simpson disputed that account and threatened the Las Vegas casino and resort with a $100 million lawsuit. However, a legal case never came to fruition.
TMZ reported that after Meek Mill was stopped from entering the resort last month, Simpson's lawyer reached out to Joe Tacopina, the rapper's lawyer.
Earlier this month, the Associated Press scored an exclusive interview with Simpson, where he says he decided to stay in Las Vegas after his release because friends persuaded him. While he committed the robbery in the Palace Station casino, the Las Vegas Review-Journal has reported that he may be currently residing in a home at the Red Rock Country Club, which is owned by the same company.
"The town has been good to me," Simpson told the AP. "Everybody I meet seems to be apologizing for what happened to me here."
He declined to talk about his income, other than to say he lives off pensions he earned. He also said his family does not talk about the murders of his Nicole Brown Simpson and Goldman, saying they have a "no negative zone."
Thanks to all my new followers. Love learning how to use Twitter. pic.twitter.com/J4JnN59yKl

— O.J. Simpson (@TheRealOJ32) June 16, 2019
Simpson Says He'll Tackle 'Accountability'
In a second video post published Saturday evening, Simpson said people have been able to say anything about him "with no accountability." Now, though, he'll use the account to challenge those individuals.
He'll also use the account to talk about other topics, including politics and fantasy football.
Simpson continues to attract interest as the second post has attracted more than 4 million views in less than 24 hours.
Similar Guides On This Topic