Delaware Online Casino Launch Wants No Tricks for Halloween Start Date
Posted on: October 23, 2013, 05:30h.
Last updated on: October 22, 2013, 10:53h.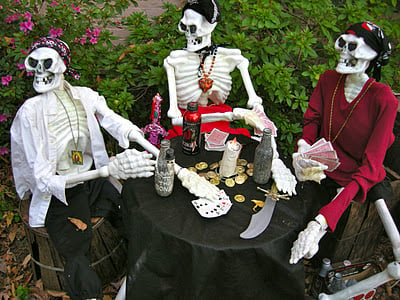 Hoping it will be all treats and no tricks, Delaware has selected the rather ghoulish choice of October 31 – Halloween – to become the first of the United States to offer real money online casino games. Although Nevada is already operational with online poker, and New Jersey is set to come on board with full casino offerings on November 26th, Delaware's launch date will officially put it ahead of the Garden State by a nose.
When it comes to the three states that have approved online gambling sites, Delaware is certainly the lowest-profile of the three. New Jersey has a large enough population to support sites on its own, while Nevada – being the center of land-based gambling in the United States – is a natural home for gambling expansion of all kinds. But Delaware is still making strides, and on October 31, 2013 real money online casino sites are set to go live in the state.
Looking Towards Poker Compacts
With a population of less than a million people, it will be difficult for Delaware to support its own online poker sites. But in an interview with Card Player, state lottery director Vernon Kirk said that they are actively seeking compacts to expand the liquidity of their poker rooms.
"We have had conversations [about compacts] with both states," Kirk said, referring to both Nevada and New Jersey. "It's a bit too early in the process to project how that is going to work out. My guess is that, certainly with Nevada, they are definitely anxious to compact with us, and us to them likewise. Once we get up and running we will be pursuing that more aggressively. Right now we are just concentrating on getting our site up. But that will be one of the very first steps we take after launch."
Additional Initial Offerings Besides Poker
According to Kirk, the selection of games offered at launch will be somewhat limited. Along with poker, there will also be slot machine games and video poker available, and some lottery terminals will also be installed at venues throughout the state. The games are all provided by 888 Holdings, and as integration progresses, more games will come online.
Kirk noted that preparation for the launch of the real money sites has gone well, though it hasn't been without its ups and downs.
"It has been a challenge," he said. "It is a pretty big technological challenge and our schedule has been pretty aggressive. There are just a lot of moving pieces to this. All of the stuff that the public will never see, but stuff that is really important."
In 2012, Delaware became the first state to legalize real money online gambling. The state started to prepare by offering play money Internet games through their casinos earlier this year, though those games are not the same as those that will be seen when real money play hits (the play money games are being offered through DoubleDown Casino, an IGT product).
Delaware is offering online gambling in an attempt to remain competitive in one of the busiest gambling markets in the country. The northeastern United States has seen extreme expansion in land-based gambling in recent years, with Pennsylvania leading the way. However, both Delaware and Maryland have also added new gambling venues in recent years, while New York and Massachusetts are both looking to add more resort casinos in the years to come.