College Football Betting Threatens to Surpass NFL at Vegas Sportsbooks
Posted on: December 1, 2017, 10:00h.
Last updated on: December 1, 2017, 09:01h.
When it comes to sports betting in the United States, there's no doubt that football is king. But while the NFL has historically been the main driver of that wagering, many sportsbooks are now saying that college football has become the game of choice for bettors.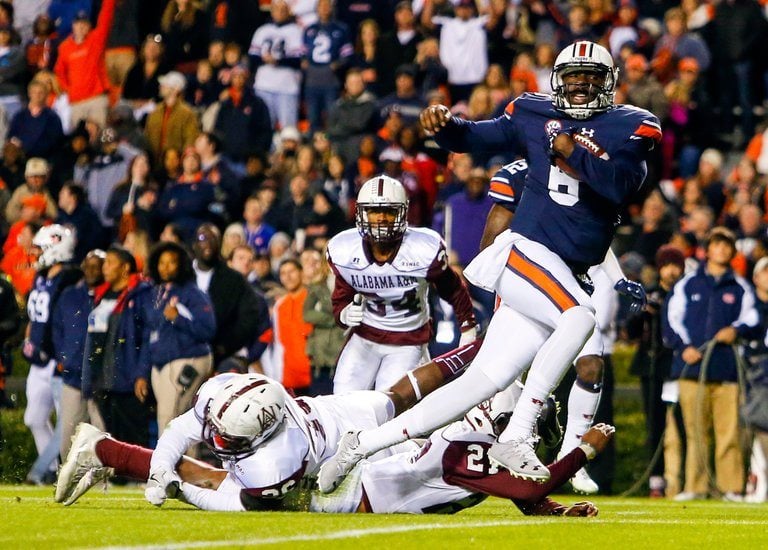 According to a report by The New York Times, overall betting at Las Vegas sportsbooks is still strong. But the divide in the betting between professional and amateur football, which bookmaker Jimmy Vaccaro described as "a 60/40 spit" in favor of the NFL, seems to be evaporating.
According to Vaccaro, the sportsbook at the South Point Casino saw betting on college football surpass wagers on the NFL for three consecutive weeks in October.
Meanwhile, Jay Kornegay of the Westgate SuperBook said that several weeks in recent seasons have seen more tickets written for NCAA games than for NFL contests.
Bookmakers Have Many Theories for Shifting Interests
All of this raises an obvious question: why is this happening? Bookmakers can point to several reasons, but it is unclear which one is the leading cause for the shift in the marketplace.
An obvious place to start is the controversy over player protests that have taken place during the national anthem, which has drawn outrage from many commentators, including President Donald Trump. But while the issue has likely had a small impact, there are signs that it hasn't hurt the NFL as much as some would claim: television ratings are down in general, and the league's attendance is still near record highs.
Other controversies could also be driving gamblers away, such as growing concerns over how the sport handles concussions and squabbles between owners. But some bookmakers feel there's a much more direct answer: the play on the field just isn't interesting enough to capture the public's interest.
"Their product isn't very good these days," said Nick Bogdanovich, the chief oddsmaker at William Hill. "Some good players have gone down this season, and it has cost us, especially the loss of that pretty good quarterback in Green Bay."
That comment referred to Aaron Rodgers' broken collarbone, which has kept the elite quarterback sidelined since Week 6 of the NFL season. The lack of strong play at the critical quarterback position has been an issue cited by many commentators who have criticized the quality of play throughout the league.
Exciting, Unpredictability Drive Passion for College Football
And while the overall quality of play may be lower at the college level, there's no question that the games can be thrilling for both fans and bettors.
"There are more momentum shifts and more exciting plays and more passion," said professional gambler Chris Lawless.
This season has seen plenty of huge upsets, including a shocking win by Howard University, which was a 45-point underdog to UNLV before their 43-40 victory. That was the largest point-spread upset in college football history.
A slew of upsets to top-ranked teams has also left the NCAA playoff picture up in the air leading into the final weeks of the season.
No single team being absolutely certain of making the playoffs and projections at FiveThirtyEight giving nine teams at least a 10 percent shot of being selected for the national semifinals.