Nevada Prostitutes Rally for Las Vegas Super Bowl in 2025 with Pledge of Extra Fun for Fans
Posted on: November 13, 2018, 08:37h.
Last updated on: November 14, 2018, 05:39h.
Nevada prostitutes are appealing to the NFL for Las Vegas to land the Super Bowl in 2025 by promising a massive party that the league has never seen before.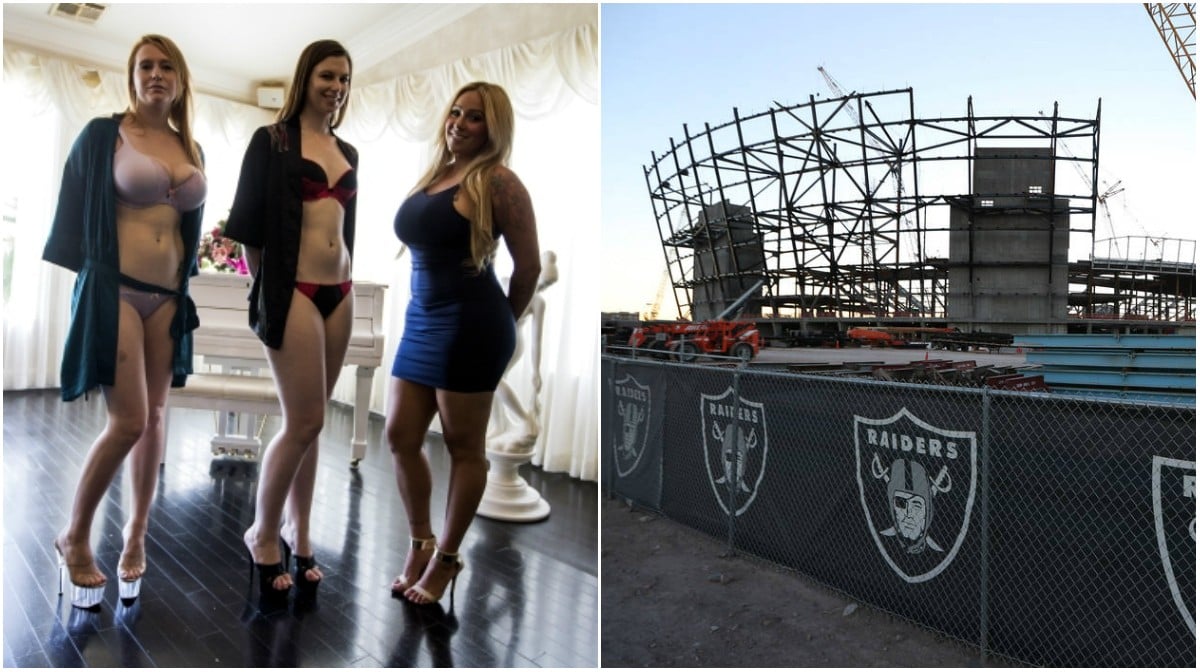 Prostitution is illegal in Las Vegas and throughout Clark County. But in adjacent Nye County, brothels are permitted. And the licensed sex workers at Sheri's Ranch in Pahrump say if Sin City lands the Super Bowl, they'll be "wide open" to an array of possibilities to make sure the big game is an orgasmic success.
If Las Vegas gets a Super Bowl, we ladies promise to throw a massive, no holds barred party," Sheri's employee Allissa told celebrity news site The Blast.
Allissa added that since prostitution is legal in certain Nevada counties, celebrities attending the Super Bowl would have the freedom to "explore their sexual desires at safe and legal places … without ever worrying about getting busted."
Work continues on the $1.8 billion stadium that will become the home of the Las Vegas Raiders in 2020. The 65,000-seat domed facility is being constructed just west of I-15 between Hacienda Avenue and Russell Road.
Super Bowl host cities are set through 2024. There have been rumors circulating that the NFL is considering going to a four-city rotation model, and Las Vegas is on the shortlist for inclusion.
Sports Betting, and Hookers
While commissioners leading the NBA, MLB, and NHL eased their anti-sports betting positions in recent years, NFL Commissioner Roger Goodell remained adamantly opposed. The May Supreme Court ruling overhauled the legal landscape by giving each state the power to determine their own laws on the gambling activity.
Goodell preferred the Raiders stay in California, but 31 of the league's 32 owners signed off on Mark Davis' wishes to relocate the franchise to Las Vegas. The NFL commissioner has repeatedly stated that the city's widespread sports betting presented grave concerns to protecting the integrity of the game.
Legal sports betting is now in six states, and many more are expected to follow. Las Vegas' sports betting black eye, as seen by Goodell, is no more. But now the state's sex industry is trying to associate with the NFL.
Hof Brothels
America's most famous legal pimp — Dennis Hof — died in October at the age of 72. But his career doesn't appear to be ending.
Along with being posthumously elected to the Nevada Assembly last week, Hof pledged to build a Raiders-themed brothel in Pahrump after the NFL approved of the relocation. The future of his cathouses additionally remain in limbo.
Long before his death, Hof added Madam Suzette Cole to his business and liquor license for his four brothels in Lyon County. Because Cole is licensed by the state to operate a brothel, those establishments remain in operation in the wake of his death.
However, in Nye County where Hof owned The Love Ranch, his only remaining cathouse in operation in Southern Nevada, a local ordinance prevents the transferring of brothel licenses. The venue remains closed as of this week.
The Love Ranch was the site of where Lamar Odom, a former NBA star and now ex-husband to reality TV star Khloe Kardashian, was found unconscious. The Ranch is also where Hof died.