Chicago Casino Push Underway With Rahm Emanuel
Posted on: May 31, 2015, 12:44h.
Last updated on: May 31, 2015, 12:45h.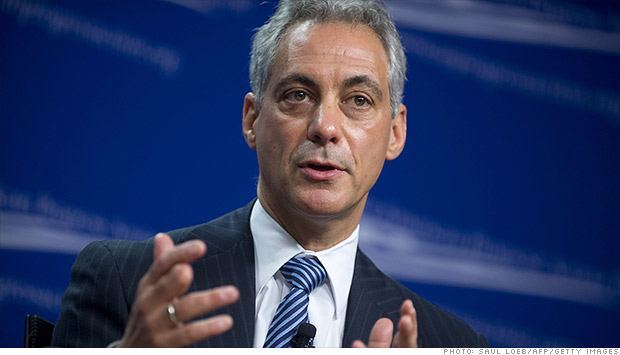 Chicago Mayor Rahm Emanuel's quest to create a city-owned casino has begun to gather pace with a public hearing held on the issue last week.
Emmanuel's plan is to build a casino with all profits going to the city, once taxes and operating costs have been paid, and it seems that Illinois Governor Bruce Rauner is open to the idea.
Emmanuel sees the casino as an answer to a multi-million-dollar public pension shortfall, while the state sees it as a short track to a much-needed revenue injection.
Supporters have estimated that a gambling expansion could bring in $500 million or more per year for Chicago and the state.
"A city-owned casino would ensure that all profits are reinvested in Chicago and Illinois residents instead of a private, for-profit business," said the mayor's spokeswoman Kelley Quinn.
"Given that Chicagoans are facing a substantial tax increase needed to meet the nearly $600 million additional payment for police and fire pension funds, a city-owned casino is critical to protecting our taxpayers while securing the retirements of Chicago's first responders."
Bill Expected Soon
Democratic Senator Terry Link is expected to introduce a casino expansion bill to the Senate Executive Committee shortly. As well as authorizing the Chicago casino, the bill would permit casinos in the city's southern suburbs of Rockford, Vermilion County and Lake County.
It would also allow smaller "satellite" casinos, with between 400 and 600 slot machines that could be located in Decatur and southern Illinois.
"I know the city would very much like to have a significant casino within the city boundaries, and I am very open to considering that," said Rauner, when asked about the Chicago casino's prospects last week.
"I want to make sure that it's good for all the taxpayers and all the citizens, both of Chicago and the state of Illinois, when we have that discussion."
Difficult Political Climate
In the current political climate, however, a casino expansion bill may struggle in the legislature, as similar bills have in the past. Two previous bills that did make it through were vetoed at the last hurdle by former governor Pat Quinn.
Meanwhile, Governor Rauner is having a hard time winning support for his spending cuts from a Democratic legislature, while the competing interests of Chicago's existing gambling industry, which includes casinos and horse tracks, may make it tough for lawmakers to reach consensus on the issue.
The bill would require three fifths of the vote to pass.
"I will be very open-minded to working closely with the city and with communities around the state to discuss this gaming issue and try to come to some resolution fairly promptly," said Rauner.