Adelson Dealt Blow in "Foul-Mouthed" Libel Case
Posted on: February 12, 2015, 11:56h.
Last updated on: February 12, 2015, 03:15h.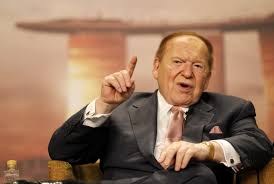 Sheldon Adelson's attempt to sue a writer with The Wall Street Journal for calling him a "scrappy, foul-mouthed billionaire from working class Dorchester, Mass.," has suffered a setback at the hands of a federal judge. Adelson is suing journalist Kate O'Keeffe for libel, specifically over the use of the term "foul-mouthed," an epithet he hotly rejects.
In fact, Adelson is so affronted by this slur on his otherwise unblemished character that he has chosen to sue O'Keefe not in the United States, with its strong protections for a free press, but in Hong Kong, where he has a much better chance of winning.
In Hong Kong the burden will be on O'Keefe to prove that Adelson is, in fact, the shameless potty mouth she alleges.
The casino magnate has also attempted to legally prevent WSJ lawyers from merely asking people whether he has a propensity to drop the f-bomb in their presence, a challenge that was shot down this week by US Magistrate Judge Mark Falk.
Smoking Gun
The Journal had asked the judge to issue a subpoena to Kirk Thorell, a partner at PricewaterhouseCoopers, to give evidence in the Hong Kong case.
Thorell audited the accounts for Adelson's Las Vegas Sands Corp for 25 years, before resigning due to "personal tension" between himself and Adelson, according to WSJ, and lawyers believe this man may hold the smoking gun.
"It is O'Keeffe's position that Mr. Thorell has or may have information and/or documents that would support the notion that Mr. Adelson is 'foul-mouthed,'" said Falk. "The request is not burdensome.
O'Keeffe claims Thorell and PwC terminated their relationship with Mr. Adelson based on personal difficulties. While Movants (Adelson's lawyers) refer to the discovery requests as a fishing expedition, it seems clear that the discovery sought could bear on the question of whether Mr. Adelson is 'foul-mouthed' for purposes of the Hong Kong lawsuit."
Burden of Proof
O'Keefe's lawyers have been critical of Adelson decision to file the suit in Hong Kong,  by which, they say, he is seeking to "circumvent US law's strong protections for a free press, protections that would have resulted in the early dismissal of claims challenging just such non-defamatory opinions."
"Having drawn O'Keeffe into court in Hong Kong, where O'Keeffe has the burden of proving that Adelson is 'foul-mouthed,' Adelson now makes every effort to prevent the truth from coming to light," they added.
O'Keefe is also seeking to serve subpoenas on the Sands and other individuals based in Nevada, the judge said, which means we may soon find out the truth about Adelson's behind-the-scenes use of the English language.
Is it archly risqué? Gruffly obscene? Downright scatological? Or, indeed, wholesome and saintly, as the casino magnate asserts.  We're itching to find out.
Most Read