Casino Crime Roundup: Man Arrested for Casino Murder in Washington State
Posted on: June 5, 2023, 08:52h.
Last updated on: June 6, 2023, 12:37h.
Seattle authorities have identified and arrested the man accused in last month's triple shooting at a small gaming venue where one victim died.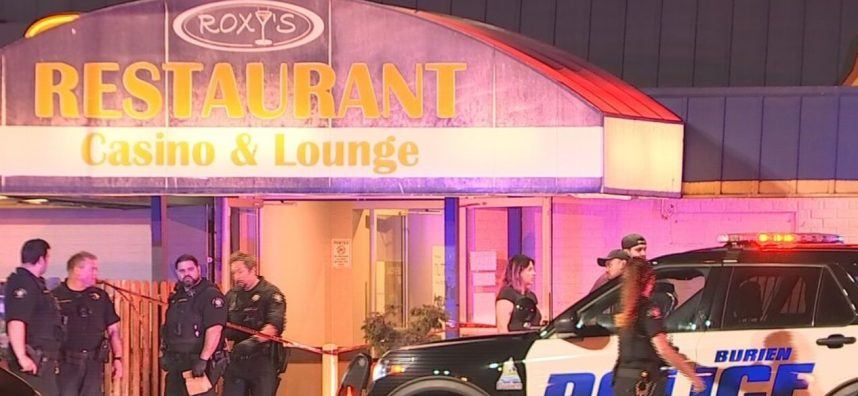 Omar Upham Jr. of Renton, Wash. was charged for the May 27 incident at Roxy's Casino, according to Tacoma, Wash. TV station KCPQ.
Uphan was charged with first-degree murder and unlawful gun possession, and was ordered held without bail, according to the news report.
He allegedly entered the casino, which is adjacent to a bowling alley, and approached a security guard who was seated at a podium. Upham then allegedly pulled a gun from his pocket, and when the guard tried to flee, Upham fired shots at the guard and two other people, authorities said.
The guard and one of the other victims, who was identified as a female employee, were wounded.
The third victim, who was identified as a casino patron, died from injuries after gunshots were fired at his head, according to recent reports. The casino guest had been sitting at a card table and the impact of the bullets caused his head to jerk forward before he fell backward onto the floor, authorities said.
Guard Was Target
Following the incident, the security guard told police that Upham was once a friend, but that the relationship ended after he told authorities Upham was involved in an earlier robbery, KCPQ reported.
The two survivors underwent treatment at Harborview Medical Center and their conditions have apparently improved.
The female employee, identified simply as CJ, suffered wounds to her kidney, liver, and gallbladder, according to a GoFundMe site. She underwent emergency surgery and was placed on a ventilator.
Nevada Cockfight Raided
An estimated 59 dead roosters were found in a raid of a cockfight held at a residence in Silver Springs, Nev. on Saturday afternoon. The fighting roosters reportedly had knives placed on their legs. An additional 50 to 75 live chickens also were located at the incident and seized.
A number of people at the residence were betting on the fighting roosters. Authorities were able to detain most of the people at the cockfight though some successfully fled from the crime scene.
Staff from Lyon County Animal Services and deputies from the Lyon County Sheriff's Office went to the residence after someone called to report a large number of roosters "crowing," according to Las Vegas TV station KLAS.
In a statement released by Wayne Pacelle, the president of the Washington, DC-based Animal Wellness Action, authorities were praised for the raid, which he said targeted "a major cockfighting operation."
"Cockfighting is not only barbaric, but also bound up with illegal gambling, narcotics trafficking, and other criminal activities," Pacelle added. "Cockfighters need to understand that when they decide to violate our anti-cruelty laws, there can be life-changing consequences."
Harrah's Visitor Allegedly Threatens State Trooper
Timothy Fletcher, 33, of Philadelphia, was arrested on May 24 after he allegedly threatened a state trooper at Harrah's Philadelphia Casino & Racetrack.
Fletcher was charged with disorderly conduct, according to the Delco Times news outlet, which is published in Pennsylvania.
Fletcher appeared intoxicated at the casino. He was combative and would not leave the gaming venue, authorities said. At one point, Fletcher reportedly threatened to fatally shoot the trooper.
The Chester, Pa. gaming property is owned by Vici Properties and operated by Caesars Entertainment.